Apple's new music streaming service could revive the recording industry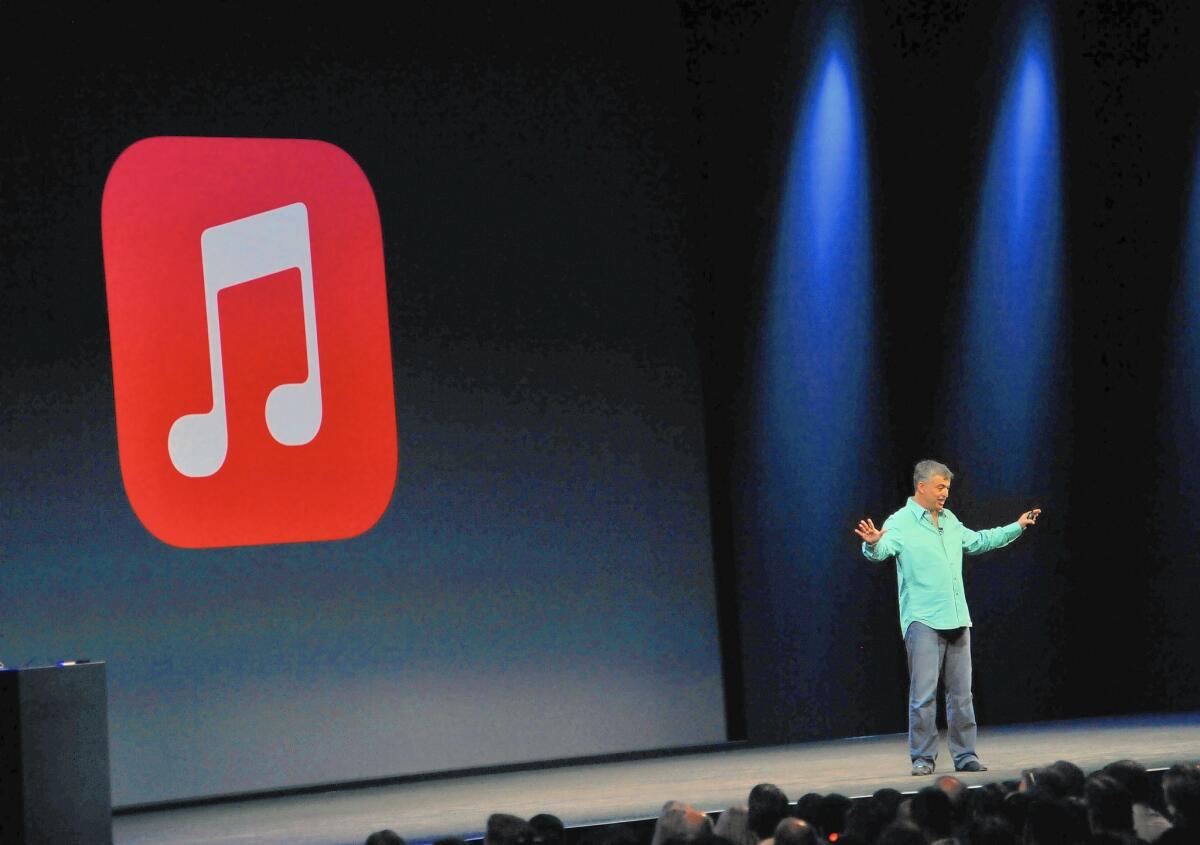 Apple Inc. is poised to unveil what analysts and record label executives hope will be a game-changer in the way consumers listen to music.
Taking on the likes of Spotify and Pandora, the Cupertino, Calif., tech giant is expected to announce a $10-a-month streaming service and revamped Internet radio feature at its developer conference in San Francisco on Monday.
The music service would come 12 years after Apple revolutionized the music business with the iTunes store and started charging 99 cents a song. Then-Chief Executive Steve Jobs called that development "groundbreaking," and Apple eventually became the biggest music retailer in the country. "Subscriptions are the wrong path," Jobs said at the time. "People have bought their music for as long as we can remember."
But much has changed since the heyday of the iPod. Apple is suffering from the worldwide decline of digital downloads as young people increasingly turn to streaming online, craving inexpensive access to virtually unlimited music instead of adding tracks to iTunes libraries.
Now the record industry is looking to Apple to bring subscription-only streaming to the masses and help reverse years of declines in the global music market. The launch would follow Apple's $3-billion purchase of Beats, founded by music moguls Jimmy Iovine and Dr. Dre, last year.
Record labels are counting on streaming to make up for the decline in digital download sales and the collapse of the CD market. Downloads fell 8% worldwide in 2014, according to the International Federation of the Phonographic Industry. Meanwhile, the IFPI reported revenue from subscriptions is growing fast — up 39% last year.
The music labels hope the stockpile of credit card numbers Apple has on file will translate into heaps of new streaming customers and big royalty payments. Apple, now led by Tim Cook, is in a strong position to make that happen. Its iTunes store has 800 million user accounts, giving it access to a huge market of potential subscribers.
Some analysts said Apple's entry into the subscription business could turbocharge the industry.
"This is expected to be a mainstream, possibly transformative announcement," said Larry Miller, a music business professor at NYU-Steinhardt.
Apple will have to contend with a crowded field of digital music companies that have claimed slices of the market. Spotify, based in Stockholm, has 60 million active users, about 25% of whom pay $10 a month for its full-service, ad-free version. Paris' Deezer boasts 6 million paying subscribers worldwide out of 16 million customers overall. Oakland-based Pandora, the Internet radio firm, attracts nearly 80 million people a month, the vast majority of whom listen to its free, commercial-supported service.
Unlike many rivals, Apple will not offer a free, on-demand tier.
Record companies have welcomed Apple's embrace of the idea that people should pay for a robust on-demand service. Executives have been largely disappointed that more streaming service users have not upgraded to paid subscriptions. The low royalties from Spotify's ad-supported service have stoked tensions with major artists such as Taylor Swift.
But to have another "iPod moment" that changes the music business, the company will need to unveil a service that is compelling enough to get consumers to pay after years of them getting music for free, said analyst Russ Crupnick of research firm MusicWatch.
"There are some really good subscription services already out there," he said. "The question is, what is Apple going to say to the mainstream music fans that shifts the way they're listening now to paying a subscription?"
Apple has spent the days leading up to the conference in last-minute negotiations with the major record labels — Sony Music Entertainment, Warner Music Group and Universal Music Group — to hammer out licensing deals for the service. Label executives have been pushing for higher royalty rates from the Apple service than they receive from Spotify and others, according to people familiar with the negotiations who were unauthorized to speak publicly.
Although the companies have agreed on the main aspects of the deals, they were still ironing out details Friday and the talks could continue into the weekend, these people said. The record labels and Apple declined to comment on the talks.
To draw in new subscribers, Apple is expected to offer a two-to-three-month free trial. The retooled ad-supported radio feature, which is currently similar to Pandora, will serve as an entry point for those new to streaming. The reboot is likely to include an option for radio more similar to traditional AM/FM and satellite radio programming. Apple has signed DJs and hosts such as hip-hop star Drake and "Happy" singer Pharrell Williams for the service.
Additionally, the app is said to include a promotional feature that would allow artists and labels to upload free music, videos and other materials, similar to how musicians use YouTube and SoundCloud to debut new tracks. Iovine and Nine Inch Nails frontman Trent Reznor, who came aboard through the Beats acquisition, have been working on the service under iTunes boss Eddy Cue.
For its part, Spotify and others have ramped up their offerings ahead of the impending Apple launch. Spotify recently announced it is adding video, news and podcasts, while San Francisco-based Rdio has introduced a new $4-a-month version.
Though companies such as Rhapsody, Deezer and Rdio have made their mark, the streaming sector is still small in terms of users, according to experts. Worldwide, just 41 million people paid for an online music streaming service last year, according to the IFPI. Subscriptions accounted for $1.6 billion in trade revenues in 2014, accounting for about 11% of total global sales for the music industry. In the U.S., the Recording Industry Assn. of America says 7.7 million people pay for a subscription.
The recent wave of new streaming services have so far failed to make subscriptions the norm, despite coming onto the scene with great fanfare in many cases.
YouTube's Music Key service is still in beta testing after its debut late last year. Tidal, which rapper Jay Z bought for $56 million, became mired in a public relations nightmare shortly after its launch at a fumbled, star-studded news conference. Even Apple's attempt to shake up the industry with iTunes Radio in 2013 was met with shrugs from consumers and rivals such as Pandora.
Still, analysts predict the new Apple music app may be the real deal. Given Apple's wide audience, the new service could overtake Spotify's subscriber count within several months, said one music industry insider.
That could concern Apple's many competitors. However, even rivals say Apple's arrival could propel the whole industry.
"I think of it as a wonderful way to educate the public on the value proposition of all-you-can-eat music for $10 a month," said Ethan Rudin, chief financial officer of streaming veteran Rhapsody, which counts 2.5 million paying subscribers around the world.
All has not been smooth sailing for Apple lately. European Union antitrust regulators are investigating Apple's dealings with record labels for its streaming service.
And Apple has not always been seen as a friend to the music industry. The company, under Jobs, was blamed for "unbundling" albums by selling individual tracks online, which hurt record companies' sales.
Although music accounts for a tiny portion of Apple's overall business, analysts say the company still wants it to be part of its identity. And with so much cash on hand, the financial risk is low if it flops
— not a likely outcome, USC music professor Mark Goldstein said.
"This is great theater," Goldstein said. "I don't know what's going to come out, but because Apple has so many resources, they will probably be successful at it."
From the Oscars to the Emmys.
Get the Envelope newsletter for exclusive awards season coverage, behind-the-scenes stories from the Envelope podcast and columnist Glenn Whipp's must-read analysis.
You may occasionally receive promotional content from the Los Angeles Times.