Comcast acquisition of Time Warner Cable could undermine CBS deal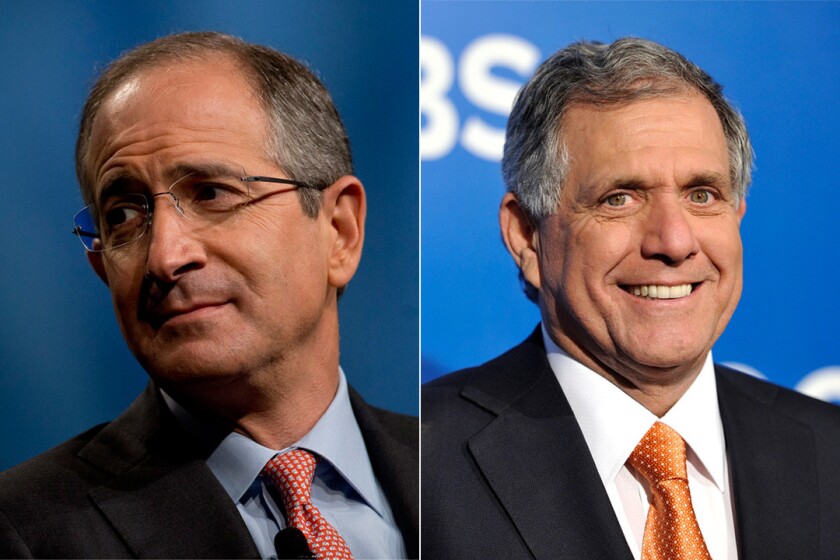 The new distribution contract CBS Corp. signed with Time Warner Cable Inc. last summer after a bitter fight could be a casualty of Comcast Corp.'s proposed acquisition of the pay-TV operator.
According to people familiar with the deal, it does not include provisions protecting all the terms of the pact should Time Warner Cable be acquired by a distributor with a sweeter arrangement. These people requested anonymity because the agreement is confidential.
Terms of the CBS-Time Warner Cable pact were never publicly disclosed, but Comcast, which signed a 10-year distribution agreement with CBS in 2010, is believed to be paying a lower fee to carry the network's TV stations. Should Comcast get regulatory approval of the Time Warner Cable purchase, it can carry CBS under its current deal.
ON LOCATION: Where the cameras roll
Not every aspect of the CBS-Time Warner Cable accord would automatically transfer to Comcast, including many digital rights, a person close to the matter said. That could benefit CBS down the road.
One of the concerns of programmers is that a marriage of Comcast and Time Warner Cable would give one company too much leverage in contract negotiations with content providers. Combined, Comcast and Time Warner Cable would have 30 million subscribers around the country, including some of the nation's biggest markets.
CBS banks on fees from pay-TV distributors such as Comcast to help cover its programming costs, including sports. The company said last week that such fees would hit $2 billion by 2020 and reiterated that a Comcast acquisition of Time Warner Cable won't alter that projection.
Given all the regulatory scrutiny Comcast will face in its attempt to swallow Time Warner Cable, CBS may have an opening to renegotiate its deal with them in the coming months. Comcast will face a tough fight from consumer activists and media watchdogs. It probably doesn't want entertainment companies expressing concern about the acquisition as well.
PHOTOS: Behind the scenes of movies and TV
A Comcast spokeswoman declined to comment.
CBS has solid relations with Comcast. In unveiling their 2010 distribution agreement, Comcast Chief Executive Brian Roberts said CBS Chief Executive Leslie Moonves was a "real leader." Moonves, in turn, complimented Roberts for his "vision," and last week during a CNBC interview Mooves said Comcast was a company that believes in "paying fairly for content."
That was in direct contrast to the 2013 CBS-Time Warner Cable negotiations. CBS pulled its signals from Time Warner Cable for a month and the two engaged in a nasty public fight that Moonves described as a "war." CBS was seen as the victor in that dispute as Time Warner Cable ended up losing more than 300,000 subscribers.
CBS is probably not the only programmer in this potential situation with Comcast. While at least one contract Time Warner Cable signed late in the year when speculation was swirling that the company might be acquired does contain protection clauses, such language is not routine.
ALSO:
FCC won't appeal net neutrality ruling
Comcast-Time Warner Cable deal creates giant
CBS lands NFL Thursday night football starting this fall
Follow Joe Flint on Twitter @JBFlint.
---
From the Emmys to the Oscars.
Get our revamped Envelope newsletter for exclusive awards season coverage, behind-the-scenes insights and columnist Glenn Whipp's commentary.
You may occasionally receive promotional content from the Los Angeles Times.