Charter looks to Comcast for assist in its Time Warner Cable deal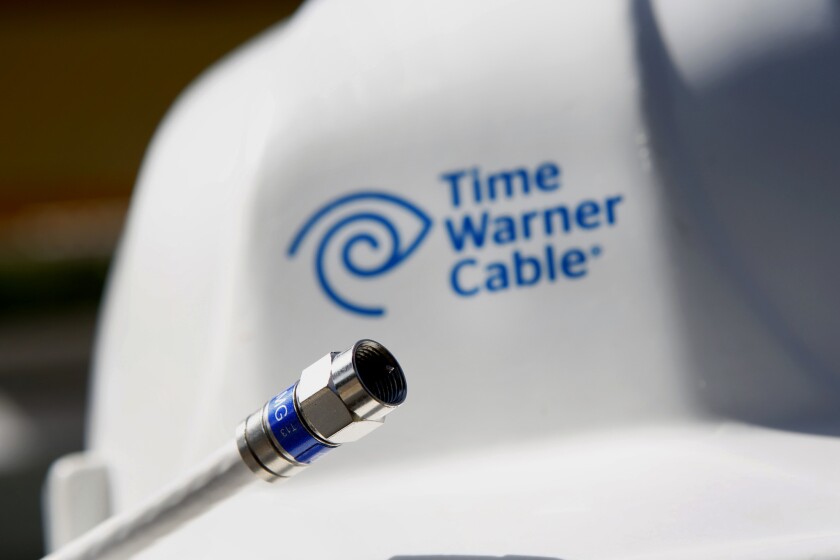 Charter Communication's new strategy to acquire Time Warner Cable: conquer and divide.
Should pay-TV operator Charter Communications succeed in its efforts to acquire Time Warner Cable, it then probably would sell some of the assets to Comcast Corp.
Charter representatives have been in discussions with Comcast, the nation's largest cable operator, in recent weeks about carving up Time Warner Cable's holdings, according to several people familiar with the talks who asked not to be identified discussing sensitive negotiations. Comcast is interested in buying some of the Time Warner Cable systems, these people said.
Under the scenario being discussed, Charter would proceed alone in its quest to buy Time Warner Cable. If successful in its takeover, Charter then would sell the Time Warner Cable systems in New York City, New England and North Carolina to Comcast.
PHOTOS: Box office top 10 of 2013 | Biggest flops of 2013
"News that Comcast and Charter are close to a deal to join forces in a bid for TWC is genuinely a game changer," media analyst Craig Moffett of research firm MoffettNathanson wrote in a Monday report.
Charter still must persuade shareholders of Time Warner Cable to sell. Time Warner Cable management has scoffed at Charter's overtures, including Charter's recent bid of $132.50 a share for Time Warner Cable, calling the amount "grossly inadequate."
Charter has since said it will take its case to shareholders.
Having Comcast on deck ready to write a big check is key because it would give Charter needed capital to potentially raise its offer to buy Time Warner Cable. The proposed deal also would be significantly less leveraged, which could make it more attractive to Time Warner Cable shareholders.
FACES TO WATCH 2014: Digital media
Charter, Comcast and Time Warner Cable declined to comment Monday.
Bloomberg News first reported a potential pact between Charter and Comcast.
"Put simply, this would make it a whole lot harder for Time Warner Cable's board to 'just say no,' " Moffett wrote.
Adding New York would enable Comcast to blanket much of the eastern half of the U.S. "Comcast would emerge with an uninterrupted presence along the Eastern seaboard from Miami to Maine," Moffett wrote.
Comcast already covers much of the East Coast corridor including Boston, Connecticut, New Jersey, Philadelphia and Pittsburgh, Baltimore, and parts of Maryland and Virginia, including Washington, D.C.
Comcast also serves Chicago, Cleveland, Detroit, San Francisco and Seattle, making it a force in many of the nation's biggest markets.
PHOTOS: Celebrities by The Times
Should Charter succeed in acquiring Time Warner Cable, it would become the dominant pay-TV operator in Southern California. Adding Time Warner Cable's 1.5 million subscribers in the Southland to Charter's own systems in the region would give it almost 2 million subscribers.
Comcast has long been interested in adding to its base of 22 million pay-TV subscribers. Taking over Time Warner Cable's East Coast systems would give Comcast nearly 25 million subscribers.
However, Comcast's deal three years ago to take over NBCUniversal was an arduous process that came with strings attached. Comcast had to agree to several provisions with the U.S. Department of Justice to ensure that Comcast, with its added heft, would not act in an anti-competitive manner.
While there are no government restrictions that would prevent Comcast from acquiring part or even all of Time Warner Cable, the company appears to have little appetite in getting embroiled in another long and costly regulatory review.
But even acquiring pieces of Time Warner Cable -- and the market that some consider the jewel, New York City -- probably would have media watchdogs howling in protest.
"Further growth of Comcast raises a whole host of issues that the Justice Department should give careful consideration to given the concerns they had when Comcast merged with NBCUniversal," said Derek Turner, research director of Free Press.
ON LOCATION: Where the cameras roll
Should Comcast get bigger, it could lead for calls for an extension of the consent decree Comcast agreed to as part of the NBCU deal.
"The FCC potentially/maybe/perhaps would have their opportunity to exact a pound of flesh," Moffett wrote.
Charter, which is backed by Liberty Media's John Malone, has lined up $25 billion in financing to try to pull off its hoped-for acquisition of Time Warner Cable, making the proposed deal extremely highly leveraged. Some have worried that such a huge debt load could strangle the merged company at a time when it would need to spend huge sums to upgrade Time Warner Cable's vast network of cable lines.
Time Warner Cable shares closed down 46 cents to $133.24 a share Monday. Comcast's rose 9 cents to $52.49 a share.
The news appeared to give Charter's shares the biggest bounce. They closed up $5.50 a share to $136.92.
ALSO:
Fox to acquire majority control of N.Y. Yankees' YES Network
Time Warner Cable ready to play hardball over Dodger channel
Charter makes offer valued at more than $60 billion for Time Warner Cable

Twitter: @MegJamesLAT and @JBFlint
---
From the Emmys to the Oscars.
Get our revamped Envelope newsletter for exclusive awards season coverage, behind-the-scenes insights and columnist Glenn Whipp's commentary.
You may occasionally receive promotional content from the Los Angeles Times.