Charter-Time Warner Cable deal headed for FCC approval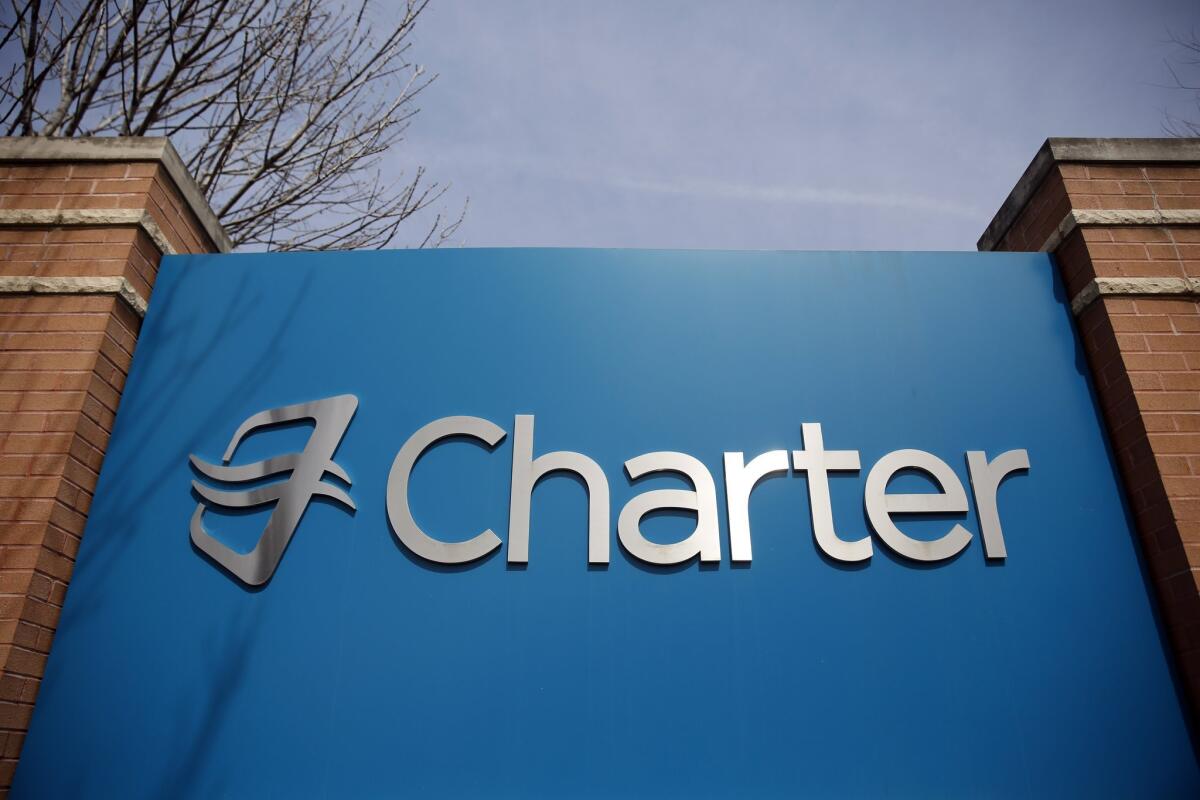 Charter Communications' proposed takeover of two other cable companies — Time Warner Cable and Bright House Networks — is nearing the finish line as federal officials appear poised to approve the mammoth $67-billion deal in the coming weeks.
Federal Communications Commission Chairman Tom Wheeler privately has indicated that he probably will support the deal — as long as Charter agrees to a long list of conditions designed to protect consumers, according to people close to the merger review process who asked not to be identified because the FCC has not taken action.
The FCC and the U.S. Justice Department must each approve the consolidation, which would make Charter the nation's second-largest cable TV and Internet service provider behind Comcast Corp. Charter also would become the largest provider in Southern California, boasting more than 2 million customer homes.
The proposed merger comes amid a wave of industry consolidation. Last summer, AT&T acquired DirecTV, based in El Segundo, in a $49-billion merger that catapulted the phone giant into the nation's largest pay-TV provider with 26 million customers. Frontier Communications is expected to complete its $10.5-billion purchase of Verizon's wireline, broadband Internet and FiOS TV businesses in California, Texas and Florida this month and take over Verizon's operations April 1.
The bulked up Charter would have about 20 million customers for Internet, cable TV or phone service. Some critics fear the consolidation will be bad for consumers.
"This deal can be summed up in three words: What a waste," Craig Aaron, chief executive of the consumer group Free Press, said in a statement. "The sheer expense of this merger is staggering.... Charter is taking on nearly $27 billion in new debt to finance this deal. It can only recover that by hiking prices for its subscribers."
Lawyers representing the FCC, Charter and Time Warner Cable have spent the last few weeks negotiating merger conditions, according to the knowledgeable people. That process is expected to continue into next week.
The earliest that Charter would take control of Time Warner Cable would be mid-May. That's because Charter still will need the blessing of the California Public Utilities Commission, which has scheduled a May 12 vote on the merger.
The timing means that legions of Los Angeles Dodgers fans face the grim prospect of starting a third baseball season without the TV channel SportsNetLA, owned by the Dodgers organization, Guggenheim Baseball Management. The new baseball season begins April 4.
If the merger is approved, Charter would inherit from Time Warner Cable the festering dispute over carriage of SportsNetLA. Charter would be unable to tackle the thorny problem of
the channel's distribution until after the transaction closes.
Charter and Time Warner Cable are the only providers in Southern California carrying the channel as other pay-TV companies,
including DirecTV, Dish Network and Cox Communications, have refused,
citing the high cost of the channel.
"We are trying to build a community, and we want to root for the home team," Rep. Brad Sherman (D-Sherman Oaks) said in a recent interview. "We need the FCC to push these companies into binding arbitration."
It was unclear Wednesday whether the FCC plans to address the Dodger channel dispute as part of the merger conditions.
Charter has already agreed to increase the number of families who receive broadband Internet service as a way to take steps to close the so-called digital divide — the gap between demographics and regions that have access to the Internet, and those that don't. Nearly one-quarter of the people who live in Los Angeles County do not have easy access to the Internet.
The FCC also is expected to demand that Charter make assurances that it will not thwart online streaming services, such as Hulu, Netflix or Dish Network's SlingTV, that compete with Charter's core business of selling bundles of traditional cable TV channels. The FCC is expected to ask Charter to agree not to impose data caps on its high-speed Internet customers.
Opponents of the deal have been worried that Charter could use its increased clout in the market to hamper the development of video streaming services. Much of the negotiations in recent weeks have focused on ways to protect the growing business of online video streaming, according to the knowledgeable people.
This month, executives from Time Warner Inc.'s HBO met behind closed doors with top FCC officials to express concerns about allowing just two cable companies — Charter and Philadelphia giant Comcast — to control Internet connections into so many homes in the U.S.
Comcast, which provides service in San Francisco, Sacramento and Chicago, and Charter would serve more than two-thirds of the nation's homes with broadband Internet. The FCC has considered whether to demand that Charter agree not to work with Comcast to stymie the development of streaming services, according to one knowledgeable person.
Charter also is expected to be asked to abide by FCC's rules on net neutrality — treating all Internet traffic the same — even if those rules are overturned by an appellate court.
The Justice Department separately is reviewing the deal to make sure that it is not anti-competitive. Charter, Time Warner Cable and Bright House Networks, which serves Bakersfield, offer their products in geographic areas that largely do not overlap.
"This transaction, as proposed, profoundly threatens competition and choice in the cable-and-broadband marketplace," according to a statement from an alliance of opponents called the
Stop Mega Cable Coalition. "This FCC and DOJ have made clear that these problems are a top priority and have a track record to back it up. This all suggests that the deal will not be approved without strong, enforceable and long-lasting conditions that protect consumers."
An FCC spokeswoman declined to comment.
The Wall Street Journal first reported that Wheeler was planning to circulate an order approving Charter's deal among his fellow FCC commissioners.
meg.james@latimes.com
Twitter: @MegJamesLAT
From the Oscars to the Emmys.
Get the Envelope newsletter for exclusive awards season coverage, behind-the-scenes stories from the Envelope podcast and columnist Glenn Whipp's must-read analysis.
You may occasionally receive promotional content from the Los Angeles Times.