Ellen DeGeneres to test power of Twitter with Oscar telecast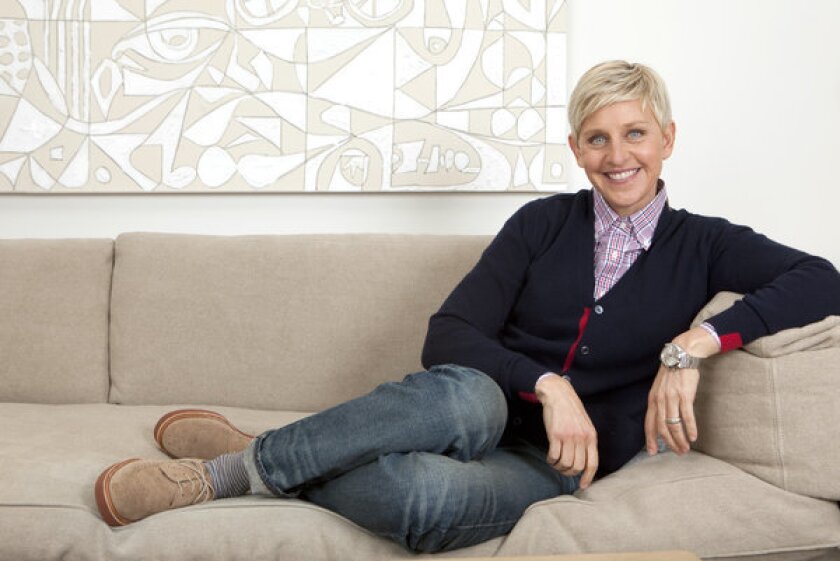 Ellen DeGeneres will test the power of social media -- and the increasingly symbiotic relationship between Twitter and television -- during next year's Academy Awards telecast.
On Friday, illustrating her proclivity for Twitter, DeGeneres announced in a tweet -- before the Academy issued its own press release -- that she would host the 86th Annual Academy Awards show March 2:
"It's official. I'm hosting the #Oscars!" DeGeneres wrote. "I'd like to thank @TheAcademy, my wife Portia and, oh dear, there goes the orchestra."
PHOTOS: Oscar hosts throughout the years
DeGeneres is among the top celebrities in social media. The 55-year-old daytime talk show host boasts more than 21 million followers on Twitter, more than twice as many as NBC's late-night comedian Jimmy Fallon, and seven times as many as ABC's comedian Jimmy Kimmel.
Last year's Oscars host, Seth MacFarlane, has 4.6 million Twitter followers.
DeGeneres' social media prowess probably was a factor in her selection, advertising executives said. In the last three years, since the emergence of Twitter as a indisputable force, the Academy Awards broadcast has benefited by an uptick in viewership.
ABC executives and advertisers credit the surge in viewership to the prominence of social media. People want to watch the Oscars live so they can participate in the real-time conversation unfolding on Twitter and Facebook.
TIMELINE: Oscars, then and now
More than 40 million people watched the Academy Awards telecast last February, according to Nielsen.
The four-plus-hour TV event generated more than 9.5 million comments on social media, said Tom Weeks, senior vice president of LiquidThread, a division of advertising giant Starcom MediaVest Group that specializes in creating cross-platform content for its ad clients.
Twitter trumps other social media in real-time dialogue about TV shows, Weeks said. His firm found that 96% of the conversations about the Oscars in February took place on Twitter. Facebook posts made up 4% of the comments.
"Ellen was a very smart choice," Weeks said in an interview. "She is one of the few entertainers who has a broad demographic appeal -- very much in the vein of Johnny Carson."
PHOTOS: Ellen DeGeneres: Career in pictures
DeGeneres' selection also underscores the economics of being nice. The entertainer is particularly popular among the Oscar-friendly audience of women under the age of 30. Young women warm to DeGeneres' upbeat onscreen demeanor, her messages of anti-bullying and segments during her show in which she helps people in need.
She gets high marks for her "E-score" that measures consumers' perceptions of celebrities based on awareness, likability and appeal. DeGeneres scores the highest among recent Oscar hosts for being "most approachable" and "most down to earth."
MacFarlane, the creator of Fox's animated show "Family Guy" and the raunchy movie "Ted," scored highest among recent hosts for "rudeness," Weeks said. MacFarlane outraged some women during this year's award ceremony with what some called misogynistic humor, including his song "We Saw Your Boobs."
Women make up the majority of the audience for the Academy Awards. In advertising circles, the venue is called the "Super Bowl for women."
PHOTOS: 'The Ellen DeGeneres Show' through the years
DeGeneres is expected to tweet throughout next year's telecast, and she might even tap her pint-sized singing and dancing sidekicks -- British cousins Sophia Grace and Rosie -- whom DeGeneres discovered on YouTube. DeGeneres' show's YouTube channel has 6 million subscribers.
DeGeneres' selection also demonstrates that although the Academy Awards are about showcasing movies, the event is first and foremost a television show. The financial livelihood of the Academy of Motion Picture Arts and Sciences depends on the success of the ABC telecast.
The Beverly Hills-based Academy received $84.2 million in Academy Award revenue in 2010, nearly all of that coming from its TV rights deals. In February, ABC charged nearly $1.8 million on average for 30-second spots in the show, and next year the rate probably will reach $2 million for each 30-second commercial.
PHOTOS: Ellen DeGeneres visits the land Down Under
DeGeneres also has cachet on Madison Avenue. She has had relationships with such major advertisers as American Express, Procter & Gamble's CoverGirl makeup and retailer J.C. Penney. American Express and J.C. Penney have been Oscar sponsors in past years, as has CoverGirl competitor L'Oreal.
Advertisers gravitate to the Academy Awards because the Oscar audience has a high concentration of well-educated viewers with plenty of disposable income. The show also attracts "influencers," people who are determined to be part of pop culture and use social media to give their opinions.
On an average day, there are about 11,000 to 12,000 comments on social media about DeGeneres and her show. By noon Friday, four hours after DeGeneres' announcement, more than 44,000 comments had been registered, according to Trendrr, a private firm that measures social media activity around television.
ALSO:
For Ellen DeGeneres, things are going along nicely
YouTube discoveries boost Ellen DeGeneres' popularity
Ellen DeGeneres hosting the Oscars: What does history say?
Twitter: @MegJamesLAT
---
From the Oscars to the Emmys.
Get the Envelope newsletter for exclusive awards season coverage, behind-the-scenes stories from the Envelope podcast and columnist Glenn Whipp's must-read analysis.
You may occasionally receive promotional content from the Los Angeles Times.