'Fault in Our Stars' likely to break Tom Cruise's heart at box office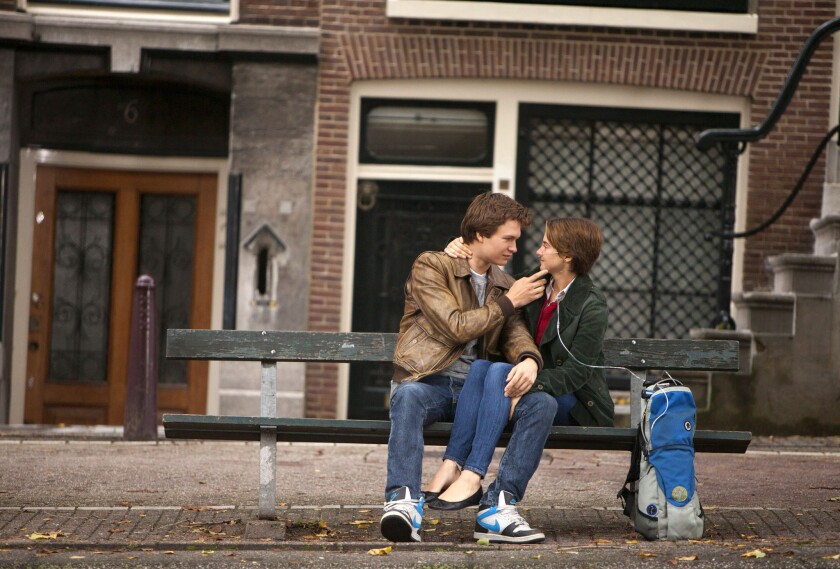 Following a string of weekends dominated by rampaging monsters, mutant superheroes and a Disney fairy tale villain, love-struck teens are likely to supply one of the summer's breakout hits.
The weepy love story "The Fault in Our Stars," opening this weekend, is expected to challenge Disney's "Maleficent" for the No. 1 box-office spot, while Tom Cruise's "Edge of Tomorrow" is poised to lag in its debut.
"The Fault in Our Stars," the 20th Century Fox tear-jerker with rising star Shailene Woodley, should gross $35 million or more in its first weekend in the United States and Canada, and may exceed $40 million if it manages to draw female moviegoers older than the teen demographic, according to people who have seen pre-release audience surveys.
The studio is projecting a more conservative $25 million, noting that "Maleficent" could draw female moviegoers away from the romantic drama based on the popular young-adult novel by John Green.
Either would be a strong result for a movie that cost just $12 million to make.
"Fault," directed by Josh Boone, stars Woodley and Ansel Elgort as teenagers Hazel and Gus who meet and fall in love at a cancer support group. Woodley and Elgort last appeared together in another movie based on a teen-aimed book, the dystopian thriller "Divergent," released earlier this year.
A gross of $40 million in its first weekend would put "Fault" in the league of "The Vow," starring Rachel McAdams and Channing Tatum, which launched in February 2012 with $41.2 million in its first three days and ended up with $125 million domestically. According to the online ticket-seller Fandango, "Fault" is out-pacing "The Vow" in pre-sales.
"Maleficent," the revisionist take on the "Sleeping Beauty" villain starring Angelina Jolie, could bring in $35 million Friday through Sunday if its falls by 50% from last weekend's big debut.
New big-budget science fiction will likely not fare so well.
Despite largely positive reviews, "Edge of Tomorrow," from Warner Bros. Pictures, is poised to gross $25 million through Sunday, which would be a disappointment considering its $178-million production budget.
The Doug Liman-directed, Emily Blunt costarring action adventure features Tom Cruise as an officer who dies over and over in a war with aliens.
The time-loop plot device has inspired comparisons to "Groundhog Day" and "Starship Troopers," and those references have been generally favorable, as indicated by a score of around 90% "fresh" on Rotten Tomatoes as of Thursday. But if the big-budget film fails to show signs of life stateside, it will have to do serious business overseas to make a profit.
Cruise's box-office track record has been mixed at home. A $25-million opening for "Edge of Tomorrow" would be better than the $15-million nationwide debut for "Jack Reacher" in 2012 but much lower than the $37 million his most recent film "Oblivion" pulled in on its way to $286 million worldwide.
Movies starring the 51-year-old actor tend to make the bulk of their global hauls outside North America. Foreign ticket sales accounted for about 69% of the worldwide take for "Oblivion."

---
From the Emmys to the Oscars.
Get our revamped Envelope newsletter, sent twice a week, for exclusive awards season coverage, behind-the-scenes insights and columnist Glenn Whipp's commentary.
You may occasionally receive promotional content from the Los Angeles Times.