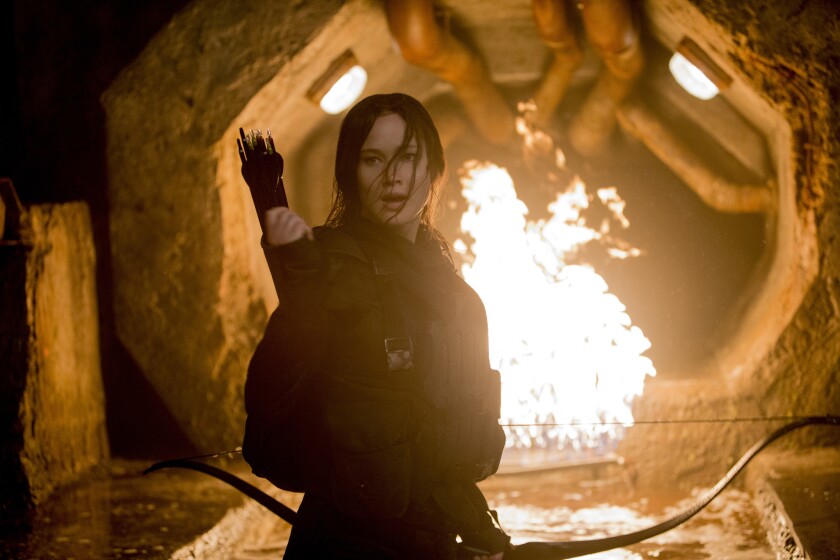 "The Hunger Games: Mockingjay -- Part 2" may have fallen short of expectations in the U.S. and Canada, but the series finale starring Jennifer Lawrence as Katniss Everdeen is performing well overseas.
The Francis Lawrence-directed picture logged international opening weekend ticket sales of $146 million from 87 markets, according to Santa Monica-based studio Lionsgate. In 81 of those markets, the movie was No. 1. Some of those countries include Great Britain ($17.1 million), China ($16.4), Germany ($14.4) and Mexico ($8.7). The movie also did well in France, where parts of it was filmed, as well as Australia, Brazil and Russia.
"Mockingjay: Part 1" opened last year to $152 million overseas, meaning the drop from "Part 1" to "Part 2" was only about 4%. In the U.S. and Canada, however, the "Part 2" ticket sales of about $101 million is a 17% drop from "Part 1."
Because of varying market sizes and release strategies, it's difficult to compare "Part 2" to other installments in the franchise. "The Hunger Games," the first adaptation of Suzanne Collins' novels, opened in 2012 to $59.3 million internationally, according to box office tracking site Box Office Mojo. Its sequel, "The Hunger Games: Catching Fire," opened in 2013 at $6.3 million internationally because of staggered release dates in different countries.
Get your life! Follow me on Twitter: @TrevellAnderson.
---