Judge tosses out 'Piolin' extortion suit against ex-staffers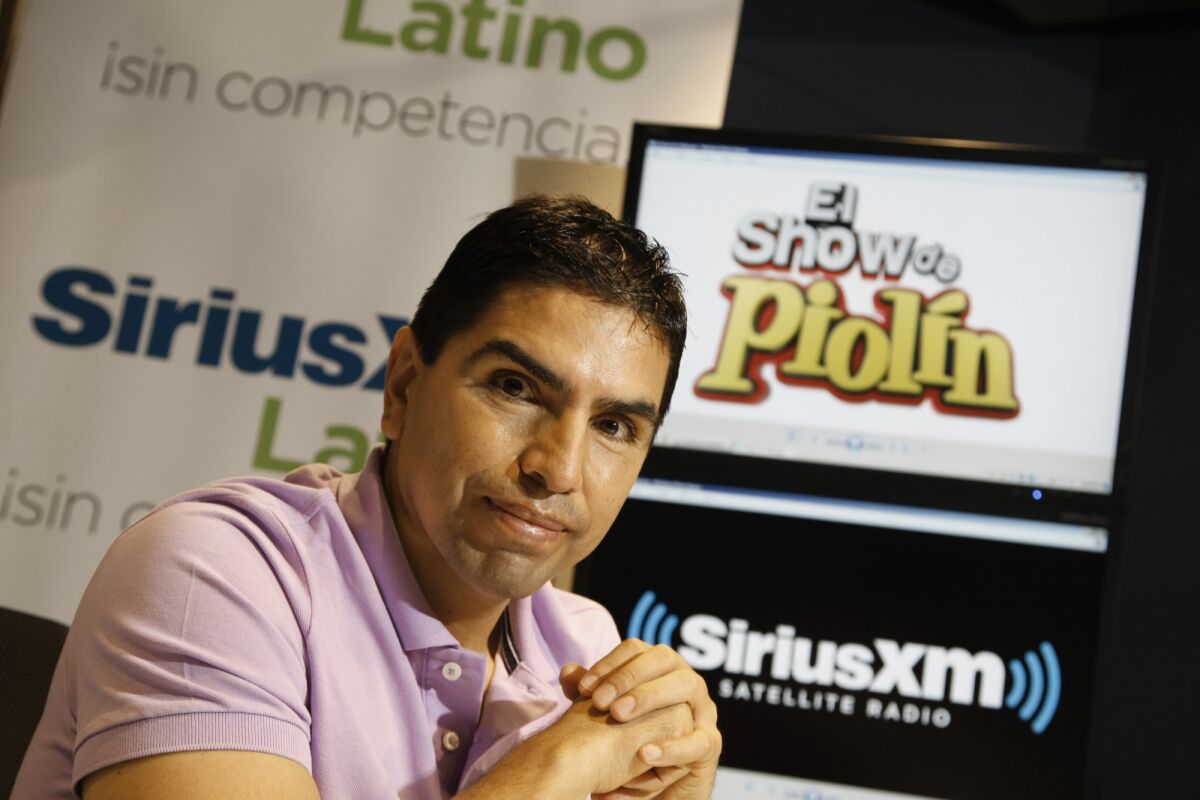 A Los Angeles County Superior Court judge has dismissed an extortion lawsuit brought by popular Spanish-language radio personality Eddie "Piolin" Sotelo against six former staff members of his canceled Univision Radio show — and ruled that Sotelo may be liable for his adversaries' legal fees.
In a civil lawsuit filed in August, Sotelo claimed that he was the victim of a shakedown by the former workers and their attorneys.
Sotelo maintained that the group banded together to demand $4.9 million from him in exchange for their silence — or else they would go public with additional allegations about boorish behavior on his Univision Radio show, which had been canceled a month earlier.
PHOTOS: Biggest box office flops of 2013
Judge Richard A. Stone dismissed Sotelo's lawsuit late last week, finding that Sotelo had failed to prove that he would prevail with his extortion claims during a trial.
The judge also said the former workers could file a petition demanding that Sotelo pay their legal costs.
Sotelo's attorney, Jeffrey Spitz, vowed to appeal.
"We are disappointed in the court's ruling," Spitz said Wednesday in a statement. "Our appeal will be based, in part, on the fact that not all of the relevant evidence was considered by the court before making its decision. We are confident the defendants ultimately will be held accountable for their actions in seeking to extort our client."
The extortion suit was yet another explosive twist in last summer's Sotelo saga. The Mexican immigrant turned radio superstar, whose nickname "Piolin" means Tweety Bird, and Univision agreed to end their partnership in July a few months after a producer on the show, Alberto "Beto" Cortez, complained to the network that Sotelo had sexually harassed him over a three-year period.
FACES TO WATCH 2014: Digital media
Cortez's allegations were revealed by The Times in a front-page article. Sotelo, who became a U.S. citizen in 2008, has long denied the claims.
But after the public airing of Cortez's harassment complaint to Univision, several others who had been involved with Sotelo's show brought their concerns to the lawyers who were representing Cortez in his dealings with Univision.
The group believed that Sotelo's denials were disingenuous, said Robert Clayton, a Los Angeles attorney who represents Cortez and the six other former Piolin show staff members.
"They were less motivated by money but more offended by Piolin's conduct toward Beto Cortez," Clayton said. "They wanted him to apologize but he never did."
Clayton and his law partner, John C. Taylor, began discussions with Sotelo's attorney, Spitz, about heading off a possible lawsuit against Sotelo brought by the six former workers. During those talks, Clayton was asked to provide a dollar amount that would end the threat of a lawsuit against Sotelo.
Clayton's response: $4.9 million to be split among the six former workers.
ON LOCATION: Where the cameras roll
Soon after that figure was provided, Spitz filed the lawsuit saying that Sotelo was the victim of the extortion plot.
Sotelo's lawsuit, which alleged civil extortion and intentional infliction of emotional distress, named former staff members Domingo Rodrigo Ochoa, Tomas Alejandro Fernandez, Samuel Heredia, Gerardo Palencia, Sergio Vera and Bertha "Betty" Velasco.
Sotelo, who now has a morning show on SiriusXM satellite radio, has described his former staff as ungrateful and opportunistic.
Before joining his crew, most of the group held low-level jobs outside of radio — working as a fast-food server, a bakery delivery man, a warehouse employee, a medical waste hauler and a copywriter, Sotelo's suit asserted.
But after going to work on Sotelo's popular radio show, the employees were well compensated and able to rub elbows with the likes of President Obama, First Lady Michelle Obama and entertainer Jennifer Lopez, who were guests on his Univision show.
Sotelo's suit sought general damages and punitive damages "in an amount sufficient to punish defendants and to deter them from engaging in similar conduct in the future," and legal costs.
VIRTUAL TOUR: Hollywood's Walk of Fame
But Clayton and Taylor immediately blasted Sotelo's lawsuit. They countered that the figure had been offered in good faith as part of confidential settlement negotiations.
The workers relied on California's anti-SLAPP law, which allows people to file a motion to block a lawsuit that appears to be designed to prevent others from exercising their right to free speech. SLAPP stands for a "strategic lawsuit against public participation."
Stone wrote in his March 13 ruling that the former workers had produced "ample evidence" that they were considering filing a lawsuit against Sotelo that would contain "numerous salacious allegations."
The six former workers alleged in court papers that as Sotelo's Univision career began to soar — around 2006 — his behavior toward staff members turned abusive. He allegedly humiliated workers by calling them derogatory names, licking and biting them, rubbing his body against theirs and grabbing his genitals.
"We are glad to see that the court has seen through Mr. Sotelo's bullying extortion lawsuit against his former co-employees and threw it out of court," Clayton said in a statement.
meg.james@latimes.com
ALSO:
Eddie Piolin Sotelo alleges extortion, sues former workers
Former "Piolin" staffers allege they suffered years of abuse
Univision Radio launches "good, bad, ugly" morning show in LA
Twitter: @MegJamesLAT
From the Oscars to the Emmys.
Get the Envelope newsletter for exclusive awards season coverage, behind-the-scenes stories from the Envelope podcast and columnist Glenn Whipp's must-read analysis.
You may occasionally receive promotional content from the Los Angeles Times.