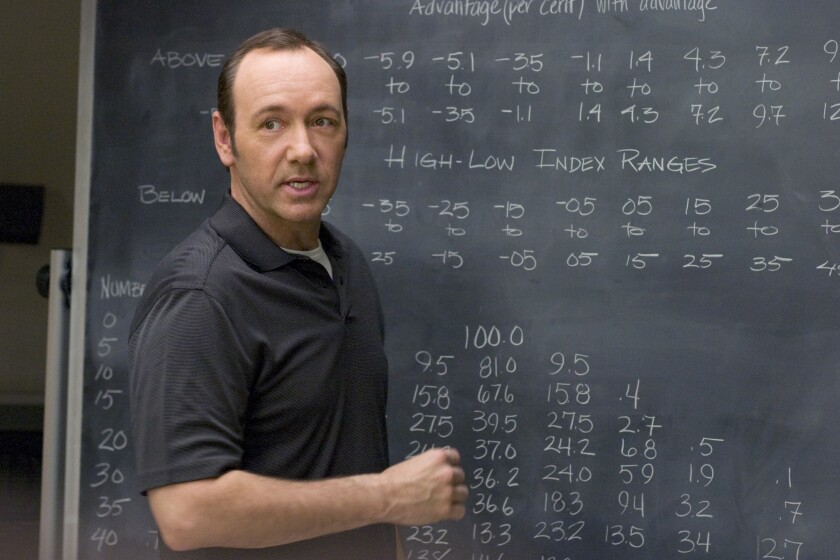 "House of Cards" star Kevin Spacey and his production partner Dana Brunetti have joined Ryan Kavanaugh's Relativity Media in a surprising development for the entertainment company that has been in bankruptcy since last summer.
Relativity said late Wednesday that it has acquired Trigger Street Productions, the company owned and operated by Spacey and Brunetti. Kavanaugh's company did not say what it paid for Trigger Street.
Spacey will become chairman of Relativity Studios and Brunetti will be the unit's president, starting in mid-February. The pair will "oversee all creative content and film production for the company," Relativity said in a statement.
Beverly Hills-based Relativity Media filed for Chapter 11 bankruptcy protection in July after failing to pay down a mountain of debt, not helped by a string of box-office failures. The company made a name for itself co-financing movies like "The Social Network" and "Bridesmaids," but more recently released bombs such as "Out of the Furnace."
The process of getting the beleaguered studio back on its feet has made for one of the most closely watched bankruptcy sagas in Hollywood history.
While in bankruptcy, Kavanaugh has fought publicly with investors while fighting to keep control of the company he founded in 2004. Relativity sold its relatively vibrant television division to a group of lenders last fall for $125 million, leaving Kavanaugh to restructure the rest of the company.
A court hearing is set for Feb. 1, when Relativity hopes Judge Michael E. Wiles will confirm its plan to emerge from bankruptcy protection. The studio is planning to release movies including "The Disappointments Room," "Before I Wake" and "Kidnap."
In a statement, Spacey appeared to acknowledge the challenges ahead for his new company, saying "this move with Relativity will be proof for some that we really are crazy."
Spacey, who has won acting Oscars for "American Beauty" and "The Usual Suspects," expressed excitement for "this next evolution" in his career.
"Having run an independent production company to now be able to run a studio is a great challenge, and I've learned that in the end it's the risk takers that are rewarded," Spacey said.
Follow Ryan Faughnder on Twitter for more entertainment business coverage: @rfaughnder
---