Lionsgate and Starz in advanced merger talks, sources say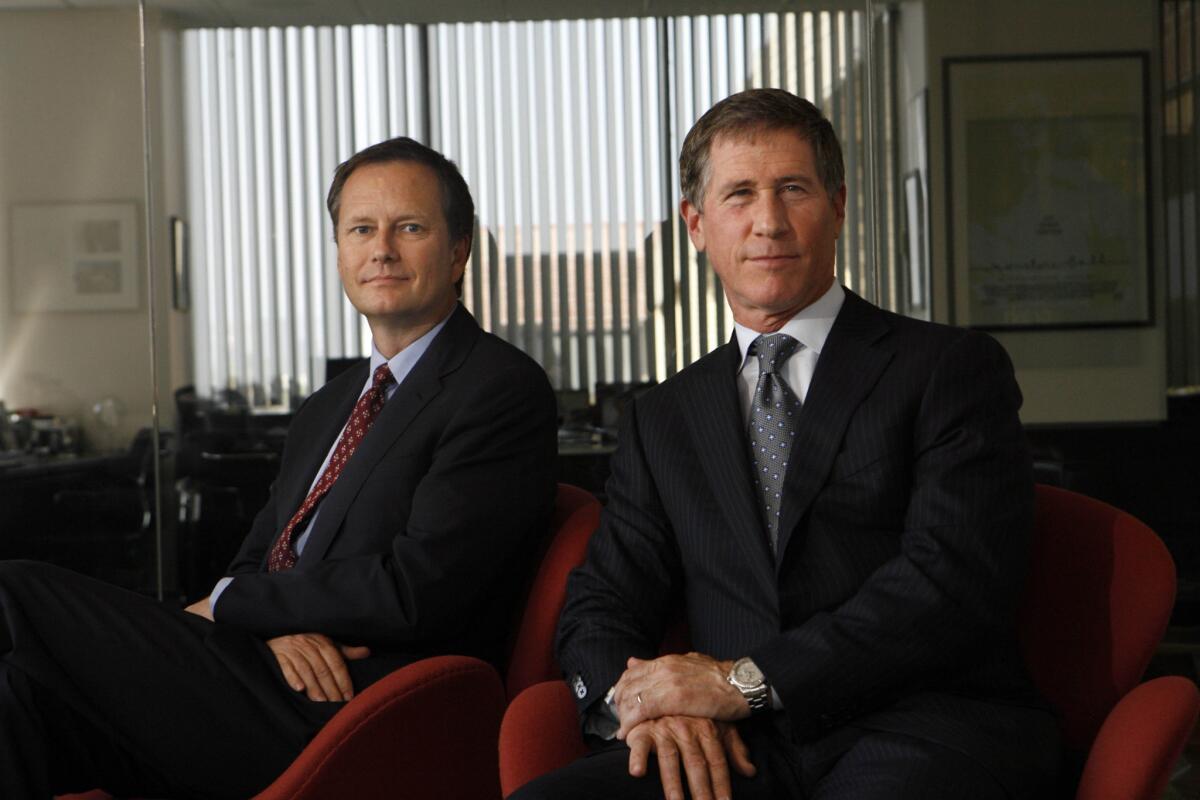 Movie and television studio Lionsgate cemented its mini-major status in Hollywood with "The Hunger Games," and now its appetite is being tested.
The Santa Monica studio is in advanced talks to merge with movie channel Starz, according to four people with knowledge of the matter who were not authorized to speak publicly.
The move would mark a significant step toward creating the next major media company, and further billionaire John Malone's ambition to sweep up what he calls the "free radicals" of the entertainment industry -- small standalone producers of television and films.
The thinking is that as major cable and satellite TV distributors consolidate, smaller players will need to join forces in order to survive. Analysts believe that independents will likely have a more difficult time competing as pay-TV providers shed excess channels to keep up with consumer demands and changing viewing habits.
NEWSLETTER: Get the day's top headlines from Times Editor Davan Maharaj >>
Malone foreshadowed the move earlier this year when he acquired a minority stake in Lionsgate through a stock swap with Starz, which Malone also backs. Then, in June, Malone hinted that a future tie-up between Starz and Lionsgate was possible.
The two companies have held high-level talks for several months but a deal may not materialize, according to one senior company official who asked not to be named because the discussions are confidential. A deal has not been the only scenario under consideration, this person said. Executives also have mulled a variety of partnerships that will allow them to work closer together.
One of the factors complicating the dealmaking is the valuations of the two companies. Wall Street places Lionsgate's worth at $5.7 billion, while Starz has a valuation of $4 billion. Lionsgate's management would run the combined company and has expressed interest in finding an important role for Starz Chief Executive Chris Albrecht, the former head of HBO who has made progress developing original programs for the movie channel, said the high-level executive.
Another entanglement is Epix, the movie channel that Lionsgate co-owns with Viacom Inc. and MGM. Epix competes with Starz but Lionsgate could not merge the two movie services without the consent of its other equity partners.
Representatives of Lionsgate and Starz declined to comment on the merger talk.
Analysts have long been intrigued by a Lionsgate-Starz merger as well as Malone's interest in reshaping Hollywood. A combination of Lionsgate and Starz would have benefits for both operations.
Lionsgate would get another outlet for its growing TV production business, which already makes shows including "Orange Is the New Black" for Netflix, "Nashville" for ABC, and the recently retired "Mad Men" for AMC.
Lionsgate is also looking for more stable sources of revenue as its biggest franchise comes to an end. "Hunger Games: Mockingjay -- Part 2," which hits theaters in November, is the final installment in the series of dystopian blockbusters starring Jennifer Lawrence. With 57 million pay-TV subscribers who pay for Starz or its companion brand, Encore, Starz provides a steady stream of revenue -- last year, to the tune of nearly $1.7 billion.
SIGN UP for the free Indie Focus movies newsletter >>
For Starz, the deal with Lionsgate could eventually give the channel access to the studio's big-budget productions, although Lionsgate's films currently are promised to Epix. Starz has been looking to beef up its programming slate as its deal to carry new movies from the Walt Disney Co. comes to an end.
Starz has long been something of an orphan asset. A standalone publicly traded company for nearly three years, it has spent much of that time in search of a buyer. Possible suitors were put off by the price tag.
"Conceptually, a Lionsgate-Starz deal would make sense," said Matthew Harrigan, media analyst with Wunderlich Securities. "But Lionsgate is not going to overpay for an asset."
Analysts believe that a union of Lionsgate and Starz might be only the first step in molding a media company with considerable heft and a deep trove of content. In the next few years, larger media companies -- such as Viacom Inc., CBS Corp. or even Time Warner Inc. -- might go into play, and Lionsgate would be poised to make a move to take over one of those giants.
Malone, 74, has been a vocal proponent of media consolidation. A feared and revered figure, he is widely considered one of the godfathers of the modern cable television industry. Forbes estimates his wealth at about $7 billion. He presides over his corporate empire from outside Denver, where his Liberty Media Corp. is based.
Liberty Media owns Sirius XM, the Atlanta Braves baseball team and a minority stakes in Live Nation and cable company Charter Communications, which is trying to take over Time Warner Cable. Another firm, Liberty Interactive, includes home shopping network QVC and the online retailer Zulily.
With media mergers well underway among cable and satellite providers, analysts believe that Malone will play a central role in the expected consolidation of programmers.
Malone will likely be involved in "molding how the industry evolves from here," said David Joyce, media analyst with the investment firm Evercore ISI.
Malone currently owns 3% of Lionsgate's stock, according to regulatory filings, and is Starz's largest voting shareholder.
"It's pretty apparent he hasn't joined the board of Lionsgate just for fun," said B. Riley analyst Eric Wold, who covers media and entertainment companies. "There's got to be something bigger afoot."
Harrigan, the Wunderlich Securities analyst, agreed.
"Malone has never been a big fan of the movie business, so the fact that he is interested in it now is a real testament to [Lionsgate Chief Executive] Jon Feltheimer and [vice chairman] Michael Burns," Harrigan said. "His time is a very valuable asset and shows that his interest in Lionsgate goes beyond his immediate financial stake in the company."
Analysts say that Malone -- who is known to be a master of complicated deals that are tax-neutral -- likely is intrigued by Lionsgate's corporate domicile in Vancouver, Canada. If Starz was headquartered in Canada, it would pay a lower tax rate, generating higher profits, Joyce said.
"Malone is a very creative force in global content production and distribution," he said. "He brings energy and creativity and value to Lionsgate."
Feltheimer would like to bring in Malone as a bigger player in the company, according to one source. Lionsgate's stock jumped on the news in February that Malone was investing in Lionsgate -- and taking a seat on its board.
Lionsgate's chairman and largest shareholder, Mark Rachesky, may be looking for an exit. MHR Fund Management, Rachesky's New York-based investment firm, controls 27% of the company's shares, according to a public filing. Rachesky in April reduced his holdings by 20%.
The potential consolidation wave comes as media companies have endured a difficult business climate. A widespread media stock sell-off in August, triggered by renewed concerns over the fate of the traditional pay-TV bundle, wiped out billions of dollars in market value. Owners of cable channels have been particularly hard-hit by the media meltdown, which was prompted by fears that people might cancel their cable subscriptions in favor of so-called skinny bundles.
Unlike its fellow media companies, Lionsgate glided through the summer of discontent on Wall Street relatively unscathed. Lionsgate has seen its shares climb 22% this year. In contrast, Time Warner is down 17%, Discovery Communications is down 22%, and Viacom is down 40% this year.
Starz has long been the subject of merger speculation. It was shopping itself around last year, with potential suitors including Rupert Murdoch's 21st Century Fox. Last month, reports surfaced that AMC Networks was in talks to buy Starz, but such a deal has not materialized. A potential AMC-Starz deal could have been floated to nudge Lionsgate to seal the deal, analysts said.
"It feels like something is going to happen," said one fund manager whose firm owns Liberty Media shares.
Follow Ryan Faughnder on Twitter for more entertainment business coverage: @rfaughnder
ALSO:
Box office: 'The Martian' rockets to $55-million opening
Ryan Kavanaugh and investors to buy Relativity, minus TV business
More MSNBC changes: Steve Kornacki expands role while Alex Wagner moves to weekends
From the Oscars to the Emmys.
Get the Envelope newsletter for exclusive awards season coverage, behind-the-scenes stories from the Envelope podcast and columnist Glenn Whipp's must-read analysis.
You may occasionally receive promotional content from the Los Angeles Times.