22 Images
Notable music biopics and documentaries
Notable music biopics and documentaries
A collection of noteworthy biopics and documentaries that explore the personal and professional lives of musicians.
(Lionsgate; Universal Pictures; 20th Century Fox)
'I Saw the Light' | 2016
In "I Saw the Light," Tom Hiddleston, best known for his role as Loki in the Marvel Cinematic Universe, portrays country music pioneer Hank Williams, who died at age 29.
(Sam Emerson / Sony Pictures Classics via AP)
'Miles Ahead' | 2016
"Miles Ahead" focuses on jazz trumpeter Miles Davis' return from his late-1970s silent period. Don Cheadle directs himself in the title role. Previously titled "Kill the Trumpet Player," the film is set to be released in 2016.
(Pan African Film Festival )
'Straight Outta Compton' | 2015
"Straight Outta Compton" follows the meteoric rise and fall of the seminal hip-hop group N.W.A., which burst onto the music scene in the mid-1980s with a sound that reflected the violence and desperation of its gang-ridden surroundings.
(Jaimie Trueblood / Universal Pictures)
'What Happened, Miss Simone?' | 2015
Netflix's "What Happened, Miss Simone?" chronicles the life of singer and activist Nina Simone.
(Sundance Institute)
'Amy' | 2015
"Amy" offers an intimate, unflinching gaze into the life of singer Amy Winehouse, exposing the perils of celebrity and addiction and how Winehouse fed off the two.
(A24)
'Kurt Cobain: Montage of Heck' | 2015
Director Brett Morgen's HBO documentary "Kurt Cobain: Montage of Heck" offers an intimate look at the life of the late musician from his childhood in Aberdeen, Wash., through his rise to stardom with the grunge band Nirvana to his death in 1994.
(Dora Handel / TNS)
'Love & Mercy' | 2015
Directed by producer-financier William Pohlad, "Love & Mercy" chronicles the complicated, eccentric personal saga of Beach Boys cofounder Brian Wilson. John Cusack and Paul Dano play Wilson in different periods of his tumultuous life, with Paul Giamatti as his tormentor, psychologist Eugene Landy.
(Francois Duhamel / Roadside Attractions)
'Glen Campbell: I'll Be Me' | 2014
This observational documentary offers a final opportunity to witness the singer in lucid moments, with his artistry movingly intact. He moved into an Alzheimer's treatment facility in March 2014, three years after filming began.
(PCH Films)
'Get On Up' | 2014
James Brown (pictured) left big shoes and flashy suits for Chadwick Boseman to fill. Boseman, who made a splash as Jackie Robinson in "42," portrays Brown in this film exploring the musician's rise from poverty to stardom. The movie, released in 2014, was in the works before the famously combative singer died in 2006. Domestic gross: $30,703,100.
(Gareth Cattermole / Getty Images)
'Aaliyah: The Princess of R&B' | 2014
This Lifetime movie stars Alexandra Shipp (pictured) as Aaliyah and chronicles her life, rise to stardom and tragic death in a plane crash in 2001.
(Christos Kalohoridis / Lifetime)
'All Is by My Side' | 2013
Rock guitarist Jimi Hendrix is portrayed on the big screen by Andre Benjamin (pictured), a.k.a. Andre 3000 from the hip-hop duo Outkast. Domestic gross: $340,911.
(Patrick Redmond / Associated Press)
'Notorious' | 2009
This biopic examines the dramatic rise and fall of Brooklyn rapper Notorious B.I.G., played by Jamal Woolard, right, with Dennis White. Domestic gross: $36,843,682.
(Phil Caruso / 20th Century Fox)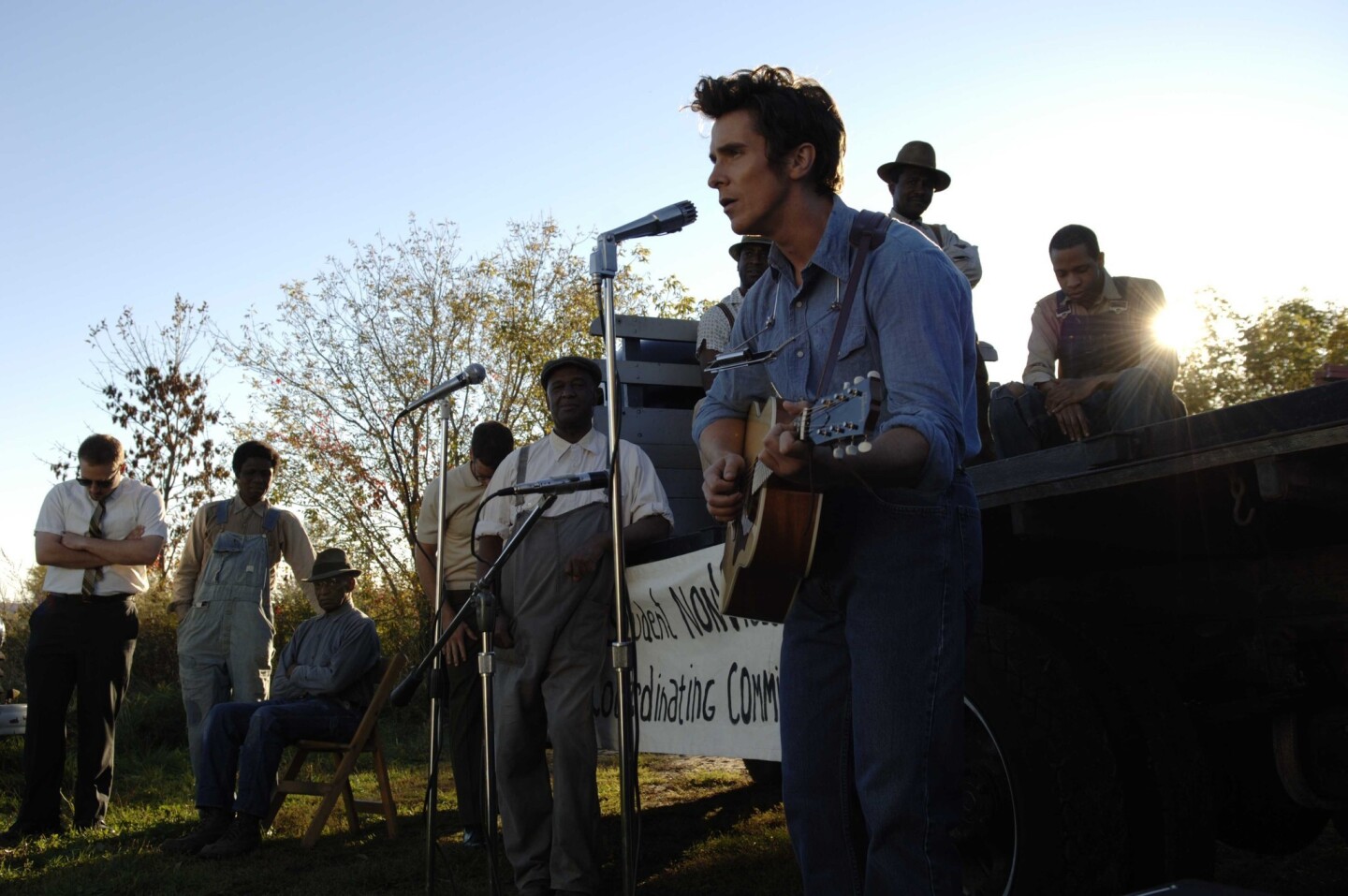 'I'm Not There' | 2007
This 2007 film featured multiple actors, including
Christian Bale
and
Cate Blanchett
, portraying different facets of the legendary singer-songwriter
Bob Dylan
. Domestic gross: $4,017,609.
(Jonathan Wenk / The Weinstein Co.)
'La Vie En Rose' | 2007
Marion Cotillard (pictured) won a lead actress Oscar for her portrayal of the troubled French singer Édith Piaf. The 2007 film was nominated for three Academy Awards and won two. Domestic gross: $10,301,706.
(Bruno Calvo / Picturehouse)
'Walk the Line' | 2005
Reese Witherspoon's spunky representation of June Carter Cash earned her an Oscar, and the 2005 film was a commercial success. Joaquin Phoenix (pictured), who played Johnny Cash, was also nominated. Not adjusted for inflation, it is the highest-grossing music biopic to date. Domestic gross: $119,519,402.
(Suzanne Tenner / 20th Century Fox)
'Ray' | 2004
The 2004 depiction of soul music genius Ray Charles resulted in two Oscars, including a lead actor honor for Jamie Foxx (pictured). Domestic gross: $75,331,600.
(Nicola Goode / Universal Pictures)
'Selena' | 1997
Jennifer Lopez
(pictured) achieved big-screen stardom in the titular role, playing the slain Latin pop star in 1997. Domestic gross: $35,281,794.
(Rico Torres / Warner Bros.)
'The Doors' | 1991
Oliver Stone's unflattering portrait of the band's enigmatic frontman Jim Morrison won critical acclaim for Val Kilmer's performance as the self-destructive protagonist. Domestic gross: $34,416,893.
(Tri-Star Pictures)
'Coal Miner's Daughter' | 1980
The 1980 film starring Sissy Spacek (pictured) earned seven Oscar nominations and one win (for Spacek) in this story of the country music legend Loretta Lynn. Domestic gross: $67,182,787.
(Los Angeles Times)
'Tupac'
Carl Franklin has replaced John Singleton as the director of "Tupac," the long-gestating biopic about the late rapper Tupac Shakur (pictured).
(Perry C. Riddle / Los Angeles Times)
'Get It While You Can'
After nearly a decade of speculation and false starts, the long-awaited Janis Joplin film "Get It While You Can" is still struggling to materialize. Director Jean-Marc Vallee of "The Dallas Buyers Club" has replaced Lee Daniels, and legal troubles are plaguing the film.
(Henry Diltz)