Netflix to pay Comcast to ensure network speeds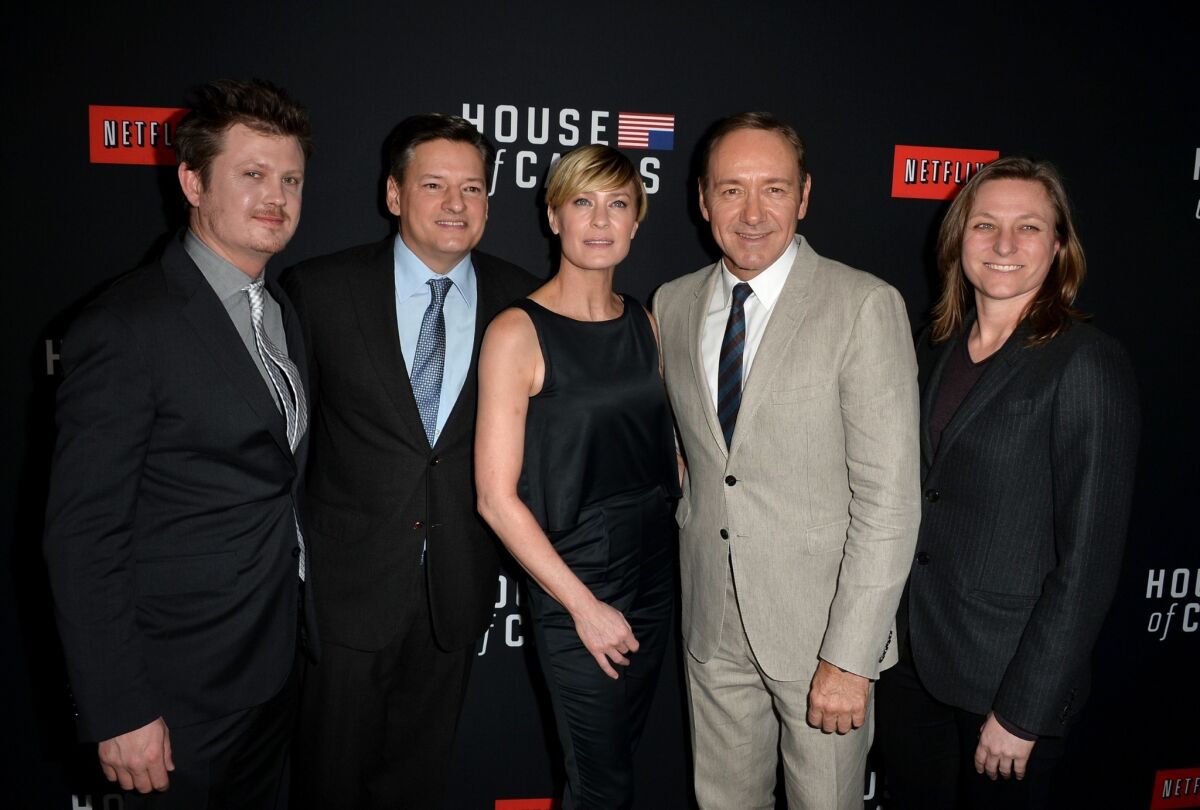 Updated to correct the name of Netflix's Open Connect initiative.
Netflix Inc. has agreed to pay Comcast Corp. to ensure the online service's subscribers get seamless access to movies and TV shows delivered over the Internet, according to people familiar with the matter.
The deal, which has been nearly a year in the making, would give Netflix direct access to Comcast's high-speed network, the two companies confirmed Sunday. Terms were not disclosed.
FACES TO WATCH 2014: Digital media
The agreement could set a precedent in Netflix's dealings with other Internet access providers, such as AT&T and Verizon Communications.
For Netflix users who are Comcast subscribers, the pact should mean better quality. Customers have been complaining about problems streaming Netflix videos. The online video service's monthly tracking of Internet speeds shows a deterioration in recent months for Comcast and Verizon subscribers, though the reasons for slow-down are a matter of dispute.
Updated at 12:05 p.m. Netflix has been seeking direct access to Comcast's network through an initiative known as Open Connect, in which it would use a third party to deliver its movies and TV shows to its own hardware inside or near Comcast's facilities. It has struck agreements with Internet providers around the world, including British Telecom, Bell Canada and Cablevision.
But Comcast balked at such an arrangement, seeking an agreement in which Netflix would pay to connect directly to its high-speed network -- as do other large data providers, such as Google Inc.'s YouTube.
Graphic: Comcast makes bid to acquire Time Warner Cable
Executives have been in discussions for months, seeking to iron out the technical details, with Netflix Chief Executive Reed Hastings and Comcast Chief Executive Brian Roberts spurring on discussions.
"Working collaboratively over many months, the companies have established a more direct connection between Netflix and Comcast, similar to other networks, that's already delivering an even better user experience to consumers, while also allowing for future growth in Netflix traffic," Comcast said in a statement. "Netflix receives no preferential network treatment under the multi-year agreement, terms of which are not being disclosed."
The multi-year agreement comes two weeks after Comcast agreed to acquire Time Warner Cable Inc. in a mammoth $45-billion transaction that would make the combined cable company the nation's largest Internet access provider.
By making peace with Netflix, Comcast removes or at least softens the voice of a potential critic of that acquisition, which will be heavily scrutinized by lawmakers and regulators.
A Netflix spokesman said the agreement with the nation's largest broadband provider allows for traffic growth for years to come.
"It basically means that the deterioration in performance for consumers that we've been seeing will reverse," said Jonathan Friedland.
ALSO:
New bid by FCC to craft rules for Internet
Comcast-Time Warner deal would create formidable giant
Comcast-Time Warner Cable deal may heighten calls for net neutrality
---
Get our L.A. Goes Out newsletter, with the week's best events, to help you explore and experience our city.
You may occasionally receive promotional content from the Los Angeles Times.