Paramount Pictures shake-up; Vice Chairman Rob Moore pushed out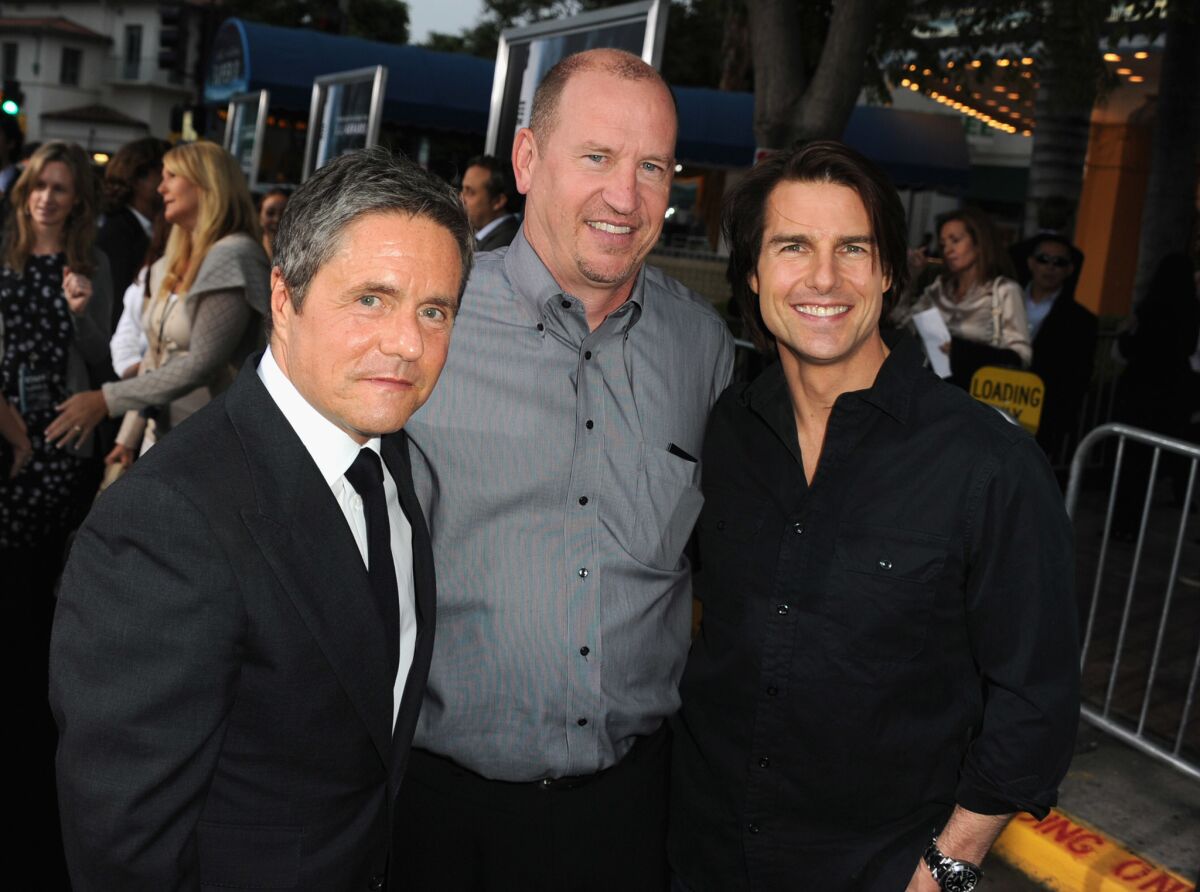 Paramount Pictures' woeful year at the box office claimed a casualty on Friday with the firing of the studio's vice chairman, Rob Moore.
Moore's ouster was confirmed by three people close to the situation who were not authorized to speak publicly.
The shake-up follows a string of theatrical misfires at the Melrose Avenue studio, including the summer's biggest flop, "Ben-Hur." Paramount is expected to lose as much as $450 million in the current fiscal year for parent company Viacom Inc.
Shari Redstone, Viacom's powerful vice chair, and other board directors engineered Moore's dismissal — despite three years remaining on his contract — because of his campaign to sell a significant stake of the studio to the Chinese entertainment conglomerate Dalian Wanda Group.
Shari Redstone and her ailing 93-year-old father, Sumner Redstone, the controlling shareholders of Viacom, adamantly opposed the sale, which was officially abandoned this week.
Instructions to fire Moore came from Viacom's board, according to two people familiar with the situation who were not authorized to speak publicly. Because of Moore's advocacy for the proposed Paramount sale, "it was determined that he was not a good fit for the studio moving forward," one of the knowledgeable people said.
Moore's boss, Paramount Pictures Chairman Brad Grey, delivered the unexpected news Friday morning, informing Moore that he no longer had a place at the company — effective immediately.
His abrupt departure came two days after Viacom's interim chief executive, Thomas Dooley, announced that he would leave the company Nov. 15.
Moore — the studio's No. 2 executive — was responsible for marketing, distribution, home entertainment, licensing, television and digital initiatives. He joined Paramount in 2005 as the worldwide marketing chief, before being named vice chairman of the studio in 2008. During his tenure, the studio achieved success with such film franchises as "Transformers," "Star Trek" and "Mission: Impossible."
The firing came a week after Paramount executives were asked to account for the studio's struggles, and provide a turn-around plan, during in-depth finance meetings with members of Viacom's board in New York.
Its recent releases, including "Teenage Mutant Ninja Turtles: Out of the Shadows," "Whiskey, Tango, Foxtrot," and "Zoolander 2" fell well short of expectations. Paramount lost money on "Ben-Hur," which eked out just $26 million domestically, although Metro-Goldwyn-Mayer covered 70% of the production, marketing and distribution costs for the remake of the 1959 New Testament classic. MGM this month reduced its annual profit outlook by about $50 million to account for its share of the losses.
Paramount currently ranks sixth among the six major studios, a humbling spot for a century-old operation that once churned out such culture-defining hits as "The Godfather," "Terms of Endearment," "Fatal Attraction," "Forrest Gump" and "Lara Croft: Tomb Raider."
Viacom startled Wall Street this week by taking a $115-million write-down for a big-budget computer-generated film that Paramount plans to release in January, "Monster Trucks." It is unusual for a company to disclose a write-down before a film hits theaters but early audience screenings suggested that the film would not have the broad appeal that Paramount had hoped, particularly among adults, according to an executive familiar with the situation.
The movie now is expected to entertain mostly children.
For now, Grey remains at the helm. Late last month, Shari Redstone and other members of Viacom's board made an unusual statement in support of the beleaguered chairman.
"Under Brad's leadership, Paramount has taken significant, successful steps to broaden and strengthen its business, and we are confident that Brad and his team have the skills, relationships and resources necessary to return Paramount to success in its movie business and continue its rapid growth in television," the board said.
That statement appeared to have been designed to tamp down speculation in Hollywood that Viacom soon might turn to the former chairman of the competing 20th Century Fox film studio, Jim Gianopulos, to take over Paramount. A person close to the situation dismissed the speculation as rumor, saying Gianopulos is not engaged in talks with Viacom.
Moore's departure comes as Shari Redstone becomes more deeply involved in the operations of the media company after she emerged as the victor in a high-stakes showdown that has roiled the company since late May.
As part of a settlement to end the bitter fight, former Viacom Chief Executive Philippe Dauman stepped down Aug. 18. "It's pretty clear that there is a new group in charge," said one person close to the situation who was not authorized to speak publicly.
Paramount has suffered from several factors, including belt-tightening at a time when other studios were investing heavily in brand-name content. Hewing to a corporate mandate to manage its film slate to meet quarterly earnings objectives, Paramount's film pipeline slowed to a trickle.
The studio's output fell to as few as eight movies in some years, well below the level of rivals like Fox and Warner Bros. This year it will release 15 films.
Paramount's years of frugality has made it less popular among filmmakers and agents, with some saying the studio is the last place they would take big film projects. The last time it was No. 1 at the box office was in 2011, and it has since ranked at or near the bottom of the pack.
Viacom shares closed down further Friday: nearly 1%, or 32 cents, to $35.50. The stock has fallen 50% since mid-2014.
See the most-read stories in Entertainment this hour »
Get our L.A. Goes Out newsletter, with the week's best events, to help you explore and experience our city.
You may occasionally receive promotional content from the Los Angeles Times.