PopSugar Live broadcast goes live -- online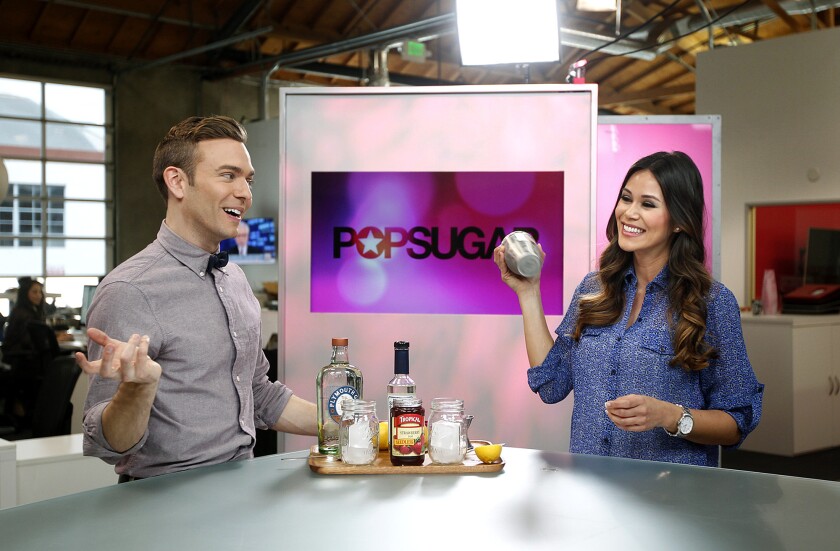 From the control room, the producer gave host Matthew Rodrigues the cue to launch into a celebrity news segment featuring a Valentine's Day update on Robert Pattinson and Kristen Stewart -- she didn't travel to Australia to visit him during the filming of "The Rover"!
Rodrigues followed with a discussion of the news that "Downton Abbey" dowager countess Maggie Smith doesn't even watch the series!
With the season finale coming, Rodrigues quipped, "I guess Maggie Smith will be the only one who is not watching."
The production has all the gloss of "Entertainment Tonight" or "Access Hollywood" – including video highlights from the runways of "Fashion Week" in New York City – but this show appears exclusively online.
PopSugar Live, which debuted Wednesday, marks an ambitious undertaking for the 7-year-old site that focuses on celebrity, fitness and fashion. It's an attempt to deepen PopSugar's relationship with its 19.4 million readers worldwide, 65% of whom are women, most of them young, according to measurement firm ComScore.
"We are offering PopSugar Live this way because our audience grew up online and has always come to PopSugar throughout the day and evening for fresh and immediate content," said PopSugar Studios President David Grant, who for years served as head of Fox Television Studios.
Unlike its syndicated TV counterparts, PopSugar Live will appear in two live installments – at 1 p.m. and 3 p.m. daily – with individual segments available for viewing any time online. Grant said he found a technology to deliver high-definition live streams without paying for satellite video distribution. This infrastructure enabled PopSugar to offer live commentary during the 2013 Golden Globe Awards that attracted 750,000 viewers. It will be employed again during the upcoming Academy Awards.
The idea for PopSugar sprang from a 2005 Oscar party conversation with journalist and tech blogger Om Malik, who suggested that the husband and wife team of Brian and Lisa Sugar were positioned to create a Conde Nast-style publishing empire for the digital age. Brian, who had helped launch J. Crew's website and Bluelight, Kmart's site, began working on the technology, while Lisa, who at the time worked as a media planner at ad agency Goodby Silverstein & Partners with a passion for celebrity magazines, began to write.
The San Francisco-based site has raised a total of $46 million since PopSugar's launch in May 2006. What began as a collection of focused special-interest blogs has become a single site that reflects Lisa Sugar's fashion and pop culture sensibilities, with a full breadth of lifestyle coverage.
The 2009 acquisition of a company owned by Grant, Shopflick, brought to the growing media company the expertise of a veteran television executive who helped PopSugar prepare for its entrance into video.
Every month, from its studios in Los Angeles, New York and San Francisco, PopSugar produces more than 250 original entertainment, style and lifestyle shows.
Unlike some media properties, which are entirely dependent on advertising, PopSugar diversifies its revenue through a combination of advertising and e-commerce – reflecting Brian Sugar's background.
PopSugar also developed a fashion twist on the book-of-the-month club with the Must Have Box, which delivers an assortment of beauty, fashion, home, fitness and food items, selected by the site's editors, for a $35 monthly fee. Readers of the site's fashion and beauty segments can shop the handbags, boots or other items described in the articles. Die-hard shoppers can even receive an email alert when an item goes on sale.
Last year, PopSugar influenced more than $450 million in sales for their retail partners, transactions for which it derives a commission, Brian Sugar said.
ALSO:
PopSugar launches a brand-heavy online shopping game
Pacino's "Any Given Sunday" speech given new life in Jeep ad
Filmmaker blends vintage photos with green screen to make drama
---
From the Oscars to the Emmys.
Get the Envelope newsletter for exclusive awards season coverage, behind-the-scenes stories from the Envelope podcast and columnist Glenn Whipp's must-read analysis.
You may occasionally receive promotional content from the Los Angeles Times.