Relativity Media, said to be nearing bankruptcy, is cutting 50 jobs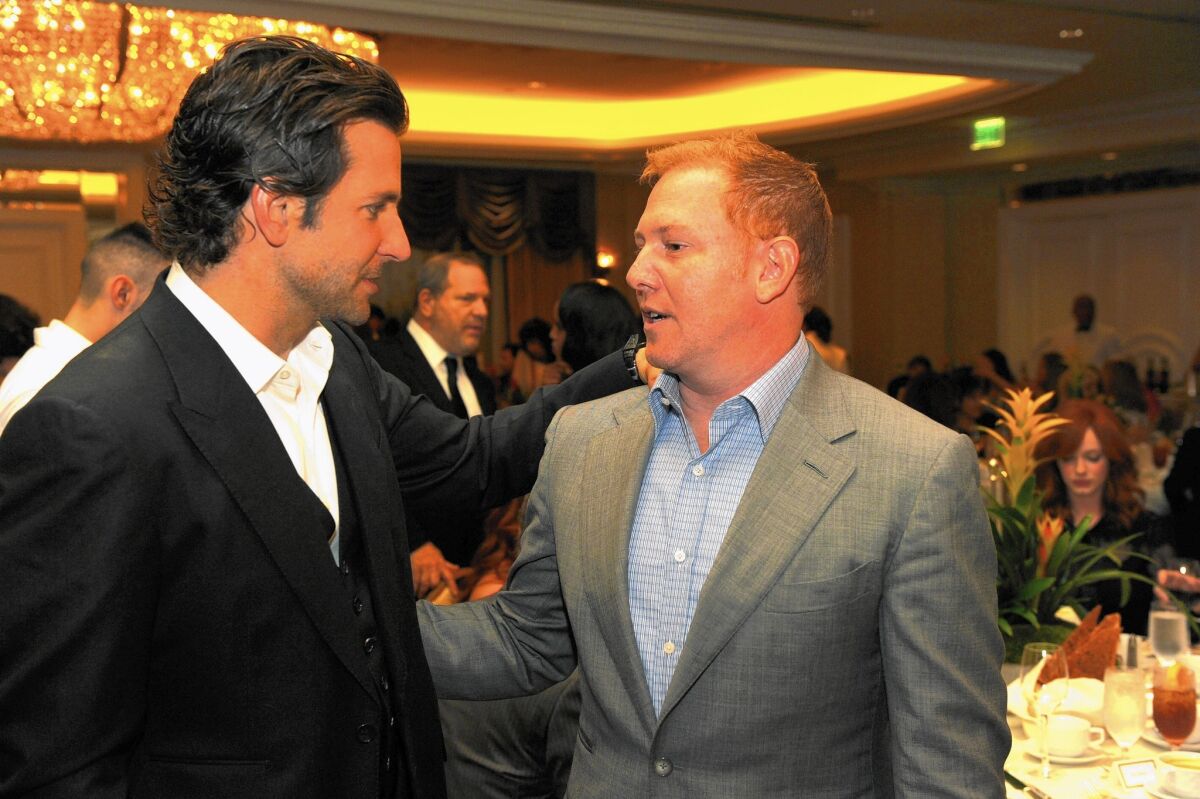 Ryan Kavanaugh's beleaguered entertainment company, Relativity Media, is cutting roughly 50 workers as the 11-year-old studio nears a possible bankruptcy filing, according to people with knowledge of the matter.
The Beverly Hills studio, which owes at least $320 million, has been trying to come up with the money to pay lenders but is expected to file for Chapter 11 bankruptcy as soon as Wednesday, according to a person familiar with the matter who was unauthorized to speak publicly.
A spokesman for Relativity, which has about 350 employees, declined to comment.
Stunning photos, celebrity homes: Get the free weekly Hot Property newsletter >>
Relativity and Kavanaugh, its 40-year-old chief executive, have been the subject of wide speculation in Hollywood for weeks. The company has pushed back the release dates of some of its biggest movies, including "Masterminds" starring Zach Galifianakis and Kristin Wiig, as it dealt with financial problems.
Kavanaugh's company is facing its financial reckoning after he had claimed for years to have found a way to remove much of the risk from the movie business, using data analysis and clever financing deals. Kavanaugh, who raised billions of dollars from Wall Street firms, focused on movies that cost less than $100 million to make.
His boasts irked many Hollywood insiders, and he quickly became well known in the industry for partying with movie stars and for his taste in expensive cars.
But Relativity went on to score major deals with the likes of Sony Pictures and Universal Pictures, and had a number of successes of its own including "Immortals" and the Bradley Cooper film "Limitless." It co-financed critical and commercial successes such as the Facebook drama "The Social Network," which got distribution from Sony, and boxing biopic "The Fighter," which was released in the U.S. by Paramount Pictures.
But it also had many misses such as "Hector and the Search for Happiness" and "Machine Gun Preacher." The last year has been especially short on hits, even as the industry enjoys what many expect to be a record year at the domestic box office.
The fates of Relativity's upcoming movies, including "Autobahn" and "The Bronze," remain uncertain. The release date for the Halle Berry film "Kidnap" was recently moved to February. "Masterminds" is now set to open in October.
"The real issue will come down to whether there's any value left in the projects that remain," said Steve Gubner, a bankruptcy lawyer working in Woodland Hills.
Relativity's business isn't limited to movies. It also has divisions focused on television, sports and fashion.
This month it appeared that Kavanaugh had found a way to keep his grip on the studio.
The Toronto investment firm Catalyst Capital bought $130 million of its debt and had committed $170 million in much-needed capital. However, New York hedge fund Anchorage Capital — which was already a Relativity debt holder — bought out Catalyst's position shortly after the deal became public.
Anchorage is also a major shareholder of movie studio MGM, which is behind the James Bond films. Some have speculated that Anchorage, which would be a key player in bankruptcy proceedings, could be interested in folding Relativity into MGM.
In a lengthy statement on the Catalyst-Anchorage deal, Kavanaugh accused other lenders including Colbeck Capital of trying to orchestrate a buyout scheme.
Kavanaugh's company has also been facing legal battles. One of its key lenders, RKA Film Financing, this month sued Kavanaugh for $90 million, calling him a "con-man." The suit, filed July 24 in New York, contended Kavanaugh had misused funds that were intended as print and advertising money for film marketing.
Relativity shot back with its own $200-million lawsuit that asked the court to declare that it had done nothing wrong with RKA's funds. The complaint said RKA "opportunistically cooked up an allegation" amid media reports of financial distress at Relativity.
SIGN UP FOR OUR ENTERTAINMENT NEWSLETTERS:
SIGN UP for the free Indie Focus movies newsletter >>
SIGN UP for the free Classic Hollywood newsletter >>
From the Oscars to the Emmys.
Get the Envelope newsletter for exclusive awards season coverage, behind-the-scenes stories from the Envelope podcast and columnist Glenn Whipp's must-read analysis.
You may occasionally receive promotional content from the Los Angeles Times.