Drama, Sex and Millions at Stake: Key players in the Sumner Redstone Saga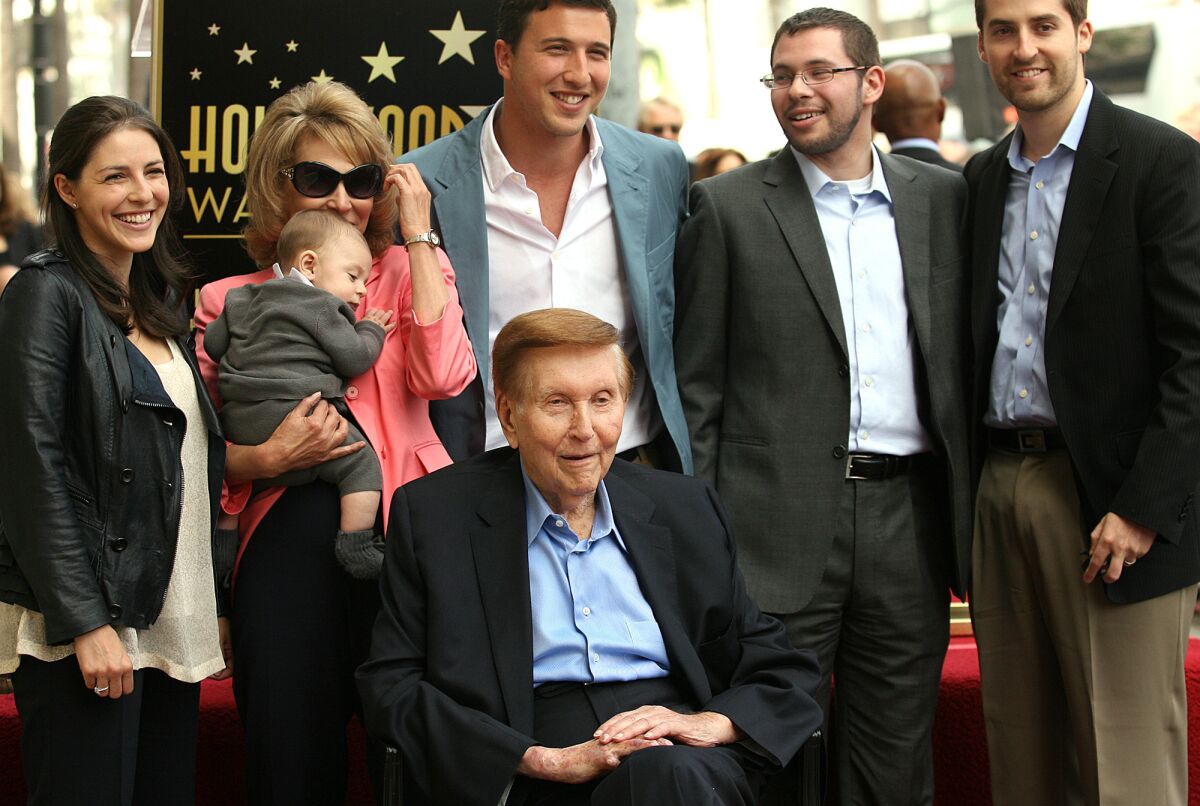 Power struggles. Family rifts. Sex. The lawsuit over the mental competency of media mogul Sumner Redstone has all the elements of a great Hollywood drama. Here's a look at the key cast of characters who took center stage in the legal tussle that ultimately was dismissed by a judge on May 9.
Sumner Redstone
Media mogul Sumner Redstone is the former chairman of Viacom Inc. The ailing 92-year-old, who controls about 80% of the voting shares in Viacom and CBS, won his legal battle against his former girlfriend Maneula Herzer. A Los Angeles judge concluded Redstone was in command of his faculties enough to recognize and articulate — despite a severe speech impediment — the person he wanted in charge of his healthcare.
I wish to put our family back as we were before ... and restore our family relationship to what it was then. This is very important to me— Sumner Redstone
---
Former companion Manuela Herzer
Manuela Herzer is Redstone's former companion who was removed from a position of power at his home in October 2015. She filed a lawsuit in late November, alleging that Redstone was not mentally competent to make decisions concerning his healthcare, describing the once powerful titan as a "living ghost" who is prone to crying spells.
Sumner and I have been close friends and confidantes since 1999. My loyalty and love is for Sumner, and I will do everything that I can to make sure that he is protected from this horrible setup that has separated us.— Manuela Herzer
---
Daughter Shari Redstone, vice chair of CBS and Viacom
Shari Redstone, 62, has had a tumultuous relationship with her father over the years. She contends that she and her children were not welcomed in Sumner's home while Herzer and another woman were central in his life. In April, Sumner named Shari as his healthcare proxy, replacing Viacom Chairman and Chief Executive Philippe Dauman. She will be a member of the Redstone Trust, which makes decisions regarding the family's controlling shares of Viacom and CBS.
My father and I have a uniquely close relationship. ... We have had very public disagreements over business matters; we have patched those up.— Shari Redstone
---
Viacom Chairman and CEO Philippe Dauman
Dauman met Sumner Redstone 30 years ago when the mogul was planning to launch a hostile takeover of Viacom and Dauman was a young attorney. He has been the CEO of Viacom for the past 10 years and recently became Viacom's chairman. Last fall, he became Sumner's healthcare agent once Herzer was pushed out of Redstone's inner circle. Redstone abruptly removed Dauman from his family trust on May 20, suggesting that his next step might be to use his clout as controlling shareholder of Viacom to push Dauman out as chairman and chief executive of the struggling media company.
---
Former girlfriend Sydney Holland
Sydney Holland, 44, dated Redstone for five years. Court filings contend that he lavished her and Herzer with more than $150 million in gifts during that time period. After he learned that she was having an affair with another man, she confessed and he ordered her out of his home in August 2015, court documents show. Days later, he cut Holland out of his will.
---
Former wife Paula Fortunato
Paula Fortunato, 53, was a schoolteacher in New York when she met Redstone a few years after his 52-year marriage ended. She was married to Redstone for five years and divorced in 2009. In late October 2015, after Herzer was tossed out of the Redstone house, she rekindled her friendship with Redstone.
---
Grandson Tyler J. Korff, lawyer and rabbi
Tyler Korff is the youngest son of Shari Redstone. He is a lawyer and rabbi and will be a board member on the Redstone Trust. He is one of five beneficiaries of the trust.
---
Granddaughter Keryn Redstone
(photo not available)
Keryn Redstone, the 34-year-old daughter of Sumner's estranged son, Brent, also is a beneficiary of the Redstone Trust. She attempted to join the lawsuit filed by Herzer to have her grandfather declared mentally incompetent, but a judge denied the move. The Redstone grandchildren, including Keryn, refer to Sumner as "Grumpy,"" according to court documents.
I clearly heard Shari [Redstone] state her beliefs as to what should happen to Grumpy. She said, 'If he gets sick, don't take him to the hospital. Let him die.'— Keryn Redstone in her court declaration
---
Estranged son Brent Redstone
(photo not available)
Brent Redstone, 66, worked for years at Viacom but had a falling out with his father and sister, Shari, a decade ago. He brought suit against the family business, National Amusements Inc., alleging that his father favored Shari in the family's business dealings. He received a $250-million settlement, severed ties with his family and retired to a ranch in Colorado. His two daughters, including Keryn, are beneficiaries of the Redstone Trust.
MORE:
Sumner Redstone says his former girlfriends received $150 million from him
Sumner Redstone trial showcases family rifts, betrayals and lavish spending
Sumner Redstone's testimony is of 'utmost significance,' judge declares
---
UPDATES:
May 24, 8:30 a.m.: This article was updated with additional information.
This article was originally published at 6:24 p.m. May 5.
---
From the Oscars to the Emmys.
Get the Envelope newsletter for exclusive awards season coverage, behind-the-scenes stories from the Envelope podcast and columnist Glenn Whipp's must-read analysis.
You may occasionally receive promotional content from the Los Angeles Times.