Sumner Redstone says his former girlfriends received $150 million from him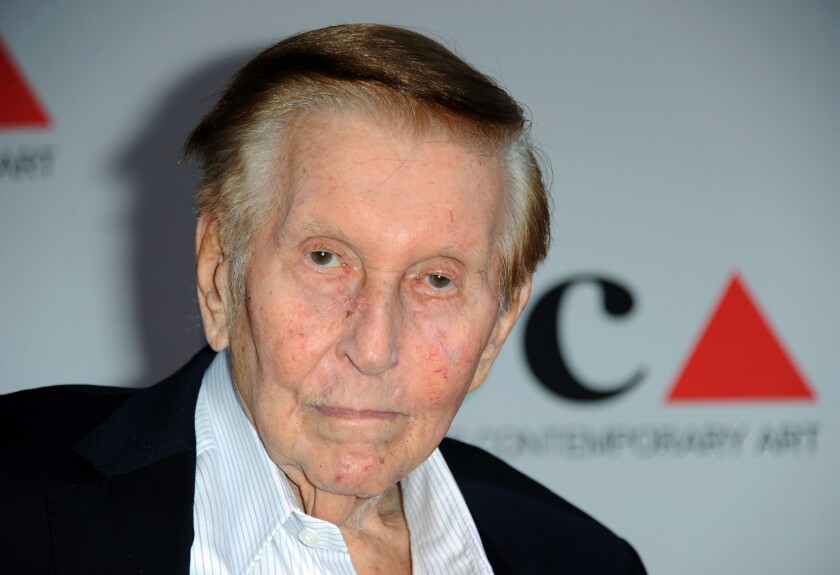 New court documents reveal that Sumner Redstone's former girlfriends received $150 million from him over a five-year period.
According to a trial brief filed by Redstone's attorneys in the case over the ailing mogul's mental competence, it is alleged that Manuela Herzer and Sydney Holland "collectively received some $150 million" from 2010 to 2015. Both women had acrimonious partings with the 92-year-old billionaire last year.
The personal affairs of Redstone, the chairman emeritus of Viacom Inc. and CBS Corp., have been dragged into public view by Herzer's lawsuit, which was filed in Los Angeles County Superior Court last year.
Herzer, who was Redstone's primary caregiver until mid-October, is seeking to have a judge determine that Redstone lacks the mental capacity to handle his affairs. She has alleged that she was wrongly removed from her perch last fall. She has claimed that the business titan is now a "living ghost," and unable to make decisions for himself.
"The trial will expose the tragic inconvenient truth that Sumner Redstone needs the court's protection from those who have lied to and exploited him in his debilitated condition," Herzer's lead attorney, Pierce O'Donnell, said. "We look forward to trial."
Herzer contends in her lawsuit that she is deeply concerned about the welfare of the aging mogul. But Redstone's trial brief, which was filed Thursday, seeks to undermine that contention by showing that when she became his primary caregiver in August, she began spending liberally, racking up charges on two of his credit cards.
The charges from late August through mid-October included $57,804 at Windsor Smith Interior Design, $3,744 at the Zimmermann clothing boutique, $7,308 at Barneys and $2,095 at Bergdorf Goodman, the filing said.
"Ms. Herzer raised no concerns about Mr. Redstone's capacity and continued to spend his money," the filing said.
Herzer also asked for $40,000 in cash to be delivered to Redstone's house, the filing said.
Until Herzer and Holland had a falling-out with Redstone, they had "exercised virtually unfettered authority over his finances," the trial brief alleges.
See more of Entertainment's top stories on Facebook >>
In court briefs filed on behalf of Herzer, her attorneys argued that she was the victim of a conspiracy to oust her from Redstone's life.
They contend that Redstone's nurses, and his daughter, Shari Redstone, manipulated Redstone into thinking that Herzer was not looking out for the mogul's best interest.
"At trial, the evidence will show that there is indeed a presumption of undue influence," one of Herzer's attorneys, Paul Blechner, wrote in court filings Thursday. "Redstone was vulnerable because of incapacity, age, illness and impaired cognitive function. … The influencers used affection, intimidation and coercion over Redstone."
Earlier this month, settlement talks between Redstone and Herzer hit a roadblock, paving the way for a trial.
Sumner Redstone was scheduled to give his deposition Thursday morning at his home in Beverly Park.
MORE:
Sumner Redstone trial showcases family rifts, betrayals and lavish spending
Drama, Sex and Millions at Stake: Key players in the Sumner Redstone Saga
Sumner Redstone's testimony is of 'utmost significance,' judge declares
Hulu officially confirms cable-like digital bundle, says it's set to reach 12 million subscribers
Review: 'Captain America: Civil War' may split audience between true believers and puzzled newbies
---
UPDATES:
11:34 a.m.: This article was updated to add information from Manuela Herzer's attorneys.
11:12 a.m.: This article was updated to add that Sumner Redstone was scheduled to give his deposition Thursday morning at his home in Beverly Park.
This article was originally published at 11:01 a.m.
---
From the Oscars to the Emmys.
Get the Envelope newsletter for exclusive awards season coverage, behind-the-scenes stories from the Envelope podcast and columnist Glenn Whipp's must-read analysis.
You may occasionally receive promotional content from the Los Angeles Times.