Univision owners trying to sell their stakes, but so far, <i>nada</i>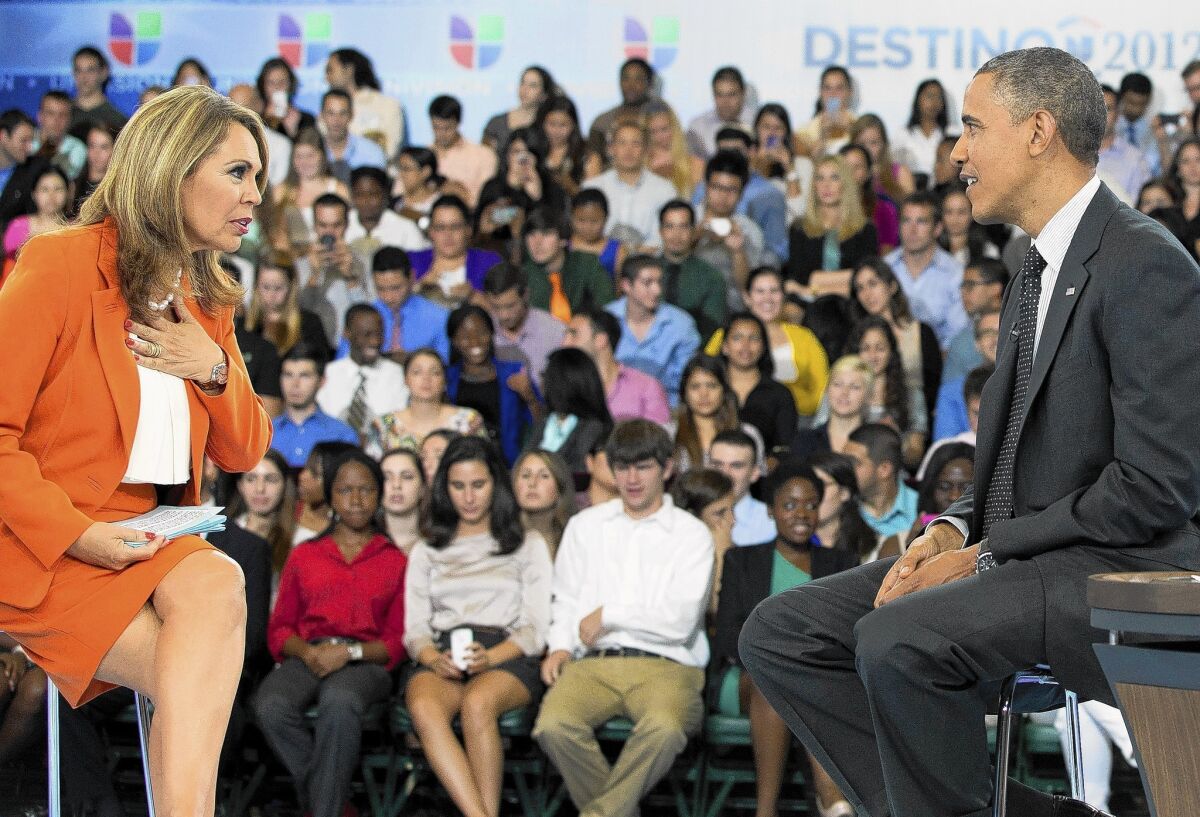 Univision Communications' owners are looking for an exit.
Los Angeles billionaire Haim Saban and his four private equity partners are trying to unload their stakes in the nation's biggest Spanish-language broadcaster. The media giant is seen as a jewel on Wall Street because of the growing importance of Latinos in the U.S. market.
The broadcast giant has been knocking on the doors of deep-pocketed buyers, including CBS Corp. and Time Warner Inc. So far, Univision hasn't gotten the nibbles its owners have been looking for.
The reason: Potential buyers are balking at a $20-billion price tag for a company weighed down by $9 billion in debt.
Analysts point out that Univision could be a big catch for a company looking to expand in Spanish-language media. Univision boasts two broadcast TV networks, including the nation's fifth-largest that draws more than 3 million viewers each night. It also owns more than 60 television stations, eight cable channels and a chain of popular radio stations.
"It is a unique set of assets reaching a huge target market: the Hispanic audience," said David Joyce, a managing director and media analyst at International Strategy & Investment. "Univision has highly desirable content assets in a world of distribution consolidation."
Univision's owners are banking on the growing importance of Latinos in the U.S. and a flurry of deal making this year. They hope to capitalize on a wave of consolidation that has resulted in two mammoth media deals this year. Comcast Corp. is planning a takeover of rival Time Warner Cable Inc. in a deal valued at nearly $45 billion. And last month, AT&T Inc. unveiled its planned $49-billion takeover of satellite TV giant DirecTV.
The problem has been that Saban and his partners paid top dollar — $13.7 billion — when they bought the company at the top of the market in 2007. They also have struggled to pay down the mountain of debt, brought on by their leveraged buyout to take the company private.
The ownership group's members — including Saban Capital Group, Texas Pacific Group, Providence Equity Partners, Madison Dearborn Partners and Thomas H. Lee Partners — are also not in agreement on the timing of a sale. They have been divided over whether to keep Univision for a couple more years to whittle down debt and increase their equity, according to the people involved in the situation.
"Univision is an extraordinary property — Latinos love their television and they love their Univision," said Hector Orci, chairman of the Los Angeles advertising agency Orci. However, "It seems their search for a buyer has more to do with the owners, and their situations, than it does Univision and its future."
The natural buyer would be Grupo Televisa, the Mexico City entertainment juggernaut, which has a minority stake in Univision. Televisa's involvement with the company dates to Univision's formation in 1961. But federal rules that restrict foreign ownership of TV stations and the lofty offer price would make it difficult for Televisa to swallow Univision whole.
Univision owners' first stop was to see CBS Corp. Chief Executive Leslie Moonves, figuring that he might jump at the opportunity to join together two dominant TV companies.
But Moonves scoffed at the price tag, people familiar with the talks said. He recognized that a proposed merger would invite investor scorn and regulatory headaches because both companies own dozens of TV stations. A combination would exceed the federal government's cap on station ownership.
Then last week, Saban met with Time Warner Inc. Chief Executive Jeff Bewkes. He also thought the price was too high and expressed concerns about the factions among Univision's ownership. Bewkes also told Saban that he "didn't see any real synergies" between Univision and his company, the people said.
Saban, the company chairman who made a fortune with the "Mighty Morphin Power Rangers" children's program, appears to be timing his pitch of the company to coincide with the World Cup.
Univision has been garnering gigantic ratings with its broadcasts of the international soccer tournament. Univision's Spanish-language broadcasts of World Cup matches are averaging more than 5 million viewers, surpassing the audience that has been watching the coverage in English on ESPN.
The company's finances have also been improving. Univision has wrangled programming fees from distributors and added cable channels, including sports network Univision Deportes. Last year, revenue increased nearly 8% to $2.6 billion.
Saban and his partners might also be looking to get out for another reason: Demographics are shifting.
In the last few years, more Latinos were born in the U.S. than have arrived each year from foreign countries. And immigrants no longer account for a majority of Latino workers in the U.S., according to a report released Thursday by the Pew Research Center. Last year, 49.7% of the 22 million employed Latinos were immigrants — a sizable drop from the pre-recession peak of 56.1% in 2007.
U.S.-born Latinos are more likely to speak English and so are less inclined to watch only Spanish-language TV, which could limit Univision's long-term growth prospects.
Univision has tried to prepare for that change, including forming a 50/50 joint venture with ABC on a cable channel called Fusion. Univision also has a minority stake in El Rey, an English-language channel aimed at young men.
Although Univision commands nearly 70% of the Spanish-language TV market in prime time, it has been looking over its shoulder. NBCUniversal's Spanish-language operation, Telemundo, has been making gains in the ratings with dramas that it produces and owns.
Since Comcast took over NBCUniversal, the company has increased its investment in Telemundo — and loaded up on sports.
In fact, Telemundo's cable channel will broadcast the Super Bowl next year. And Telemundo outbid Univision for the rights to the next two World Cup soccer tournaments. This summer's matches are expected to be the last World Cup tournament that Univision will broadcast — at least for the next eight years.
Times staff writer Joe Flint contributed to this report.
From the Oscars to the Emmys.
Get the Envelope newsletter for exclusive awards season coverage, behind-the-scenes stories from the Envelope podcast and columnist Glenn Whipp's must-read analysis.
You may occasionally receive promotional content from the Los Angeles Times.