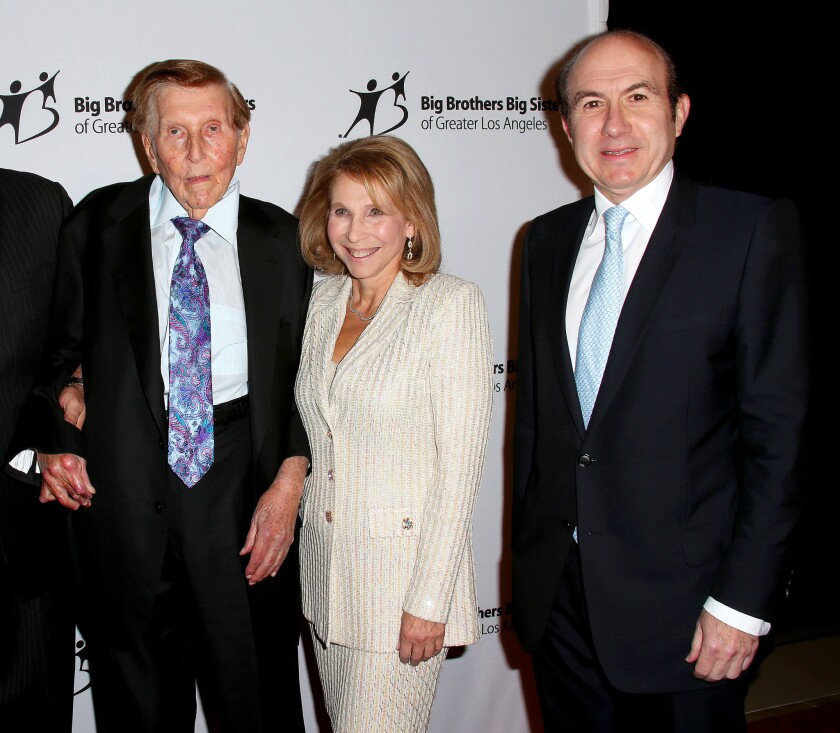 Viacom Inc. Executive Chairman Sumner Redstone received a substantial pay cut in fiscal 2015 amid his health complications.
The 92-year-old executive was paid $2 million in salary in Viacom's 2015 fiscal year, according to a company filing Wednesday with the Securities and Exchange Commission.
That represents an 85% reduction compared with fiscal 2014, when Redstone received $13 million in salary, bonuses and other perks.
The mogul is largely confined these days to his mansion in the Beverly Park section of Los Angeles, where he has round-the-clock nursing care. It has been more than a year since Redstone has participated in public corporate events -- but he nonetheless continued to draw his full salary.
"Mr. Redstone's salary was unchanged in fiscal 2015," Viacom said in a release to explain the drop in compensation. "He became ineligible to receive a bonus beginning in fiscal 2015, and has not been eligible to receive an annual equity award since fiscal 2012."
Viacom released executive compensation figures for its two top officers -- Redstone and Viacom Chief Executive Philippe Dauman -- on Wednesday, a day after the New York media company was hit with a shareholder lawsuit that questioned Redstone's compensation and whether Viacom board members have been putting Redstone's financial interests ahead of the interests of all shareholders.
Redstone is Viacom's controlling shareholder. Through his family investment vehicle, National Amusements, Redstone holds nearly 80% of the voting shares of Viacom and CBS Corp.
During a three-year period from 2012 to 2014, Redstone received $169 million in executive compensation for his role at Viacom, according to the lawsuit filed in Delaware by the shareholder, E.F. Greenberg.
Redstone also receives compensation for his role as CBS executive chairman.
In fiscal 2015, Dauman, 61, received a compensation package valued at about $36.9 million, the company said. That represented a 17% decline from Dauman's 2014 compensation of $44.3 million.
Last year, Dauman drew a $4 million salary, and his annual equity award was largely unchanged, the company said.
Dauman's bonus dropped 30% to $14 million compared with $20 million in 2014.
---