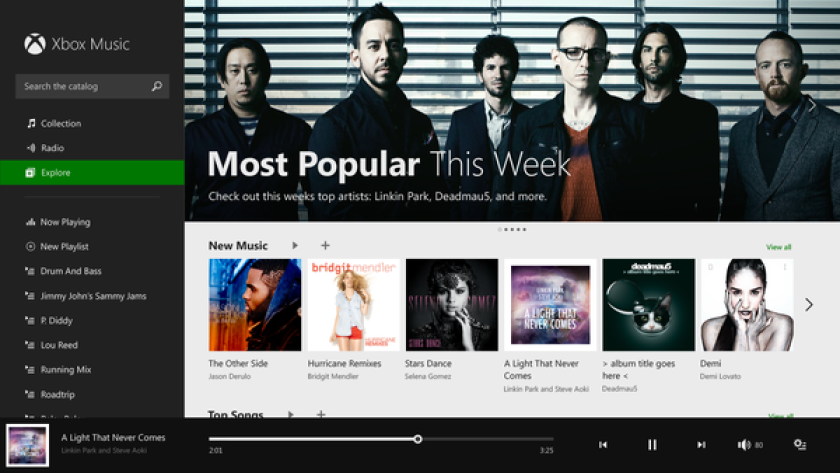 Xbox Music, Microsoft Corp.'s entry into the ever-expanding music-streaming industry, will introduce applications for Android and iOS devices and allow free streaming on the Web, the company said Sunday.
Microsoft launched Xbox Music about a year ago, and it's currently available through Xbox 360 consoles, a Windows 8 app and a version that lets subscribers stream through Web browsers. A subscription to the service, which allows access to some 30 million songs, costs about $10 a month or $100 a year.
With the free, ad-supported Web version and the new apps, the company will try to reach more users by allowing access to music through a variety of connected devices. It's the latest move in Xbox's transition from primarily a multi-player gaming system to a full entertainment service.
PHOTOS: Celebrities by The Times
"It's really to fill out the number of places where a Microsoft customer may want to use their music," said Scott Porter, Xbox's principal program manager. "It broadens out and completes the ubiquity that users expect from music."
The company will allow users access to unlimited Web streaming with ads for six months, after which their listening hours will be capped at 10 hours a month.
This comes as competitor Apple Inc. prepares to launch its own service, iTunes Radio, and after Google Inc. unveiled Google Play Music All Access. That adds to an already crowded industry that includes entrenched players such as Spotify.
Microsoft would not say how many users its service has.
The company says it plans to add more features over the coming months, including a radio feature for the Web player.
When the new version of Windows 8 comes out in the fall, its Xbox Music app will include a feature that will let users create playlists from music Web pages they visit by swiping the screen. That way, if users browsing sites like Pitchfork see music they like, they can collect all the songs in a playlist with a single motion.
Xbox Music isn't Microsoft's first foray into the music business. It introduced its Zune MP3 players years ago, but they failed to compete with Apple's iPods and the company discontinued the devices in 2011.
ALSO:
Jack Black-produced series 'Ghost Ghirls' debuts Monday on Yahoo
TV ratings: Broncos-Ravens NFL game wins Thursday night for NBC
With new Xbox One and PlayStation 4 due, spending on video games falls
Follow on Twitter: @rfaughnder
---