Al Jazeera America faces more than the usual new-kid challenges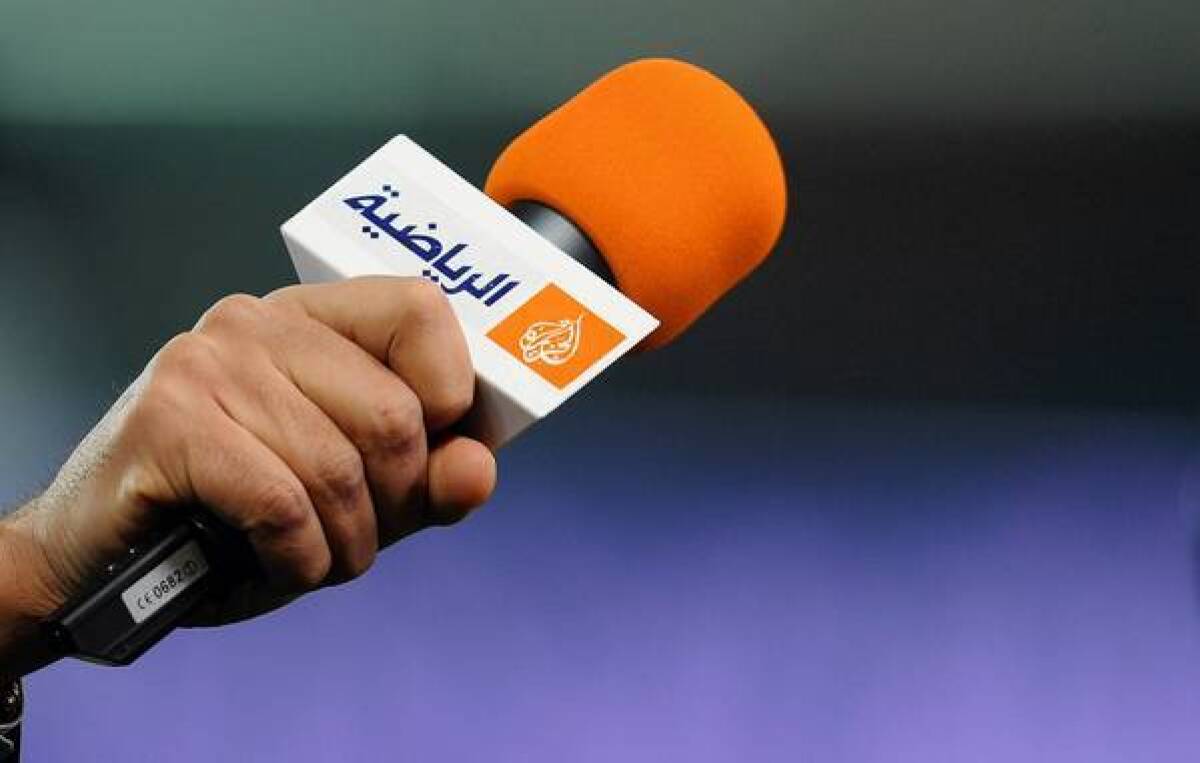 The combination of Al Jazeera and America doesn't exactly sound like a match made in Heaven, or Jannah for that matter.
But that's not stopping the deep-pocketed media giant, funded by the government of Qatar, from spending hundreds of millions of dollars to once again try to build a presence in the United States.
On Tuesday, Al Jazeera launches Al Jazeera America, an ambitious news network that hopes to challenge CNN, Fox News and MSNBC on their own turf. It has opened 12 bureaus around the country and is hiring almost 1,000 people, including several big-name journalists, with promises of covering serious national news here and a goal of becoming part of the American landscape.
PHOTOS: Hollywood Backlot moments
Persuading pay-TV distributors to carry Al Jazeera America and getting people to watch it may be another story. There is still bitterness toward Al Jazeera for providing an outlet for Osama bin Laden after the 9/11 attacks, a move which led some to derisively label the network "Jihad TV."
"For many Americans, the perception is these are the folks who brought you Osama bin Laden," said Allen Adamson, a managing partner of marketing firm Landor Associates. "Even though they were providing a news function, there was a case of don't confuse me with the facts."
Since then, Al Jazeera has won much praise here for its in-depth coverage of the Middle East and is considered a valuable source of information on the region.
"Al Jazeera can cover the Arab world better than any U.S. network by far," said Chris Harper, a professor at Temple University's School of Media and Communication and a former foreign correspondent for ABC News.
That doesn't mean Harper and others still don't see a slant to its coverage.
PHOTOS: Cable versus broadcast ratings
"Al Jazeera has its point of view and that includes a pro-Palestinian bias and to a certain extent an anti-American bias," Harper said, adding that this does not bother him because, "I rather like that I don't have to figure out where they stand."
About 48 million people, or less than half of the nation's 103 million pay-TV subscribers, will be able to watch Al Jazeera America when it goes live on Tuesday.
Al Jazeera was only able to get that much penetration for its new channel by shelling out $500 million last year to buy Current TV, the news-talk network that was co-founded by Al Gore, and use it as a platform for Al Jazeera America. With the purchase, Al Jazeera inherited Current TV's existing distribution deals.
Not everyone is on board, though. Time Warner Cable, which is the biggest pay-TV provider in Los Angeles, opted to drop the channel after the sale was announced rather than carry Al Jazeera America. The cable operator and Al Jazeera America say they are in active discussions regarding a distribution agreement.
Ehab Al Shihabi, a senior Al Jazeera executive and acting chief executive of Al Jazeera America, said in a recent interview that there is a "bucket of resistance" among some distributors to carrying the network, but overall preconceived notions are changing for the better.
ON LOCATION: Where the cameras roll
"We're going to demonstrate a demand," he said.
Wooing prominent American journalists to work for Al Jazeera has not been a problem. Familiar faces that have signed up for duty include former CNN anchor Soledad O'Brien, ex-CBS News reporters Sheila MacVicar and Joie Chen and former NBC News anchor John Seigenthaler.
Behind the scenes, several well-regarded broadcast and cable news executives have been tapped for significant roles as well. Kate O'Brian, who spent three decades in senior production roles at ABC News, will serve as Al Jazeera America's first president. Also on board are David Doss and Marcy McGinniss, who have held senior positions at CNN and CBS, respectively.
"They are putting together a strong team," said David Westin, a media advisor and former president of ABC News.
This is Al Jazeera's second attempt at trying to crack the U.S. market. In 2006, it launched Al Jazeera English, an English-language version of its flagship channel.
However, the network struggled to get distribution outside of New York and Washington, D.C., and ended up primarily as a Web service, which has a small but loyal audience. Al Jazeera is expected to take down the live stream of Al Jazeera English after Al Jazeera America launches, although the network declined officially to comment on its fate.
PHOTOS: 2012 highest-paid media executives
Rather than focus on the Middle East, which is its wheelhouse, Al Jazeera America made the decision to provide in-depth coverage of America that it says other news channels have abandoned. It has opened bureaus not only in media hot spots New York, Washington and Los Angeles, but also Detroit, New Orleans and Nashville. Headquarters will be in New York City with studios near Penn Station, although its flagship show "America Tonight," anchored by Chen, will be done out of Washington, D.C., where Al Jazeera America has leased space at the Newseum, a museum devoted to journalism.
Harper questioned that strategy.
"Al Jazeera is a go-to place when things happen in the Middle East," he said. "I'm not sure Al Jazeera America will be a go-to place to find things out about the United States."
Even some former Al Jazeera staffers are doubtful about emphasizing America in its coverage. Tony Burman, a former head of Al Jazeera English and currently a professor at Ryerson University, said in a recent Toronto Star opinion piece that such an approach has "the odour of disaster."
Al Shihabi defended the American-centric focus in a recent interview, saying the channel would "elevate the mainstream voice" while steering clear of the tabloid stories, murder trials and partisan bickering that have become synonymous with cable news.
"A lot of the audience wants in-depth journalism," he said, adding that because its owner isn't concerned primarily with profits and losses, Al Jazeera America won't feel pressure to go after sensationalistic stories in the hopes of driving ratings. The channel will even carry 50% fewer commercials than other news channels.
That's music to the ears of the journalists Al Jazeera America has recruited.
"Our mandate is to look at untold stories and look deeper and in a more thoughtful way," said Chen, who will anchor "America Tonight," Al Jazeera America's flagship evening news magazine, which will feature stories as long as 12 minutes. "It's reporting that a lot of networks would like to do."
Former Al Jazeera English and ABC "Nightline" reporter Dave Marash thinks CNN and the other channels have dropped the ball on hard news, which could leave an opening for Al Jazeera America to woo some viewers, although it won't be easy.
"What they've got going for them is that for their kind of news, which I would call real news, there is virtually no competition," he said.
PHOTOS: Celebrities by The Times
Many of Al Jazeera's new staffers were victims of belt tightening by their former employers, who have reduced staff by closing bureaus here and abroad and getting rid of veteran talent and their large paychecks in favor of less-experienced and cheaper reporters.
Seigenthaler, 57, was forced out at NBC in 2007 and ended up going to work at his family's public relations firm. Chen was working as a marketing consultant. Renowned investigative reporter Edward Pound had become a spokesman for the Recovery Accountability and Transparency Board, a government watchdog.
"The people who got cut were the most experienced," Seigenthaler said. "It's been a sad commentary on journalism in the last five or six years."
None of Al Jazeera America's staff seems concerned about working for a news organization controlled by a foreign government. "Coverage is not coming from a directive from Doha, it is coming from incredibly talented American journalists they've hired at top levels," said Jennifer London, who left public television KCET-TV Channel 28 here to become Al Jazeera America's Los Angeles correspondent.
Marash, who left Al Jazeera English in 2008 after clashes with management, hopes London is right. "Upper management at Al Jazeera English was not excellent and had little knowledge of and some animus toward the United States," he said.
Although few industry observers expect Al Jazeera America to make a dent against the incumbent networks any time soon, especially with only half the reach, Al Shihabi has his eyes on the prize.
"We're here to win," he said, "not survive."
From the Oscars to the Emmys.
Get the Envelope newsletter for exclusive awards season coverage, behind-the-scenes stories from the Envelope podcast and columnist Glenn Whipp's must-read analysis.
You may occasionally receive promotional content from the Los Angeles Times.