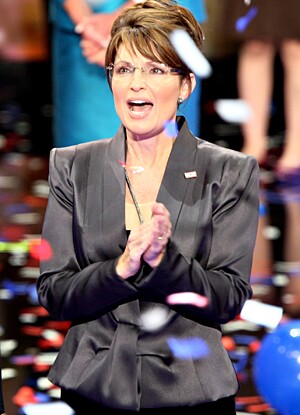 14 Images
Sarah Palin: Politics of fashion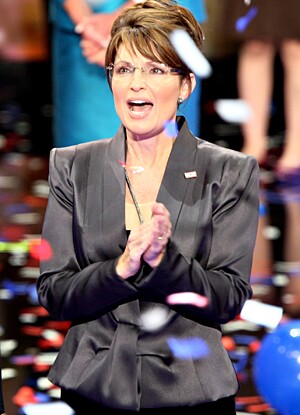 By Elizabeth Snead, Los Angeles Times Staff Writer
Gov.
Sarah Palin
's no-nonsense style was the surprise hit of the Republican Convention. She had a fresh air about her next to
First Lady Laura Bush and Cindy McCain
in their
Oscar de la Renta
suits, Chanel watches and Stuart Weitzman heels.
Palin's look is definitely "take-me-seriously," with pulled-back secretarial hair, neutral (but not muted) makeup and rimless glasses.
Palin updated her eyewear
in December, forgoing her "schoolmarm" dark frames for new titanium rimless glasses that seem to open up her face and make her eyes look brighter.
Okay, so a Boston hairdresser has called her hairstyle "20 years out of date." Miss Wasilla 1984 prefers figure flattering cropped jackets with nipped waists, worn over slim skirts that show off her running legs. The big question is how she will update her look, as the election draws near and a possible formal inaugural looms? Will she lighten up the dark eyeshadow and too-obvious lip liner?
It's probably not advisable. Trend forecaster Tom Julian, official fashion voice for the Oscar.com for over a decade, doesn't think Palin should frouff up drastically. "A complete head-to-toe makeover might make her look more acceptable for the fashion magazines," Julian explains. "But it would also cause voters to doubt her authentic loner image."
"And she should definitely not take her fashion cues from Cindy McCain who is a totally couture, 7th avenue fashion plate," adds Julian. "Perhaps a line like American designer
Ralph Lauren
would answer all Gov. Palin's needs."
What could be more all-American than Ralph Lauren? Only Wal-Mart.
Related:
Cindy McCain: Politics of fashion
Michelle Obama: Politics of fashion
Hillary Clinton: Politics of fashion
(Daniel Acker / Bloomberg News)
Trash talking
Sarah Palin
wears a T-shirt that proves she's proud to be called "Valley Trash" by one of her detractors. I tell ya, this gal's got spunk.
(Getty Images)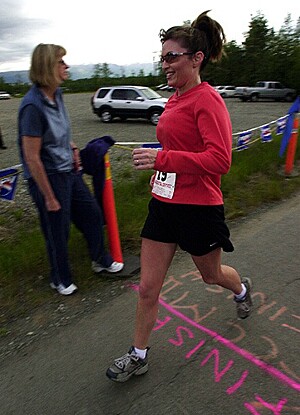 Runner-up
Is
Sarah Palin
practicing for her punishing VP race? No, just crossing the finish line on a recent local Alaskan run. Love the long-sleeved T-shirt, loose shorts and very bouncy ponytail. This must be how she stays in shape for those fitted skirt suits she loves to wear.
(Getty Images)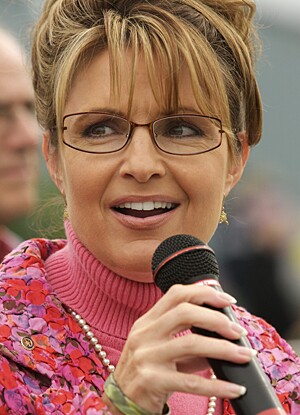 The latest dish
Thank heavens
Sarah Palin
has moved on from the suburban hockey mom get-up. That pink floral print braided jacket looks like dollhouse drapes. Thankfully, her brassy highlights have since been toned down too. This definitely is not a
White House
-worthy outfit.
(Getty Images)
Bear with me
Polka dots are perceived as way too clownish for a potential VP. So we're betting
Sarah Palin
won't be wearing this dotty blouse again anytime soon. But the endangered polar bear pin is an intriguing touch.
(Getty Images)
Button up
Sarah Palin
does a good imitation of former SNL news anchor
Tina Fey
in this official governor photograph. She's so similar that she could actually play Fey's sister on "
30 Rock
." Not quite sure why this jacket has both a zip front and faux buttons. Fastening overkill.
(Getty Images)
Staying neutral
Sarah Palin
stays in neutral fashion territory with a beige, quilted jacket worn over a black top. Pearl earrings go well with her French white-tipped manicure. Nail experts say that square-shaped nail (harder to break or chip) indicates a woman who embraces practicality above fashion trends. Again, notice her turned back cuffs that say, "I'm ready to get my hands dirty."
(Getty Images)
Into the wild
Gov.
Sarah Palin
's studious brown eye frames give her a decidedly serious look. But that long, flowing hair, big gold hoop earrings and ruffled white cotton blouse, unbuttoned lower than usual, reveal the wild woman within.
(Getty Images)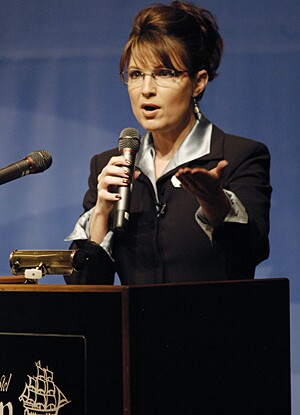 Working girl
In May 2007,
Sarah Palin
chose a silver satin blouse to add some shine to her demure gray wool suit. That dark red manicure looks a bit overdone. But her rolled-up sleeves suggest she ready to get to work.
(Getty Images)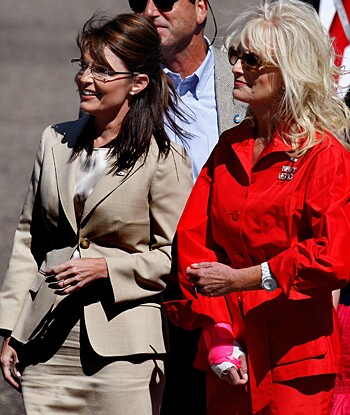 Wind-tossed on the trail
Sarah Palin appears sensible and down-to-earth in beige next to an extremely red-and-fuschia Cindy McCain.
(Getty Images)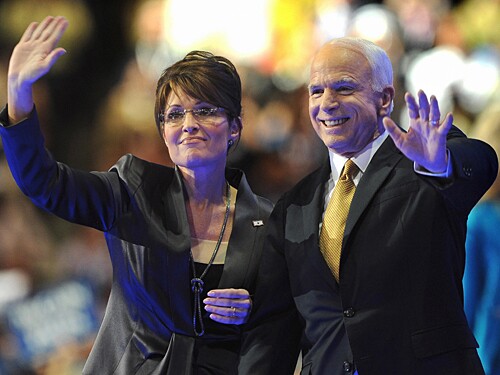 True blue
Sarah Palin is stepping up her fashion profile by sticking with a demure palette but upgrading her blouses and suiting with satins and silks.
(Getty Images)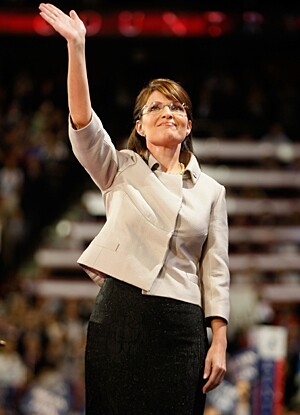 Conventional wisdom
Sarah Palin
's beige jacket, worn atop a slim black wool skirt, was a good no-nonsense working woman ensemble for one of her Republican National Convention appearances. Check out the VP wanna-be pearls and her new rimless glasses, all the better to project sincerity and determination.
(Getty Images)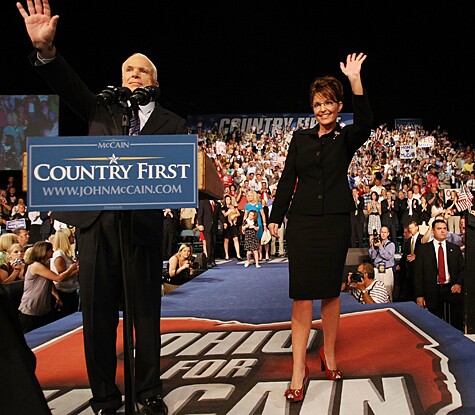 Red scare
For her debut beside Senator McCain, Gov.
Sarah Palin
chose a slim black skirt suit with surprisingly sexy shiny red heels adorned with some serious hardware. Check out the French manicured toes! Her one accessory? An American flag pin, what else.
(Getty Images)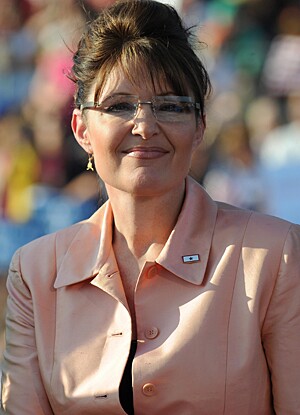 Frame work
Sarah Palin
chose a soft peach jacket that's flattering to her skin tones and hair color. But those glasses gotta go. These brushed silver frames are too heavy and don't go with her tiny gold earrings. Now, about that all-too noticeable lip liner…
(Getty Images)