'The Hot Zone' star Topher Grace knows more about Ebola than he ever wanted — and he's scared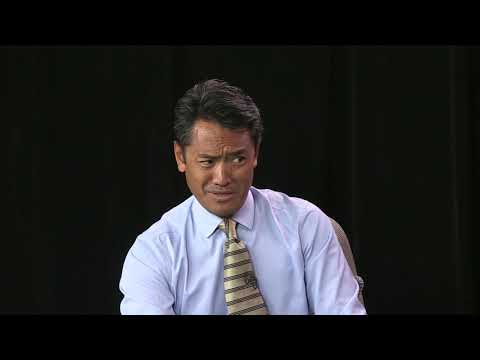 Topher Grace talks about research he did for his role of David Duke in "BlacKkKlansman" and his new miniseries, "The Hot Zone."
Topher Grace is probably still best known for the sitcom "That '70s Show." But in a generally jolly Emmy Contenders chat at the Los Angeles Times video studio, he talked about some of the dark places he went to in order to play Ku Klux Klan leader David Duke in Spike Lee's "BlacKkKlansman" and to face a different kind of monster in NatGeo's miniseries adaptation of "The Hot Zone."
WATCH: 2019 Emmy Contenders video chats »
"The research on that was the worst I've done in my life," said Grace of playing Duke. "I had to both figure out an impression of him because he's someone people know publicly, and then also figure out more than just an impression. So that meant reading his autobiography, which is like his 'Mein Kampf,' and watching filmed interviews with him. So that preparation was horrible."
He chuckles and adds, "Let me say, making that film was great. Spike has a really fun set. And similarly, here [with 'The Hot Zone'], it was a really fun set. Julianna Margulies is hilarious, Noah Emmerich … this is really fun for how dark that subject matter is. But again, the research was not just depressing, it was terrifying. This is not a fictional monster. This is something that has been on U.S. soil; this is the time it was on U.S. soil. It's the worst kind of monster; it's invisible."
"The Hot Zone," based on Richard Preston's 1994 nonfiction bestseller, concerns that real incident in which Ebola, one of the world's deadliest known diseases, briefly appeared in the United States. Grace, Margulies, Emmerich and Liam Cunningham (of "Game of Thrones") play real-life members of the team tasked with stopping the outbreak before it spread to the general population near Washington, D.C.
"This is something we make a big deal of talking about that happened in the '80s," Grace says . "It's kind of like — my wife always groans when I say this — but the fact that we haven't had the big earthquake here in a while doesn't mean that it's now further away from happening; it means it's actually closer to happening.
"What's so scary is it's not kind of an 'if,' it's a 'when' Ebola will return."
Grace was a fan of the series' source material, but working on the show still freaked him out at times.
"I could tell you everything that's scary about the disease, and when you're working on a production like this, you start washing your hands a lot more and being aware — a lot of these scientists who work with diseases like this, they rarely touch their face. So they never get sick. … That's how those guys go through a whole flu season and don't get the flu.
"But the scariest thing to me is not actually the disease; it's the hubris," he says of what the miniseries depicts as an insufficient bureaucratic response in the face of overwhelming evidence. "Even now, people sometimes call facts into question. It can get really dangerous that way."
The show gets a lot of cinematic mileage out of our natural paranoia once the notion of a deadly virus is in the air. At one point, Grace's character, real-life virologist Peter Jahrling, fears he might have contracted the deadly disease and is in a bar after work.
"The waitress takes the glass away and you see … 'Wait, should I …?' … because you see his lip mark on the glass.
"Look, I read the book when I was in eighth grade and it scared me out of my mind. It was my first thriller and it was also something that was real. Then I read the script and it all came back to me; it was all the same things, it was horrible."
To watch the whole interview, check out the video below.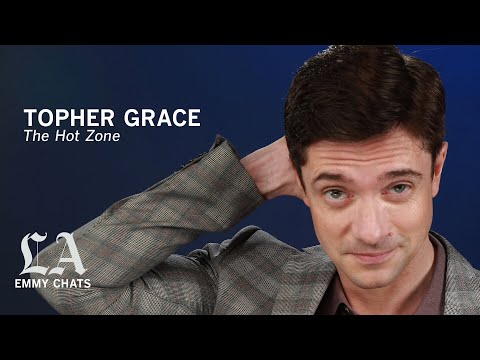 From the Oscars to the Emmys.
Get the Envelope newsletter for exclusive awards season coverage, behind-the-scenes stories from the Envelope podcast and columnist Glenn Whipp's must-read analysis.
You may occasionally receive promotional content from the Los Angeles Times.