Nice guy Chris Messina is thankful Ben Affleck saw his inner gangster for 'Live by Night'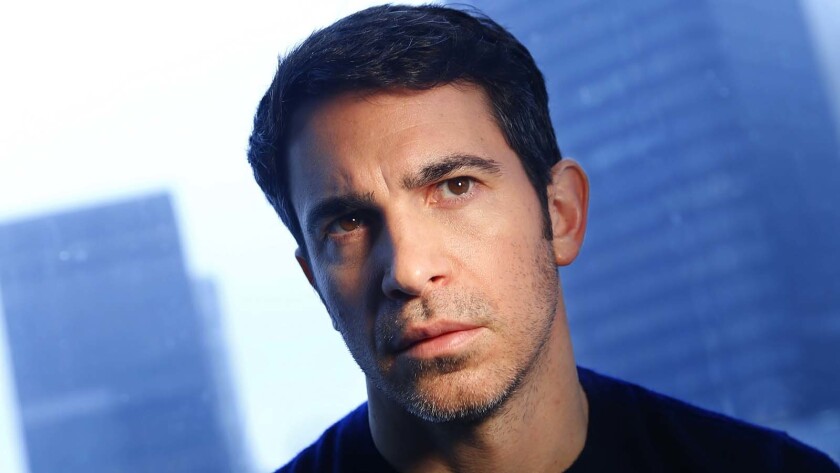 What actor doesn't want to be cast against type? In the case of Chris Messina, his role in the screen adaptation of Dennis Lehane's Prohibition-era bestselling novel "Live by Night" should help put distance between him and Danny Castellano, the lovably prickly OB-GYN he played on "The Mindy Project." In "Live by Night," which stars Ben Affleck (who also directs), Messina is Dion Bartolo, the swaggering hatchet man to Affleck's rum runner.
How did Messina manage to locate the unconcealed glee that Dion brings to wasting his enemies and living a restraint-free life? "I've been around long enough to know that they don't make movies like this anymore — and when they do, they don't cast me — so I had such a joy in being there," says Messina, 42, who as a New York stage actor played all manner of men but in film and TV found himself locked into a nice-guy niche. "Ben saw something else in me — and I was so thankful for him to break that weird curse."
Talk about the genesis of Dion's look.
I knew [Ben] didn't want me to be coming off "The Mindy Project" to be the handsome doctor guy. In the book, Dion has a lust for life, smoking cigars, driving fast cars; he loves being a gangster. So I said to myself, "I'll put on a little weight and see what that does." I ate pasta, cookies, ice cream. When we were shooting, I'd have a beer or a bagel by my bedside table and if I woke up at 2 a.m., I'd drink the rest of the beer or eat the bagel and go back to sleep. By the end of the shoot, I was 202 pounds.
What surprised you about eating whatever you wanted?
As an actor you spend so much of your life, going, "Does my hair look OK like this?" "Should I wear this shirt to the audition?" It was nice to play someone that didn't give a.... So that was fun for a while — and then it got gross. It's no fun when they go, "OK, that's a wrap," and I'm stuck weighing 202 pounds. My wife was happy when I shaved my mustache and started to lose some weight. There's still some of my back fat that just won't leave. [laughs] That might be there forever.
Dion's fussy mustache. What's the story with that?
When you do a movie like this, the department heads [of all the technical crafts] are so specific, thorough. I went to meet with the costume designer [Jacqueline West], and I said, "Ben's so tall and wide. I'm so small. I'm struggling, honestly, with the idea of me being next to him and playing the Enforcer." And she said, "Look at Frank Nitti, Capone's right-hand man. Frank Nitti was smaller than Capone but he was the one everyone was scared of." Frank Nitti had this little mustache. It wasn't the style at the time but she felt like it showed how rebellious Dion was.
Many of your scenes involve driving Affleck's Joe Coughlin around. What's it like to have a Model T as your stage?
Some of the cars were rigged — old cars but with new engines. I didn't drive those. I was driving the real vintage cars. Sometimes they were glorious to drive. It's like you walked out of a time machine, with the stick, the clutch and the small windshield. But most times, they added to the volcanic anxiety: You'd be driving and all these cars would be coming toward you, the director-star is sitting next to you, it's really hot out, you have a big monologue and if you can find the right gear, you're very lucky.
Did you throw yourself a gangster movie marathon?
I watched "The Public Enemy" with [James] Cagney a lot because he had this ... grin, a joy of being a gangster. I couldn't stop watching Joe Pesci in "Goodfellas," nobody can touch him. Every day in my trailer, I'd watch "Raging Bull" because there's such a love between those two brothers. I thought, "That's what should be between Joe and Dion." They're so tough, but at the end of the day, they love each other.
Your wife, Jennifer Todd, runs Ben and Matt Damon's production company and is a producer on "Live by Night."
She's also the one who said to me, "Ben mentioned you for this role in 'Live by Night.'" And I was super-excited. The only time it ever felt weird for me is when I wasn't shooting and they were still there making the movie and I wanted to be with her. I really enjoy working with her and when you get to see someone you love in their element, thriving, it's pretty cool.
What did you bring to "Live by Night" that you learned from an improv-happy series like "The Mindy Project"?
There's this thing they do in a lot of comedies — they lob [alternative] lines at you. At first, it really annoyed me — especially because I was terrible at it, but the rest of the cast were so good. I was used to getting a script, preparing as long as I could. But something comes from jumping off a bridge, being less precious about [the work], laughing. That was the feeling I tried to bring to "Live by Night."
See the most read stories this hour »
---
From the Oscars to the Emmys.
Get the Envelope newsletter for exclusive awards season coverage, behind-the-scenes stories from the Envelope podcast and columnist Glenn Whipp's must-read analysis.
You may occasionally receive promotional content from the Los Angeles Times.