'20th Century Women' is writer-director Mike Mills' ode to the women in his life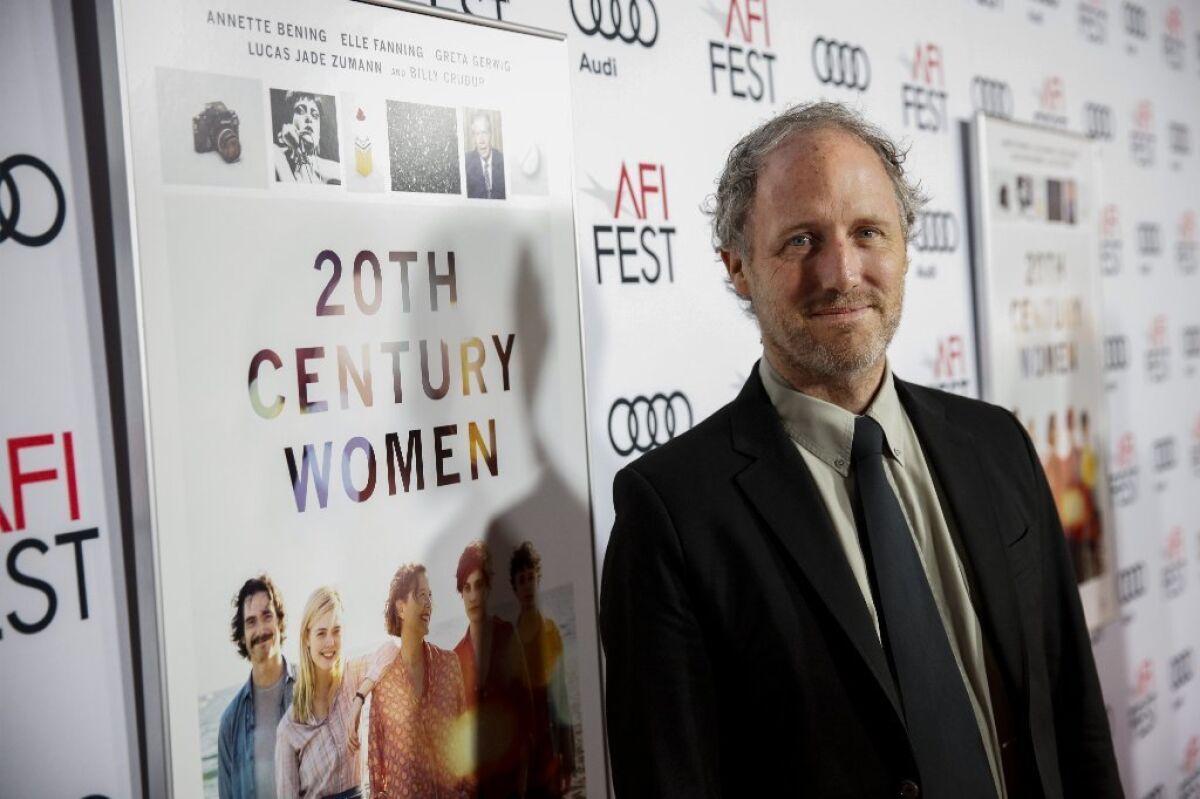 "20th Century Women" is inspired by the real women in my life who helped me figure out the world: my mom, my two older sisters, the young women I knew as a teenager. As a kid my father was around, and was a kind man, but for complicated reasons he just wasn't really present. I knew him little and chose not to rely on him.
It was the women in my life who I could trust, who taught me how to be a man, taught me what women want and like, what relationships should be like, tried to help me figure out what "me" was. I wanted to make a portrait of these women, and tell the story of what it was like to be a boy raised almost solely by women in the transitional historical moment of 1979.
The women I grew up with were very strong, unique people. My mom, born in 1925, had me when she was 40 (very rare in 1966). I often describe her as a combination of Bogart and Amelia Earhart – a Depression-era kid who wanted to be a pilot during WW2 and ended up raising a punk rock-skateboarder in the '70s. My sisters are 10 and seven years older than me, and they lived heady '70s lives that were fascinating to me. They turned me onto art and music and the joys of disobedience. They shared some of their loves and struggles and happiness with me, and I was always trying to figure out the parts they weren't telling me. It was women who were open with me about the complexities of being a person in America in 1979. And being a woman just seemed much more complex than being a man.
Annette Bening discusses her "20th Century Women" character and working with young costars including Greta Gerwig and Elle Fanning.
I knew from my previous film, "Beginners," that I loved working from memory of "real" people and events. And I love integrating real historical figures and moments into my fiction. So for Annette Bening's Dorothea character, I began with my actual memories; the way my mom was kind of alone in parenting me, how the pilot in her loved my skateboarding, how she tried to understand punk rock, how she smoked, invited everyone to dinner parties, and liked saying "In my next life I'm going to marry Bogart." Greta Gerwig's character, Abbie, is partially based on my sister, who did go to NYC and found a more liberating, wild and accepting world in the '70s punk-art scene, only to discover she had cervical cancer and had to return to small town Santa Barbara and start over. Elle Fanning's character, Julie, is an amalgamation of girls I knew, who went to therapy and snuck into my room at night to tell me all the rules they'd broken.
The great difficulty, which became a theme of the film, is how even the people we love and are interwoven with are mysteries to us. My mom did not let us see her vulnerabilities, doubts and fears. And as a straight, cisgendered man, I could never truly have access to the experiences, the troubles and joys of being a 55-year-old, or a 28-year-old or a 17-year-old woman.
And then there are all the historical gaps – I tried to understand my mother's time and culture, what it was like to be a teen in the Depression and have her 20s shaped by WWII America. I started watching lots of films from the '30s and '40s and was struck by how strong the female characters were. I fell in love with "Stage Door" (1937), filled with wisecracking women who reminded me of my mother's slightly-socialist-anti-authoritarian-proto-feminist-underdog-loving and inclusive way of being. Bogart also helped. When I got stuck I asked "What would Bogart say?" and low and behold, I heard my mom. For Greta's and Elle's characters I interviewed my sister a lot, and women who were the same age in 1979. They generously shared their lives with me and small concrete nuggets came from those conversations that gave shape to their characters.
But I will always be outside looking in on these women. So I tried to make that limitation part of the story. And you can never really capture people you love in a film. They're just too paradoxical and changing, they're too many different things at once to be a single linear story. You can only point toward their universe.
Whenever I think about this script, I'm so grateful Annette Bening, Greta Gerwig, Elle Fanning, Billy Crudup and Lucas Jade Zumann all signed on – because the viewers' experience of my writing is really a deep collaboration between my words and these actors. Their intelligence and heart and soul are what bring it all to life.
See the most read stories this hour »
ALSO:
Revealing the real Jackie Kennedy took decades to accomplish
When does a book's author help or hurt the screenwriter's vision?
Taylor Sheridan delves into personal and social themes with 'Hell or High Water'
---
Get our L.A. Goes Out newsletter, with the week's best events, to help you explore and experience our city.
You may occasionally receive promotional content from the Los Angeles Times.