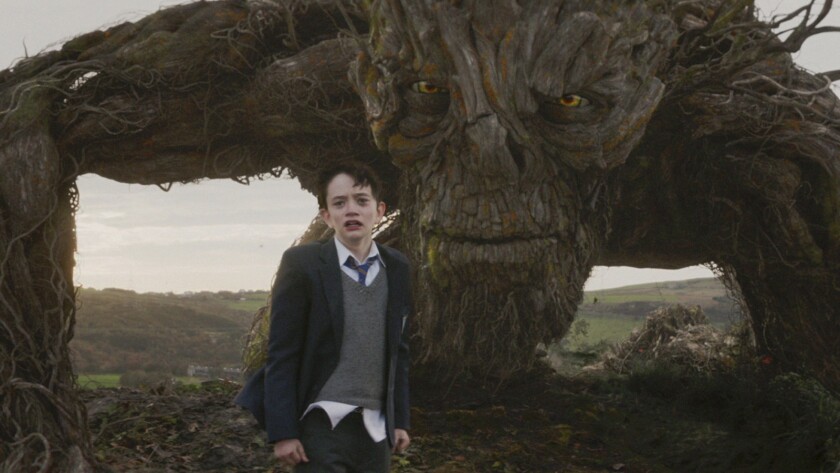 Nearly every year, gifted child actors come out of nowhere and cut through artifice to the heart of a story in ways that move audiences to tears. Last year, young "Room" star Jacob Trembly inspired an Oscar-winning performance from castmate Brie Larson. This fall, boys again take center stage in three affecting dramas featuring breakthrough performances by young unknowns.
"A Monster Calls"
Lewis MacDougall
The trailer for "A Monster Calls."
"A Monster Calls" casts Lewis MacDougall as a lonely British schoolboy who finds both frustration and solace in an imaginary monster (voiced by Liam Neeson) as he watches his mother (Felicity Jones) die of cancer. Director J.A. Bayona and his team looked at nearly 1,000 kids before 11-year-old MacDougall arrived in London from Edinburgh to audition for the role of Conor. "I've never made a film about a young character as psychologically complicated as Conor," says Bayona, who earlier directed young actors in "The Orphanage" and "The Impossible." "We had to find a kid who could carry the whole film on his shoulders."
MacDougall stood out immediately. "For the auditions we had one normal scene and one scene that was very emotional," Bayona recalls. "All the other kids who came in started to cry during the emotional scene. What was special about Lewis is that he didn't want to cry. He was all about rage. He was trying not to cry."
To prepare himself for an intense day of filming, MacDougall says, "I just sit down, close my eyes and be with my thoughts and think of experiences I've had in my own life that bring about those emotions you see in the character." He quietly adds that his own mother died shortly before he landed "A Monster Calls." He says, "The circumstances were completely different but I guess it helped me portray Conor realistically because I could understand what he was going through."
Before filming began, Bayona encouraged MacDougall to hang out with actress Jones beyond the confines of the rehearsal space. He explains, "The mother and son idea is very important so we needed to create a bond between Lewis and Felicity. They went to a theme park, rode a roller coaster, went swimming, had lunch at a restaurant. They had to be friends when we started filming so as the characters move forward in their journey, what you see on screen is a real relationship."
Other than his fondness for James Bond movies and after-school sessions with a local drama club, MacDougall, now 12, had no inkling last year that he'd soon be reducing audiences to tears. "Acting was always just a fun thing for me, but in terms of an actual moment where I thought, 'This is what I want to do' -- I never really had that feeling before. But now, acting is something I want to carry on with."
And so he is. He recently wrapped filming in Vancouver on the 2017 release "Boundaries" with Christopher Plummer and Vera Farmiga.
"Moonlight"
Alex Hibbert
The trailer for "Moonlight."
"Moonlight" begins with a bullied boy trying to cope with dire circumstances. Set in Miami's rough Liberty City neighborhood, the film's first chapter follows quiet Chiron as he contends with a crack-addict mother, his own sexual identity and the neighborhood drug dealer. After casting teenager Ashton Sanders and Trevante Rhodes as older versions of Chiron, director Barry Jenkins traveled to Miami in search of a child who commanded attention through body language and facial expression alone. "The first 10 minutes we see Chiron in 'Moonlight,' he doesn't speak a word of dialogue," Jenkins notes.
Eleven-year-old Alex Hibbert had no professional acting experience when he showed up with other drama classmates for an open audition. Jenkins says, "The first hurdle was very simple: 'If I ask him to be sad, can he be sad?' And the answer was yes. Alex took direction really well." Hibbert got two callbacks. "My drama teacher said, 'Do you know what this means, Alex? This is not just a small production or a little play. This is like a movie movie.' And I was all like, 'Oh, it is?' So then I just had to bring it all and do what I had to do," the youngster says.
Hibbert turned out to be a quick learner. "I never had to dictate how to behave. In one scene, his left eye twitches a little bit, which is such a subtle reaction. Alex got very savvy about how to act in this very nuanced way," Jenkins says.
A self-described live wire, Hibbert tamped down his outgoing personality to channel the tight-lipped Chiron. "I just had to hold it in," he says. "I didn't even know I could do that, because I'm an only child and I always give disruption to my mom and dance around and stuff. For this film you can't do any of that. I didn't even know I could do it, but I did."
"Lion"
Sunny Pawar
Rooney Mara, Dev Patel and Nicole Kidman star in "Lion."
Orphaned-in-India heartbreaker "Lion" features the youngest natural talent of the season in the person of 6-year-old Sunny Pawar. He plays Saroo, who gets separated from his family and lost on the streets of Kolkata, placed in an orphanage and adopted by Australians. Years later, adult Saroo (Dev Patel) embarks on a quest to find his birth family. Director Garth Davis notes, "Young Saroo's journey sets up the emotional heart of the film so I needed a believable kid who was streetwise and also had this inner world and a kind of emotional self sufficiency."
After casting director Tess Joseph taped thousands of kids at primary schools in India, Davis short-listed 120 candidates and tested their unscripted abilities to perform in the moment. "The improvisations were built around themes of love, isolation, memory, fear, strength and play," Davis says. "As soon as I saw Sunny arrive, I knew this was the boy I'd been imagining as Saroo. We got into an improvisation and it felt like we entered the world of our story. Sunny held me there beautifully."
Teamed with New Zealand acting coach Miranda Harcourt, Davis created a children's story book illustrating each scene for Sunny. "The book had a picture of the location on one side and an image of Sunny's improvisation on the other." Assisted by Indian actor-translator Vaibhav Gupta, Davis coaxed a naturalistic performance from his pint-sized star by establishing a "down-to-earth" atmosphere on set. "At the end of the day," Davis says, "This was about creating a circle of trust around Sunny so he could be himself in front of a camera."
See the most read stories this hour »
---