'Downsizing' actor Christoph Waltz thinks the world needs to downsize its hubris to move forward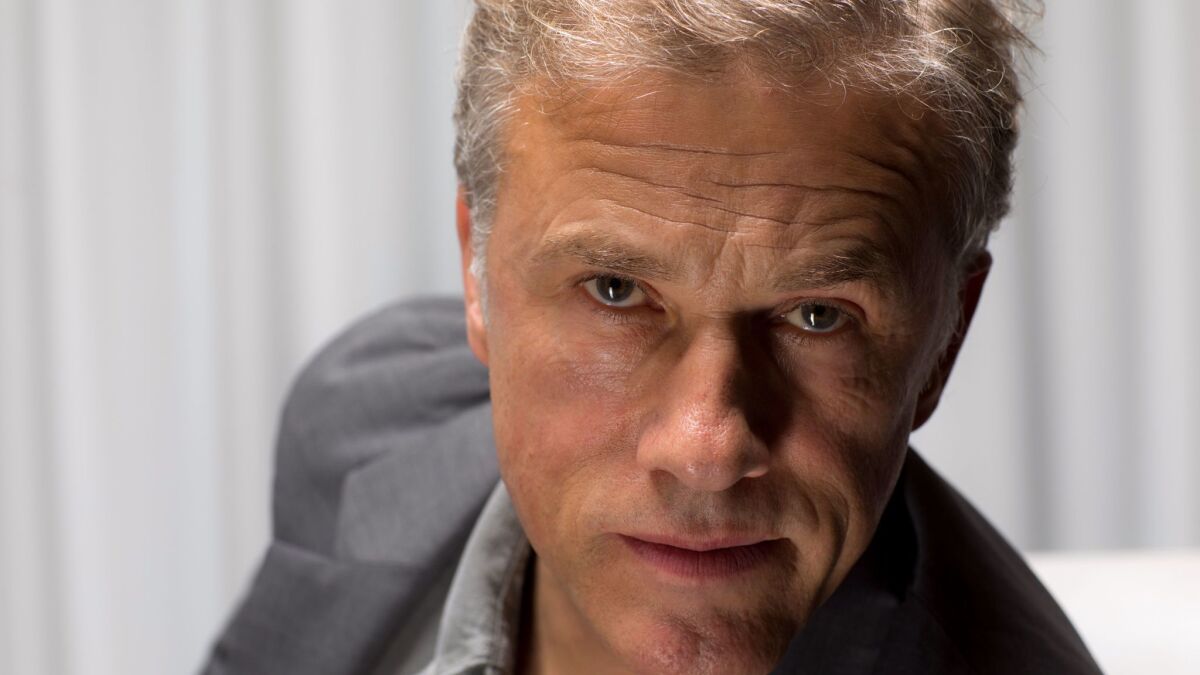 Whoever believes "There aren't any small parts, only small actors" hasn't seen "Downsizing." Alexander Payne's sci-fi comedy-drama, opening at Christmas, offers the satirical premise that downsizing, or shrinking people to 5 inches tall, will save the world from environmental devastation. But it doesn't exactly work that way.
The action centers on Paul Safranek (played by Matt Damon), a regular Joe who undergoes the radical shrinking process to help make a difference, while also making his bank account last much longer. In his new life at the little community of Leisureland, he encounters the joyful hedonist Dusan Mirkovic, and his life shifts yet again. Christoph Waltz plays Dusan, a black marketeer with a heart of gold.
Payne had initially envisioned Dusan as a young, flashy fellow, and his perception of Waltz, now 61, "could not really match his imagination or his idea of what the role should be," says the actor, sitting down to talk in a young, flashy Beverly Hills hotel. But the two-time Oscar winner convinced Payne of the appeal of an older, more centered Dusan. "I'm quite suited age-wise to play the mentor," he says, explaining that such a role is a "beautiful element in storytelling, because you don't have to be the good guy, you don't have to be the bad guy. It's dramatically very active and powerful in a story to lead the hero to his good fortune."
WATCH: Video Q&As from this season's hottest contenders »
The Serbian Dusan even comes from the same region as Waltz. Vienna, the actor's hometown, "is more or less facetiously referred to as the Gateway to the Balkans. My mother's father's family is Slovenian originally. Not that that gives me an advantage over an American actor, I'm just a little closer to the mentality, that's all. I don't have to dig very far."
He was fascinated with Dusan's approach to life. "These are people with big hearts. That's the interesting thing about people like that — they can stick a knife in your neck, but they're still lovely."
These are people with big hearts. That's the interesting thing about people like that — they can stick a knife in your neck, but they're still lovely.
— Christoph Waltz
Waltz credits Payne, who co-wrote the script with frequent collaborator Jim Taylor, for adjusting the role. "If you write a script, you have very concrete ideas about how it should happen, why it should happen, what the people involved should look like, because that's where it's coming from. To actually abandon that and say, 'OK, I'm opening myself to something that I never thought of, that I never intended,' it takes a while to see the good in that, and for that he was immensely flexible."
Not so when it came time to shoot, however. "It's not always that easy because he's very, very particular, and he should be. If it were easy, it would be unbearably boring, because then you have fun with the moment and you need to repeat it, and the fun evaporates. He's particular on purpose and I wholeheartedly support it." He adds that Damon is one of the few actors with the skill to play Paul, "and make average look interesting."
"Downsizing" veers in unexpected directions, for which Waltz is grateful. "Most movies talk down to us. They pretend to be highfalutin' pseudo-philosophical hogwash that simply succeeds as intimidation because now we feel so inferior and so stupid that it must be great. And very successful movies ride on that wave. But also in a way the movies that underestimate our intelligence, and say, 'Well, this is just a couple of laughs and a couple of beers afterward.' That's not what I'm going to the movies for, I'm sorry. I'm going to the movies to encounter myself. And if I am denied that experience, I'm miffed."
The movie's central conceit is a metaphor for the biggest problems facing the world today. "The downsizing that this world is in desperate need of, if it's not too late already, is mental downsizing," he says. "We have to downsize the hubris back to human." And that work can begin immediately. "We can do that walking down the street," when we see a person living in a cardboard box. "It's less decorative and less showy, but we can do it around the corner."
As open as Waltz is to discussing the larger issues at play, he keeps his own acting process close to the vest. Looking for his way into the role, he says, "you can't light the fire without the spark, like someone said. But that doesn't mean the spark is always happening in the same place, so you have to go and look for it, which is sometimes quite exciting, and sometimes utterly tedious, but you still have to do it."
He can't remember what sparked Dusan, "and if I could, I wouldn't tell you. I don't want to trample the analogy to death, but you need to guard that spark, because you need it for a lot of fires, and therefore you don't want to fan it too much to let it burn out too soon."
Get our L.A. Goes Out newsletter, with the week's best events, to help you explore and experience our city.
You may occasionally receive promotional content from the Los Angeles Times.