Q&A: 'BlacKkKlansman' editor keeps the story moving with creative cuts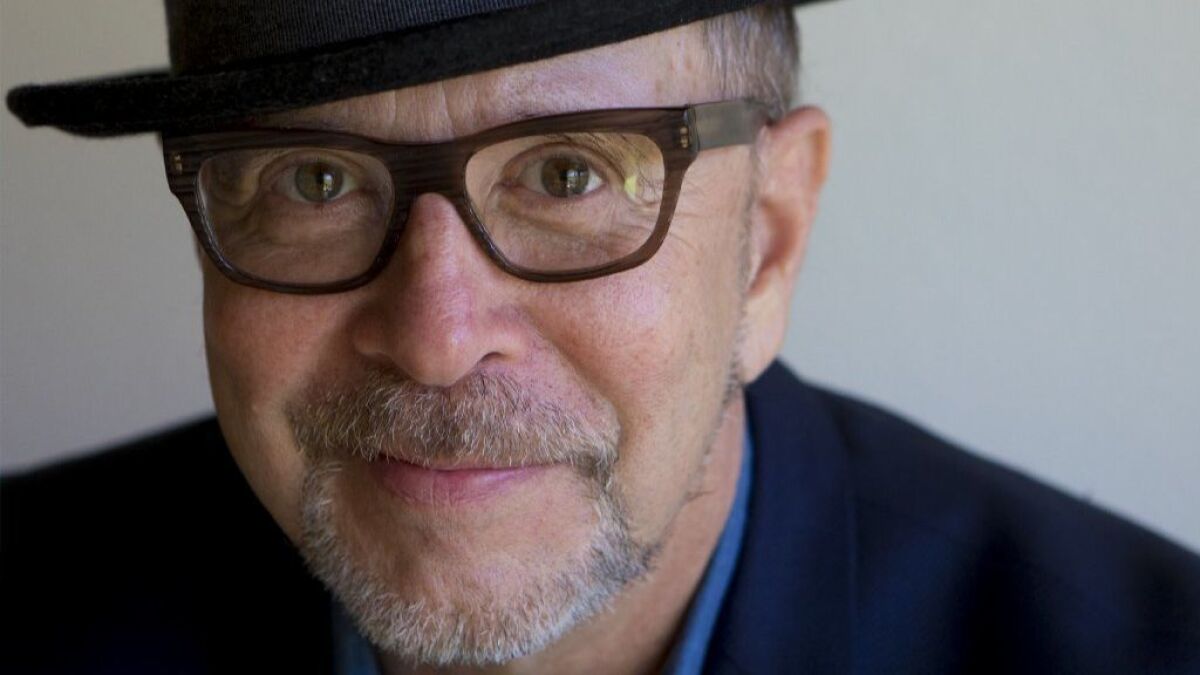 The first time that Barry Alexander Brown was nominated for an Oscar, it was as co-director of the 1979 documentary "The War at Home." If he's nominated again this year, it will be for film editing — he worked on "BlacKkKlansman," his sixth collaboration with director Spike Lee.
Brown kicked off his eclectic career neither as a director nor a film editor. He started as an actor at the Little Theatre in Montgomery, Ala. His love of cinema inspired a move to New York, where he befriended a New York University film student named Spike Lee.
"We were all young and broke and just helping each other out," Brown said.
Brown cut a scene in Lee's 1986 feature "She's Gotta Have It" — then kept on helping.
"It took me years to even think of myself as an editor, even after I was editing films like 'Do the Right Thing' and 'Salaam Bombay!' " said Brown. "It was just my friends had hired me, and my friends were Spike Lee and Mira Nair. Finally, when I did 'Malcolm X,' I thought, 'You know, maybe I'm an editor!'"
On "BlacKkKlansman," Brown helped tell the story of Ron Stallworth, played by John David Washington. As an undercover African American detective in the 1970s, Stallworth broke the color barrier of the Colorado Springs Police Department — and, in a way, of the KKK.
One striking scene is a speech by civil rights activist Kwame Ture, intercut with faces in the crowd. How did that evolve?
When I read the script and I read that scene, I thought, we're going to lose a lot of this. This is long, and he's not really going to be a character in this movie. But I cut the whole speech. And then Spike had shot those portraits of people in another room while the speech was going on. And I don't know whether it was Spike or me who thought, let's marry some of these together. And the more things I did, the more Spike liked it. And what John David is doing there as Ron Stallworth is really effective and really fun too. And to some extent, that scene is really about him and about how it's affecting him, and even to some extent, how it affects the cops outside.
Harry Belafonte delivers another key speech describing a lynching, which you intercut with footage of the KKK induction and "The Birth of a Nation." How did you juxtapose these?
In the script, they're big blocks, as you would expect. And then once it's shot, I can go in and play more with how they get intercut, and tying Ron to the character that Harry Belafonte's playing. Because he said, "I had to run and hide in a room above the shoeshine place I worked in, and look out on this through a window." And there was this footage of Ron Stallworth walking into this attic area, and then looking out over the Klan induction. So now they become sort of one character: the witness. And for me, it's also a little bit playful at times. At the end, they're all chanting, "Black power! Black power! Black power!" And I run that chant into where [the Klan is] about to do the toast.
How did you approach the phone calls between Stallworth and David Duke?
I was thinking, man, there's so many phone calls. What are we going to do here? So I thought, I'm sliding somebody on, and we're doing the '70s thing of [a split screen with] two images, so we actually see them talking together. Spike loved it right away. There was one in which we have a diagonal slice, and I'm sometimes using different takes. So there are times when they actually change places in the diagonal, but you don't feel we have jumped into a different take, a different moment. And I was shocked that I could get away with it.
So your job is to keep things moving.
I do keep things moving. Probably my greatest weakness is I go too fast, and people have to slow me up. People say to me, like Spike or Mira Nair, "Wait a second. We've got to breathe here for a moment. Just let that shot go. Let him walk all the way across the room."
What are you most proud of?
I'm proud of how well the end works, the Charleston [2017 car attack]. That's the thing that could have become something that felt like an addendum. And it had to really get under your skin and grab something deep in you, to where this whole movie now becomes real. [The Klansmen are] not just a bunch of clowns in Colorado Springs that blow themselves up. These people are dangerous. And they're with us.
Any thoughts on the Oscars?
It's hard to think about. I mean, I was nominated when I was really young for my first film, "The War at Home." And it was really meaningful, far too meaningful, and it screwed me up. And I felt like a fraud, that I didn't deserve it. But the thing that Spike says over and over and over, and has from the beginning, he says, "It's the work." Listen, if I get nominated or I don't, it's still going to be the work. And that's what's going to live on.
---
Get our L.A. Goes Out newsletter, with the week's best events, to help you explore and experience our city.
You may occasionally receive promotional content from the Los Angeles Times.