Q&A: With 10 nominations, songwriter Diane Warren has never won an Oscar. This year could change that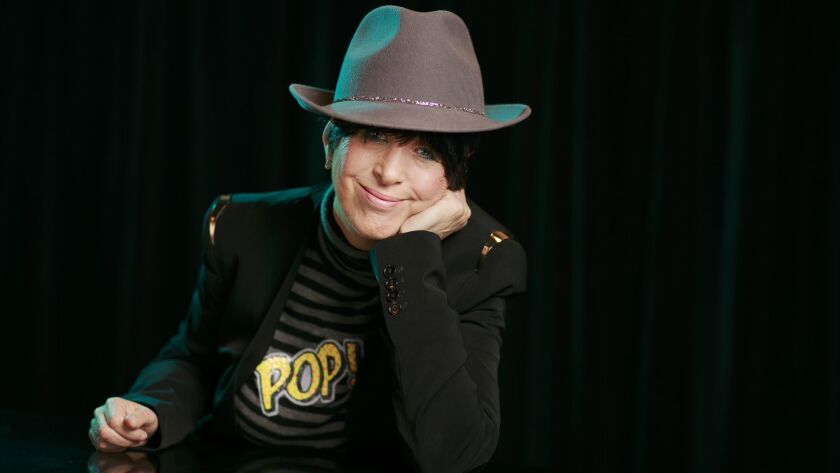 Hall of Fame songwriter Diane Warren has sold millions of records and earned a Grammy, Emmy, Golden Globe and multiple Billboard awards. But how to put this … she hasn't won an Oscar. Yet. That's certainly not to diminish the accomplishment of receiving her 10th nomination this year, for "I'll Fight," from the nominated documentary "RBG." One thing's for sure: Warren has a sense of humor about it all as she looks back on her greatest awards hits.
Let's start with the first one …
"Nothing's Gonna Stop Us Now." I remember, 1988. I was a lot younger. [It's from "Mannequin."]
Did the nomination blow your mind?
Oh, yeah. It still does. I'm never gonna sit back and go, [blasé] "Oh, yeah, I got nominated .…" It's amazing, are you kidding me? I mean, it's really amazing the first time. And it was for a movie about a guy who was [dating] a mannequin, let's be real. "So let's write a love song about it!" [laughs] I wrote it with my friend Albert Hammond. I remember being really excited, going to my first Oscars and wearing a really ugly outfit I thought was a really cool outfit.
READ MORE: Oscars telecast will include all five nominated songs after all. Here's why »
Did it have big shoulders?
Of course it did. I have all the class photos. It's like a school photo, except with Steven Spielberg and all those people in it.
Then there was, like, a nine-year gap ….
But then I made up for lost time. [She scored five nominations in six years.]
The second was "Because You Loved Me" [from "Up Close and Personal," 1996] …
I remember writing it and thinking it was better than me. "I have to catch up to that song." I went with Clive Davis as my date. There's only a couple of times I was bummed I didn't win. Everything else, I'm like, "Whatever." "Because You Loved Me," I really thought that was gonna win. After, we went to Jerry's Deli and I ate, like, two orders of French fries to drown my sorrows.
I'd argue the next two might be the best known.
Oh, yeah, "How Do I Live" [from "Con Air," 1997] and "I Don't Want to Miss a Thing" [from "Armageddon," 1998]. Yeah. "How Do I Live" is probably the most successful song I've had in my entire life. [LeAnn Rimes and Trisha Yearwood each had massive hits with it].
Then, of course, ["I Don't Want …"] is the biggest hit Aerosmith's ever had. I was surprised they even wanted to do it. It's a very vulnerable lyric. All those women's husbands or boyfriends wouldn't say that, but there you've got Steven Tyler with all his tattoos, singing that to them. Both of those were, like, boy movies with girl songs in them. Kinda smart.
Have they haunted you?
Oh, no, no. I love hearing my songs on the radio. I'm not jaded. I'll hear covers on YouTube where they flip the whole arrangement; I love them.
Which of the others have had a meaningful life-after?
I wouldn't have known the cultural impact "Til It Happens to You" [written with Lady Gaga, from "The Hunting Ground," 2015] could have had. The song, the documentary, Gaga's Oscar performance, people have said they all helped people talk about sexual assault. I'll give [director] Catherine Hardwicke credit for the genius video she made. It's like a little movie in itself. It went crazy viral.
Nothing's more powerful than music. It's visceral. You can't think about it. I had been molested when I was a kid. I told my mom in her later years. I never told my dad. That song got me talking. So even me, right? The writer. But the fact is, music's powerful. I'm proud of that song.
What did you need to get into the Ruth Bader Ginsburg song, "I'll Fight?"
Her fighting spirit. When you see the documentary, she's so soft-spoken. But what she's saying carries. It's loud and it's powerful. Getting Jennifer Hudson — that's like her vocal avatar. She might speak softly, but if you get a diva, that's like her translator — 'Aaaahhh!'
Listen to all the Oscar nominees for original song »
For your 10th nomination to be about her ...
To be associated in any way with Ruth Bader Ginsburg, it's an honor. I want to write the lyrics up and frame them and give them to her as a present. She has to live another 100 years.
It never gets old. It's my 10th, double digits, I've lost every time, and it could happen again, but it's all good … because the songs have impact. The songs reach people.
---
From the Emmys to the Oscars.
Get our revamped Envelope newsletter, sent twice a week, for exclusive awards season coverage, behind-the-scenes insights and columnist Glenn Whipp's commentary.
You may occasionally receive promotional content from the Los Angeles Times.