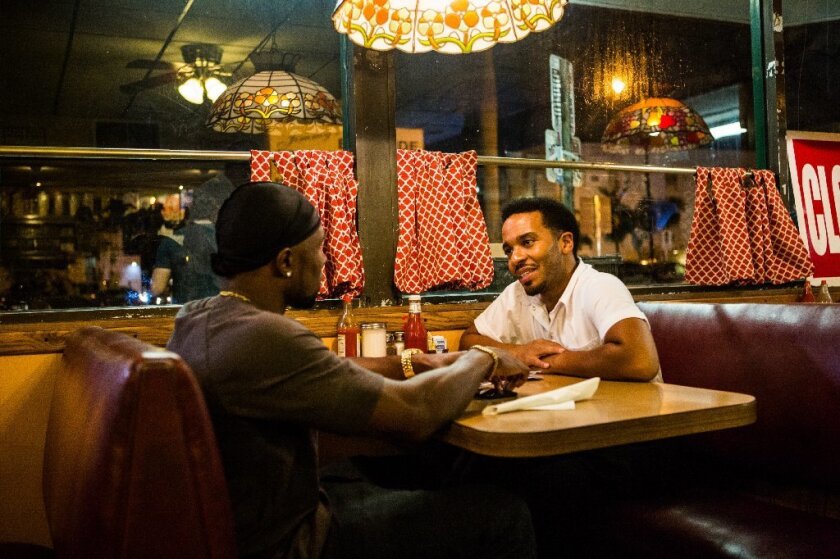 The critical accolades bestowed on "Moonlight" — it swept the Los Angeles Film Critics Assn. awards and earned multiple honors at the Gotham Awards and from the New York Film Critics Circle — are richly deserved, but director and screenwriter Barry Jenkins' achievement is even more impressive when you consider how little time the cast had together to bring the film to life.
That may sound like a problem familiar to any independent production, but the circumstances surrounding "Moonlight" were decidedly unusual.
Broken into three parts, "Moonlight" chronicles the life of a young black man from a poor neighborhood in Miami, Chiron, starting with his experiences as a youngster to teenager and, finally, adult. The picture is a true ensemble with nine different actors in key roles.
In the film's third chapter, a grown up Chiron (Trevante Rhodes) visits his estranged mother (Naomie Harris) at a recovery home for former drug addicts. It's a pivotal and emotional scene that both actors went into cold, not having had rehearsal time, but Harris did something unexpected that Rhodes says brought him into the moment.
"What Naomie did was genius. She just touches me. Obviously, she's just touching me softly and she changed the whole tone of [the scene] and whatever she said she said it softly and for me, that's because we didn't have any rehearsal and that was jarring for me," Rhodes recalls. "So I sat back down and that changed the tone of the moment. And it just put me in this place where she was like, 'I love you' for that time. And being in that moment and understanding that this guy has been wanting that for his entire life. For his mother to accept him for who he was and to actually mean it when she said she loved him as opposed to trying to get five bucks to get her next fix? She meant it. And Naomie is obviously an incredible actress. I felt the truth in that."
Harris appears in all three time periods within the film, shooting all of her scenes in just three consecutive days squeezed into her global promotional duties for "Spectre" last fall.
"The problem and why it only ended up being three days is because I had visa issues," says Harris, who is British. "It just got right down to the wire. I was supposed to fly backward and forward and shoot across a total of seven or eight days. But when we couldn't get the visa sorted out it ended up being compressed into just three days."
With no rehearsal time she credits Jenkins' flexibility for making it seem so seamless in front of the camera.
She notes, "I think because of his fluidity and his experimental way of directing he's like, 'Let's try anyway. Let's try a scene with you talking to each other. Now let's try talking to the camera. Or, let's try a line here.' It's his playfulness with the material and his way of working — it means that you as a performer are very free and very safe to experiment as well. I think in the hands of another director the limitations of time would have been a real drawback, but in his hands it was actually something that in fact benefited us. We had to be responsive to each other. We had to be completely grounded in the moment."
Andre Holland, who portrays the adult Kevin, had just five days to film his contributions that included the movie's heartbreaking final scene opposite Rhodes.
"The first time I met Trevante was the day that we did the car scene," Holland says. "In some ways it was terrifying because I'm a bit of an actor-y actor and I like to do all the research and have the time, but we didn't have the time to do it. In some ways it served it because it was a scene about these two people getting reacquainted and Trevante and I were getting acquainted. Barry allowed us to improvise a lot, the improvisation didn't make it into the final cut but in doing the improvisation I think that got us a bit more used to each other."
Mahershala Ali was so enthralled by Jenkins' script that he filmed his part on consecutive weekends flying to Miami from New York in between his obligations to Netflix's "Luke Cage" and "House of Cards." Ali portrays a drug dealer who becomes a father figure to a young Chiron (Alex Hibbert) and admits he often feels vulnerable when working on a project but, like his co-stars, credits Jenkins for reassuring him that they were "in the right place."
"You've got to shoot things so quickly, and it's a little bit like working in this trash compactor," Ali says. "Everything's kind of closing in on you and you're trying to finish everything up. So, you don't have a lot of time to overthink things and to question things too much. You just have to dive in, get what you need to get, and get out."
See the most read stories this hour »
ALSO:
To give birth to 'Moonlight,' writer-director Barry Jenkins dug deep into his past
From franchises to gentle lyricism, these leading men share insights into filmmaking
Eddie Murphy discusses unproduced projects and remembers being ahead of the curve on #OscarsSoWhite
---