'Manchester by the Sea' editor connects the puzzle pieces through the tears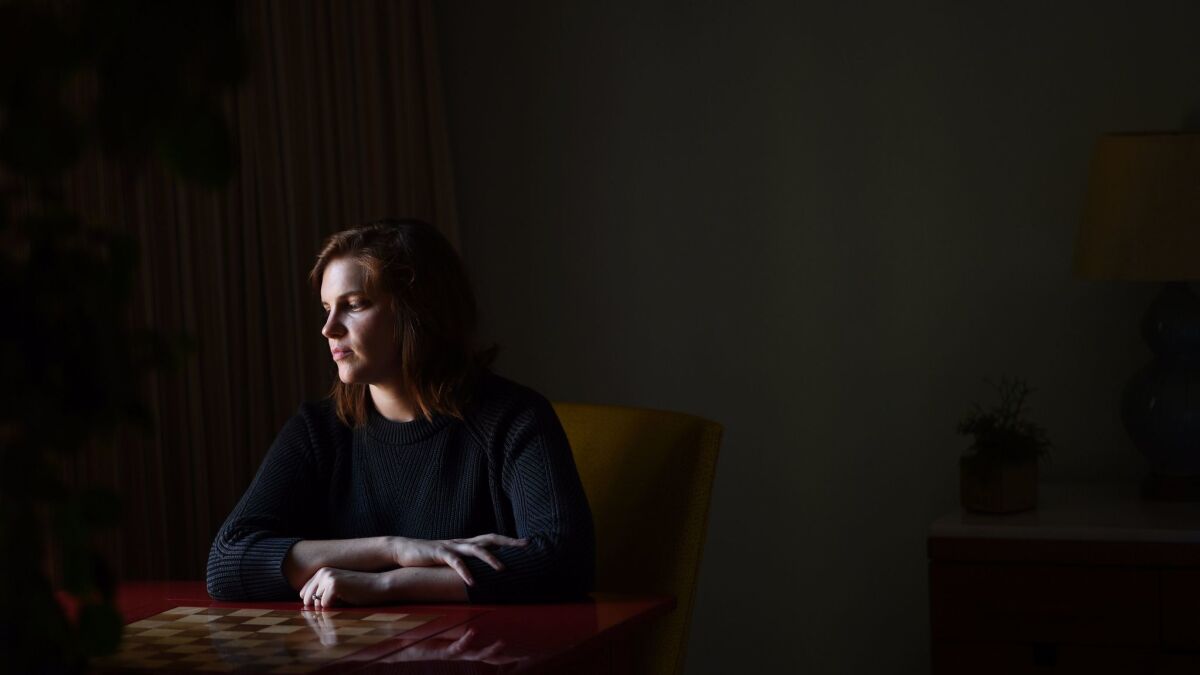 On at least one occasion, the footage from "Manchester by the Sea" brought its film editor, Jennifer Lame, to tears. The drama follows the life of Boston janitor Lee Chandler (Casey Affleck) who, when his brother dies, is named guardian of his teenage nephew Patrick (Lucas Hedges).
The divorced Chandler carries with him great trauma from his past and feels he cannot move back to his hometown of Manchester by the Sea to care for Patrick, though he is staying there while the situation gets settled. At one point while in town, he runs into his ex-wife, played by Michelle Williams.
"I'll never forget the day I got the Michelle and Casey scene," said Lame. "Just watching raw dailies, I was crying. That's never happened. That scene crushed me."
Luckily, Lame enjoys the intensity of her job, joking that she has "a bit of an addictive, obsessive personality, which is conducive to editing."
"Manchester By The Sea" stars Kyle Chandler, Michelle Williams and Casey Affleck.
She fell in love with the editing process during her undergraduate years at Wesleyan University, then struggled to find satisfying work in L.A. When an opportunity arose to serve as an apprentice editor on 2007's "Before the Devil Knows You're Dead," directed by Sidney Lumet, she quit her job, packed a suitcase and instantly moved to New York. Since then, she's worked on numerous films, including four with writer-director Noah Baumbach.
"I just find [editing] one big, mysterious puzzle of how does this work best?" she said. "I'm a good personality fit for it, especially with directors who are equally as obsessive. I find that fun as opposed to stressful."
How did you get the job on "Manchester by the Sea"?
I was looking for my next job, and I'd been stalking the Kenneth Lonergan movie, because I love Kenny. I had read multiple drafts of the script, and I'd seen all of the changes. And finally, I did actually get an interview. And they asked me to fly back, but I was working. And they were like, "You're never going to get this job, because you're going to have to do a phone interview." So he called me, and he was so distracted. I remembered these three scenes that he had cut out in the latest iteration of the script. And I said, "I really think it was a mistake to cut these out," because I figure if he agrees with me, it'll be great. And if he doesn't, I shouldn't work on the movie anyway because we don't agree on anything. So I just said it. And then he agreed, and the conversation just totally shifted and I felt really good about it.
Which scenes?
[One of them was] when Casey says what happens at the police station. That was one of my favorite scenes in the early drafts, because you never see this in movies, an actor just telling you what he did. But I thought it was so badass of Kenny to put that in a movie.
What was your process with Lonergan?
Well, we didn't really talk at all during production because he was so crazed. Like we hadn't met. And I was just getting all this footage, so I put an assembly together. And then he came in, and we gave each other this big weird hug because it was just like, "Oh my God, we don't even know each other. Now we're going to work on this really intense movie." We were definitely on the same page with everything. The hardest, most challenging parts were going through Casey's footage and getting Lee right—making him both mysterious and challenging for the audience and true to his character, but not overly sentimental.
How did you establish the pacing?
The opening scene sets a good tone for the pacing that we were trying to establish, which is a bit mysterious. I remember we had multiple screenings where we showed a tighter version of that opening of him going to see all [the building tenants] and it moved faster, and it just didn't play as well. It just felt like a generic movie about a guy who's a janitor.
How did you approach the flashbacks?
We just cut them as if they were equal scenes in the present day. We didn't try to make them feel different. Lee's life in the present is completely ruled by his past. It's all he ever thinks about all the time, so we wanted the audience to feel the weight of that. I'm just in awe of Casey's performance in the flashbacks versus the present day. It's so heartbreaking to see how much life he has in the ping-pong game and with Lucas in the fishing boat. He's just so funny and happy and full of life. And it's so heartbreaking.
See the most-read stories this hour »
ALSO:
'Manchester by the Sea' named best film by National Board of Review
Plumbing the depths of sorrow with Casey Affleck and Kenneth Lonergan of 'Manchester By the Sea'
Casey Affleck's searing performance cuts deep in Kenneth Lonergan's 'Manchester by the Sea'
---
Get our L.A. Goes Out newsletter, with the week's best events, to help you explore and experience our city.
You may occasionally receive promotional content from the Los Angeles Times.