Onetime outsiders, 'Disaster Artist' screenwriters connected to a tale of following a dream — no matter how weird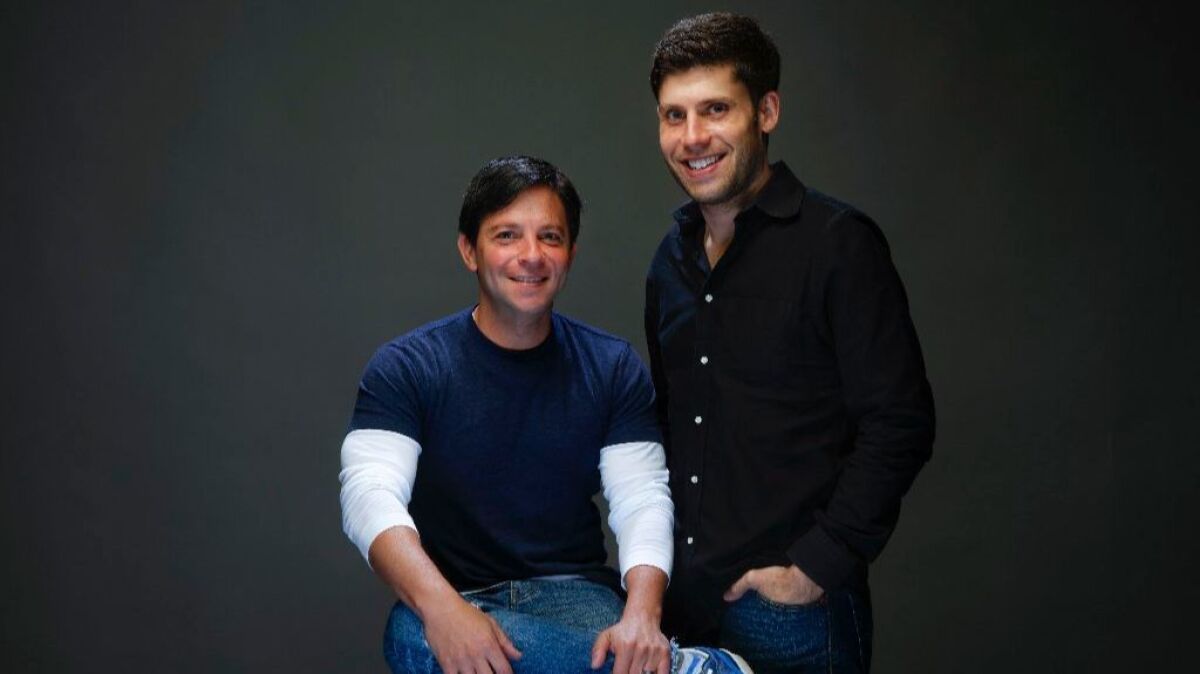 We're two kids from the East Coast who grew up obsessed with the movies. We dreamed of "making" them before we had any idea what that phrase even meant. But Hollywood was a world away and, to us, it seemed impenetrable. The older we got, the more impenetrable it became. Intense competition, enormous barriers to entry, you had to literally "break in," they told us.
And we soon came to discover that lots of people have this dream — and those people lived much closer to Los Angeles, they had "connections," they went to actual honest-to-God film school. It was all very intimidating and discouraging, and if we had any marketable skills to do anything else in the world, we probably would have.
But we got lucky. We wrote a thing and people liked it. The thing got made and made well. We were given opportunities and we ran with them. Our dreams came true.
It was unbelievable.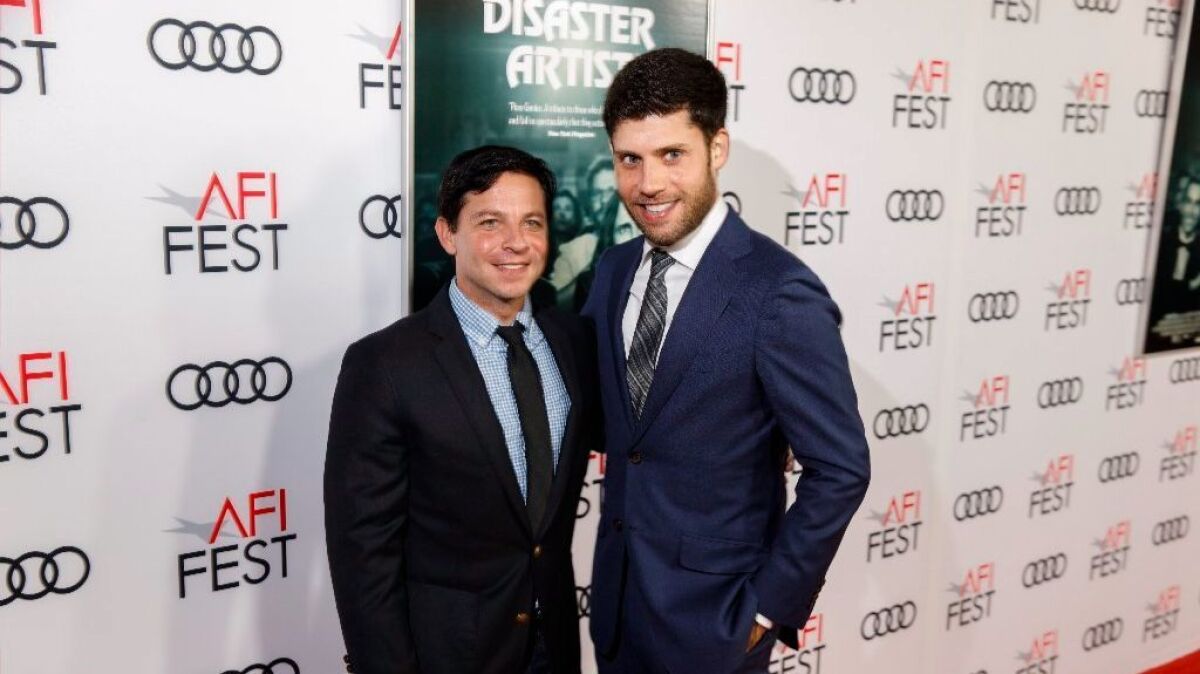 Still, we never forgot that feeling of being outsiders. Which is why reading "The Disaster Artist" by Greg Sestero and Tom Bissell was such a thrilling experience. "Disaster" is the true story of two friends, Greg and Tommy, who bond over their shared dream of making it in Hollywood and then, despite the overwhelming odds against them, actually go and do it.
The film they bring to life, "The Room," is a colossal failure — considered by many the worst movie ever made. And it's certainly a weird one. Bissell describes it as a movie "an alien who has never seen a movie would make." But in the almost 15 years since its release, "The Room" has not only made a profit, it is now beloved and is regularly screened at midnight shows around the globe.
We fell in love with this story and the peculiar friendship at its core. Greg and Tommy aren't like most people (and Tommy, in particular, isn't like anyone else on Earth), but the ups and downs of their relationship felt strangely relatable and rich. We thought this could be equal parts "Boogie Nights" and "Ed Wood" with a dose of "Sunset Boulevard" thrown in for good measure.
When we met with James Franco, Seth Rogen and their producing partners, who controlled the material, they saw it the exact same way. The table read for "The Disaster Artist" had a magic to it unlike any of our other experiences. James Franco became Tommy Wiseau. The voice, the mannerisms, the bizarre grammar and syntax. And it's true that James stayed in character as Tommy all throughout production. By the end of shooting, none of us could remember what he actually looked like.
WATCH: Video Q&A's of the season's hottest contenders. »
Quick word about our fearless director. Throw away whatever you think you know about James Franco unless you've been in the trenches with him. The man is a dynamo. It was more than just his performance and preparation. His focus is superhuman. His esprit de corps is irresistible. The best on-set experiences are when everyone feels safe to take risks. As captain of the ship, James created that environment. It was exhilarating to go to work every day.
Yet it was a strange production too. There were real cameras and fake cameras, real sets doubling as fake sets, inedible snacks on a prop craft services table right next to the actual craft services table with the actual snacks. A 2016 Bryan Cranston plays 2002 Bryan Cranston at one point. And like a comedy virus, Tommy Wiseau's bizarre vocal quirks infected the entire set. Everyone was saying "Oh hai" instead of "hello." Disbelief was expressed as "mai God!" Laughter was replaced with Tommy's eerie, "hau hau hau" chuckle. It was wild.
All throughout the writing and production of "The Disaster Artist," we thought about our younger selves. We were eager to be in "the business." Hoping to make something people love and remember and talk about and watch over and over again. So in that sense, maybe "The Room" wasn't such a failure at all. Sure, it opened on one screen in 2003 and grossed a paltry $1,800. "Charlie's Angels: Full Throttle" came out the same day and made nearly $40 million that weekend alone. But when's the last time you've seen it? Is anyone quoting that movie today? They're certainly not making a film about its journey to the big screen. Tommy and Greg's greatest achievement is that they made something lasting. We still dream of doing the same.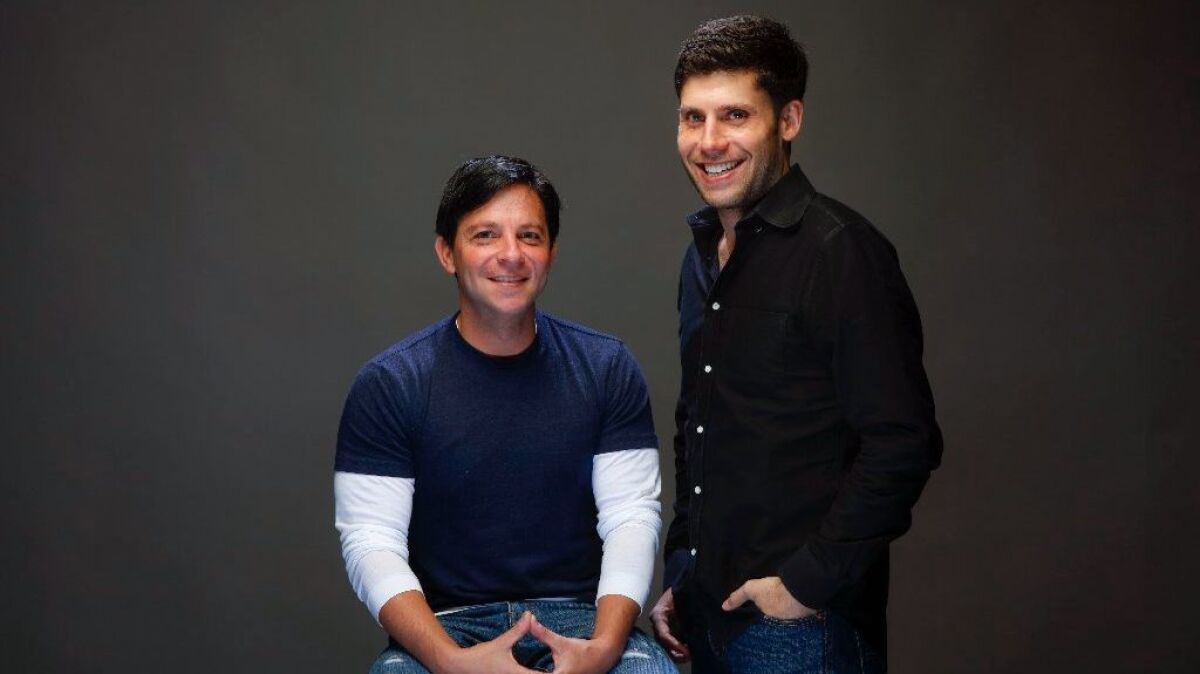 Get our L.A. Goes Out newsletter, with the week's best events, to help you explore and experience our city.
You may occasionally receive promotional content from the Los Angeles Times.