Composer Nicholas Britell pulls double duty this awards season with 'Beale Street' and 'Vice' scores
Nicholas Britell has quickly risen to the fore of today's film composers. That's due in part to hooking up with two particular directors: Barry Jenkins and Adam McKay.
Britell, 38, earned his first Oscar nomination for scoring Jenkins' "Moonlight," and the two immediately began working on "If Beale Street Could Talk" — an adaptation of the 1974 James Baldwin novel, which stars KiKi Layne and Stephan James as a young black couple in Harlem, pregnant and madly in love but torn in two by racial injustice.
The New York-based composer read both the novel and script, and in his early conversations with Jenkins said he was instinctively hearing horns.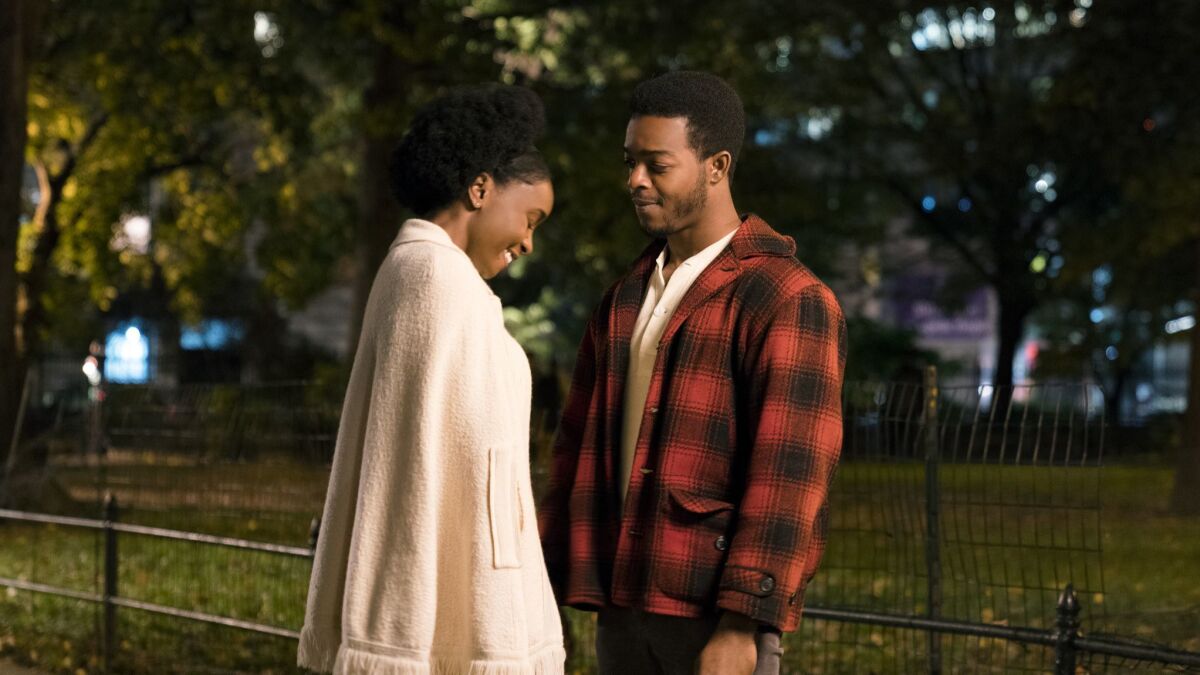 "I started writing music with trumpets and fluegelhorns and French horns and cornet, and muting different instruments and seeing what that sounded like," Britell said. "I didn't want it to feel immediately connotative of any particular type of music. I was imagining that it might have potentially jazz-type harmonies but also would be classically written."
Jenkins loved what he heard, but when they put the music against the picture it wasn't quite right. It was missing strings.
"For us, the strings really came to represent love," said Britell, "because the film is about love and injustice, but it really focuses a lot on different kinds of love: the love of a parent with a child; a pure, kind of divine love; love between friends; erotic love. The strings took on different roles in the guise of all of those."
The score opens with a wistful, jazz-leaning theme for trumpets, which the composer said "represents the fullest feeling of love." During a lovemaking scene, Britell casts a spell with a cyclical, hypnotic theme for strings. (His wife, Caitlin Sullivan, performed solo cello on the score.)
"I wanted it to feel like you're in another state of consciousness at this point," he explained. "They're going into this other place."
For the darker parts of the story — embodied by a cruel white cop played by Ed Skrein — Britell morphed and distorted all of this "love" music.
"It's almost like they're sitting at the gates of hell," he said.
In a different key altogether is McKay's "Vice" — a sprawling, darkly satirical character study of Dick Cheney (Christian Bale). As he did in 2015's "The Big Short," McKay tells a convoluted story, essentially of the past 50 years of American history, through a quick-cut smorgasbord of straight drama, meta commentary and surreal comedy.
At its core, though, the film tries to find the real heart (prone to attacks) of Cheney the human being. Starting on the project during development, Britell wrote a theme for trumpet, woodwinds and orchestra that evokes a dissonant Americana — as if Aaron Copland wrote a fanfare for Lex Luthor.
"You look at the arc of Dick Cheney, and it really lines up a bit with the arc of America," McKay said. "It's a guy who wanted to do his wife proud, do his children proud, put food on the table. Then, somewhere along the line, that love started taking a weird turn and it became something else. What I love about Nick's piece is that it really gets both. Once that piece of music landed, we had our movie."
Britell's score tracks with the film's timeline, assigning a cocky big band to Donald Rumsfeld in the 1970s and hip-hop swagger to Cheney's consolidation of power in the 2000s. The music goes meta during an especially funny scene midway through the movie, scoring a false ending with sentimentality and arch nobility.
But, as with Bale's nuanced performance, Britell's score truly searches for the truth of a man who quietly conquered American politics. To that end, Britell wrote a fragile — if still frictional — family theme on piano.
"This is a complex story — it's not one-dimensional," he said. "We were trying to get inside this idea of: Let's understand the love that he has for Lynne [Cheney], who inspired him and really was a propellant for his career."
McKay noted the triumph in past film scores that played to the victorious "three-act" story of America.
"And what really kind of broke my heart," he said, "was hearing Nick show us the next act of that story — where it's more complicated than that. When I heard Nick's music go in that direction, it really just deepened this movie for us in a way that was pretty profound."
FULL COVERAGE: Get the latest on awards season from The Envelope »
From the Oscars to the Emmys.
Get the Envelope newsletter for exclusive awards season coverage, behind-the-scenes stories from the Envelope podcast and columnist Glenn Whipp's must-read analysis.
You may occasionally receive promotional content from the Los Angeles Times.