Earnest scores enhance tales of outcasts in love, loneliness and loss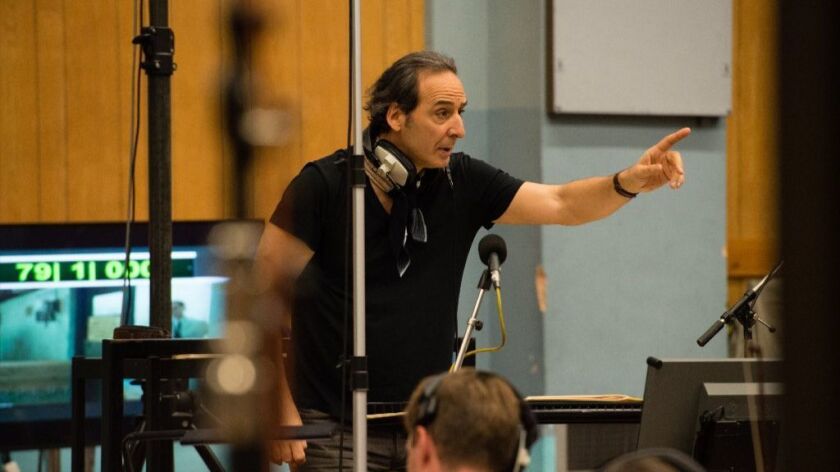 A common theme among the year's best film scores is an almost old-fashioned earnestness. Perhaps in response to the darkness and trauma in the real world, many movies have abandoned cynicism and irony — and their scores have followed suit by being sincerely, even passionately heroic, romantic, melancholy or inspirational. The subject matter below ranges wildly from depressed painters to feminist icons, from doomed firefighters to the passionate affair between a mute woman and a fish creature — but all are scores with a big, beating heart and worthy of consideration for film music's top prize.
Alexandre Desplat
"The Shape of Water"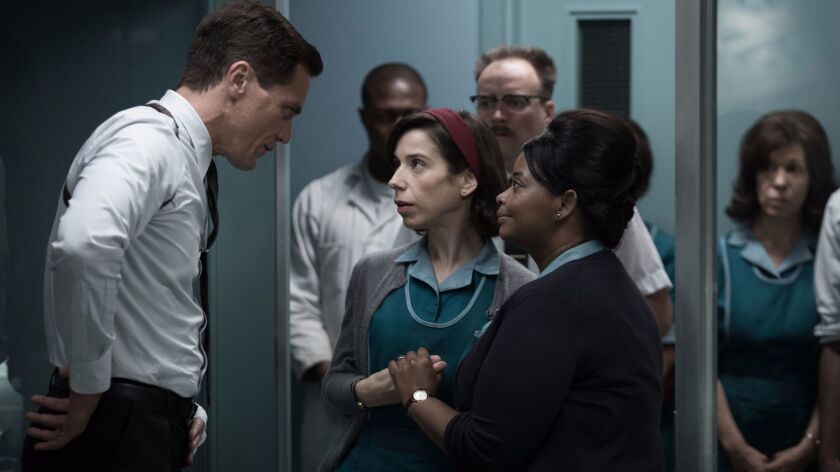 WATCH: Video Q&A's from this season's hottest contenders »
For Guillermo del Toro's "The Shape of Water," composer Desplat had the unenviable challenge of both grounding and accentuating the fantasy in a story that is part fairy tale, part Cold War spy thriller, part erotic creature movie.
"When I saw the film the first time," he said, "it's such a flow of love, of energy, of beauty on-screen, of incredible performances. The music has to make you believe that it's real, but also have this little sense of fable depth, that you're entering into a submarine world. There's a current, and you let the current guide you and take you through."
He was inspired by the fluidity of Del Toro's constantly moving camera, and by the importance of water to the story. He wrote music for 12 flutes along with harp and other "watery" instruments. Even his main melody for Elisa (Sally Hawkins), which bobs on top of two undulating chords, has "the shape of water."
Elisa is mute, but she whistles — so her tune is often whistled in the score.
"I whistled on the demos," Desplat said, "but at Abbey Road, we brought in a world-champion whistler. He was amazing. He could really whistle anything, and in tune, and it was perfect. When we played it back, we realized it was too perfect. [It] had killed the emotion. The fragility in my whistling was just warmer."
The composer nodded to the mysterious Latin American origins of the aquatic creature by assigning his melody to accordion, played like a bandoneon from Argentina. Whistle and accordion dance in a waltz as the two outcasts fall into friendship, and the themes gradually swell into the full orchestra.
There's music for the cowardly spy, the wicked military man, and the danger the oppressed protagonists find themselves in — but at its core, the film is a love story, and an unusually earnest one at that.
"It's Tristan and Isolde," said Desplat. "It's a real, deep love story, and that's what makes the movie, to me, with no doubt, a classic — because there's no fear of showing love, and showing a love story with elegance, but at the same time with passion."
Nicholas Britell
"Battle of the Sexes"
One of the many new faces at the 2017 Academy Awards was composer Britell, nominated for his sensitive, fragile string score for "Moonlight." He followed it with a film that, although also involving a socially verboten romance, could hardly be more different.
"Battle of the Sexes," starring Emma Stone as tennis legend Billie Jean King and Steve Carell as the theatrically chauvinistic Bobby Riggs, is an inspirational sports movie infused with some timely feminism and a very charged love story. Britell's jumping-off point was the era in which it takes place: the early 1970s.
He conceived of writing a classical score, but performed by a typical '70s band of electric guitar, electric bass, rock organ and drums. He ended up fleshing that out with woodwinds and strings, but the music — which he recorded on vintage microphones and processed through analog tape filters — gives the film an aural '70s patina.
"I loved the fact that, on the surface, there's this huge scope of the match — so there's this athletic competition, the spectacle and excitement of that," Britell said. "But what I really loved was the inner stories."
He wrote a fierce but vulnerable theme for King, which is introduced almost atmospherically under her first interaction with the hairdresser (Andrea Riseborough) who becomes her lover, and progressively grows in determination and scale. For Riggs, a clown on the surface but an insecure and sympathetic man underneath, Britell wrote a theme for a "smoky, intimate jazz ensemble."
In a subtle touch, Riggs' theme is always performed on an old upright piano, and King's on a nine-foot Steinway grand. "There's kind of a musical metaphor going on there," Britell grinned.
Those themes duke it out in the titular match, which Britell braided with a competition theme and amplified with rapid arpeggios on rock organ and flutes breathlessly pulsing away.
"After watching it on a big screen a couple times, we felt we wanted more at that moment," he said. "It needed a big punctuation. You don't want it to be so huge — it has to feel like an evolution or an outgrowth — but at the same time, I think it deserves that moment. Billie Jean earned it."
Nick Cave and Warren Ellis
"Wind River"
If anyone has the market cornered on modern westerns, it's Cave and Ellis. The Australian rocker and his violinist bandmate made their co-scoring debut with "The Proposition" in 2005, and since then have scored "The Assassination of Jesse James by the Coward Robert Ford," "Lawless" and last year's "Hell or High Water."
The last was scripted by Taylor Sheridan, who made his directing debut this year with "Wind River" — a neo-western set on a snowy Native American reservation, starring Jeremy Renner as haunted game tracker Cory Lambert and Elizabeth Olsen as an FBI agent tasked with solving the killing of a young woman. Sheridan wrote his previous screenplays listening to Cave and Ellis' scores, and had no one else in mind for this assignment.
"He was clear about the atmospherics," Cave said — "the wind and the snow, the brittleness and the grandeur, the relentlessness of the weather. He was a dream to work with, actually, as he stepped back and just let us do our thing."
A ghostly choir stood in for the victims who hang over and motivate the film's story, which Cave considered the score's key idea.
"'Wind River' seems to be dealing with a kind of disappearing of things," he said, "of a culture and more pointedly of its people and, of course, Cory's own daughter. The ghost-choir was a kind of chorus of the missing."
At times on the soundtrack, Cave quietly recites a poem written by Cory's daughter.
"I felt that Cory's expeditions into the frozen landscape were not just a hunter doing his job, but excursions into his own despairing psyche," Cave said, "and the ghost-choir, the wailing women's voice and the muttered poetry all added up to a kind of haunting."
Ellis performed the brittle, searching violin solos and created wintry atmospheric beds made from acoustic instruments like violin and guitar. Another bed he created with his own voice, singing backward and then flipping it and lowering the pitch.
"When you read [the script]," Ellis said, "you could feel that there was so much room for the score to have a voice. And that's always really thrilling, because it doesn't happen all the time."
Randy Newman
"The Meyerowitz Stories (New and Selected)"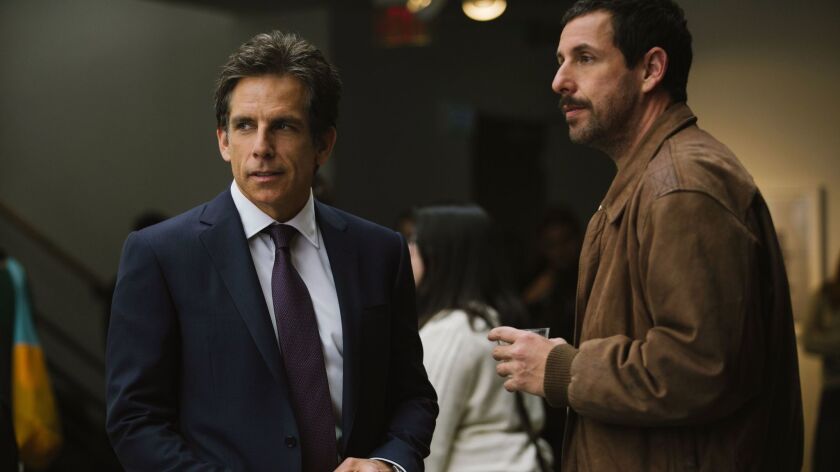 Newman hadn't scored a flesh-and-blood human film in nine years. The Oscar-winning composer — and Rock and Roll Hall of Famer — once brought Americana melancholy to weighty dramas such as "The Natural" and "Avalon," but then got pigeonholed as the composer of Pixar (scoring the "Toy Story" films, among others).
Along came Noah Baumbach's "The Meyerowitz Stories (New and Selected)," a dramedy about a dysfunctional Jewish family starring Dustin Hoffman, Adam Sandler and Ben Stiller.
"Early on, in the script stage, I really felt like it should have a musical accompaniment that would be another voice in the movie," said Baumbach, who admitted crying whenever he hears the score for "The Natural." "And he was who I thought of."
Newman underscored Hoffman's crotchety pedant with a wry, grumpy theme and generally added levity but also a wistful, nostalgic hue in more tender moments — all on solo piano, which he performed.
"I looked at the picture, and I actually thought of something away from the piano," said Newman. "I went to the piano and recorded it and sent it to him — I've never done that in my life — and he liked it. When we talked about adding anything, he didn't really want to, and that was fine with me."
The score, in a way, is more of a personal expression, just Newman tickling the keys, which he recorded at his house. His personality, both cheeky and softhearted, hovers in the background of Baumbach's slice-of-life film.
"Something Dustin [Hoffman] said about it, actually," the director noted, "is that there's a loneliness about it that I think just always felt right. It's loneliness, but also a sense of humor in a way, because you feel the player there."
"It's absolutely true," said Newman. "It's a very lonely kind of thing, that sound and in the context it is. They're all in a family, but on their own."
At the end of the film, we finally hear an orchestra, introducing Newman's 1972 song "Old Man" (which contains lyrics fittingly in sync with the picture).
"I really can't imagine the movie without it," Baumbach said of Newman's score. "I think of the music almost like another performer."
Clint Mansell
"Loving Vincent"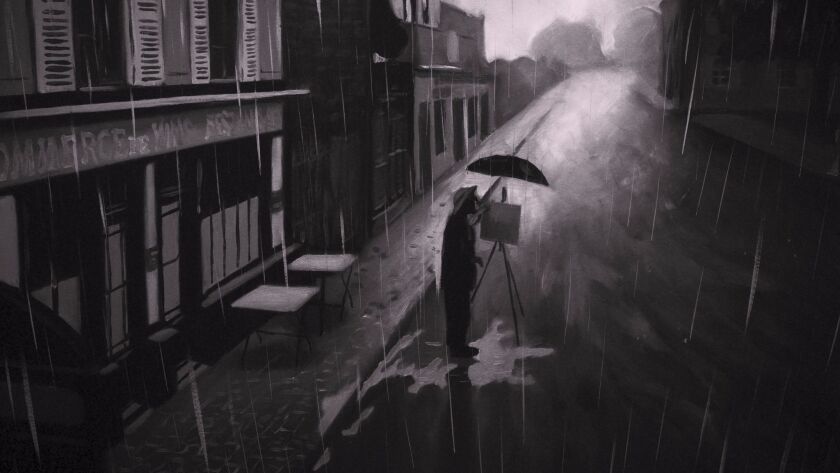 Two of Mansell's best-loved scores are for Darren Aronofsky's "The Fountain" and Duncan Jones' "Moon." Dorota Kobiela listened to both hypnotic and melancholic scores as she wrote the screenplay for "Loving Vincent," which she co-directed with Hugh Welchman, and informed Mansell that he was the only one who could score the movie.
The first "fully painted" feature film took a live-action drama of the days following Vincent van Gogh's untimely death in a small French village and, with the work of more than 125 artists from around the world, converted every frame into an oil painting in the Modernist's style.
Mansell imitated that style with a minimalist, liquid score that swirls and loops back into itself. With the aid of his engineer, Geoff Foster, he recorded the orchestra with unique setups that included microphones inside large water bottles around the studio, and mikes aimed at piano strings resonating with a nearby string ensemble.
He supplemented a more traditional ensemble with a small choir (bringing a heavenly quality to Van Gogh's "starry night"), a folksy bandoneon and the glass armonica — a shimmering, "otherworldly" instrument invented by Benjamin Franklin, where a rotating spindle of tuned glass bowls are played like wine glasses by a player's wetted fingers.
Thematically, the score captures the feelings of Van Gogh's sadness and tragic, unfulfilled ambitions.
"The music is really bringing Vincent into the viewer's emotional realm, if you like," Mansell said. "It's like trying to ghost him in there, rather than what's actually happening on the screen."
As with many of Mansell's scores, "Loving Vincent" worries less about hitting story beats and is more about an immersive, almost hypnotic experience.
"The thing that I hung onto all the way through," he said, "was something he wrote to his brother: 'I want to touch people with my art. I want them to say, "He feels deeply, he feels tenderly."' My palette, if you like, was how he felt about his loneliness, his desires, his needs. Obviously, it spills over into his mental state in general, but mostly, I was trying to bring his emotion, bring his tenderness — bring his love, really."
Joseph Trapanese
"Only the Brave"
The concept behind Trapanese's score was simple. The film directed by Joseph Kosinski, based on the real-life Granite Mountain Hotshots who battled a devastating Arizona wildfire, hovers around the character of Brendan (a.k.a. "Donut"), played by Miles Teller.
"I was aware of this story," said Trapanese, "but I didn't realize there was one survivor. And the emotion of that, the heartbreak of that. An early conversation Joe and I had was that the guitar was going to be really important, but what if that guitar was Brendan telling you a story? What if he were just in his bedroom, sitting on his bed, and you were sitting next to him, and he was saying: 'Let me tell you about my brothers'?"
That idea sparked the main theme, a rustic meditation for guitar — sometimes acoustic, sometimes electric — that cycles through the highs and lows of the Hotshots, at times ascending to a massive anthem. Swirling around the theme are distant drums and sonic landscapes created on guitars (using looping boxes, pedals and other effects) by some virtuoso soloists.
"There are moments of this idiomatic, beautiful guitar solo," Trapanese said. "But then there are moments of textural guitars, there are moments of guitars played wrongly — to create some of the more dissonant textures. Part of the reason I think this score came out so richly is there is this tapestry of guitars that is the way it is because I'm not a guitarist."
He also played around with recording techniques to enhance that bedroom quality, like placing mikes far away to capture more of the room. At the scoring stage in London, Trapanese placed the violins up in the rafters and kept the low strings on the ground.
"So you have this very dark but warm sound," he said, "and then you have these distant, angelic violins. It turns into this beautiful, gentle texture on top, rather than anything strident. You don't really hear the individual instruments — and that's what I wanted to avoid. I wanted the orchestra to feel almost meditative, as if we were in this beautiful, quiet space that had a bit of reverence in it."
---
From the Emmys to the Oscars.
Get our revamped Envelope newsletter, sent twice a week, for exclusive awards season coverage, behind-the-scenes insights and columnist Glenn Whipp's commentary.
You may occasionally receive promotional content from the Los Angeles Times.