Tracy Letts is often cast as the powerful leader, but for 'Lady Bird' he gets to play 'an old softie'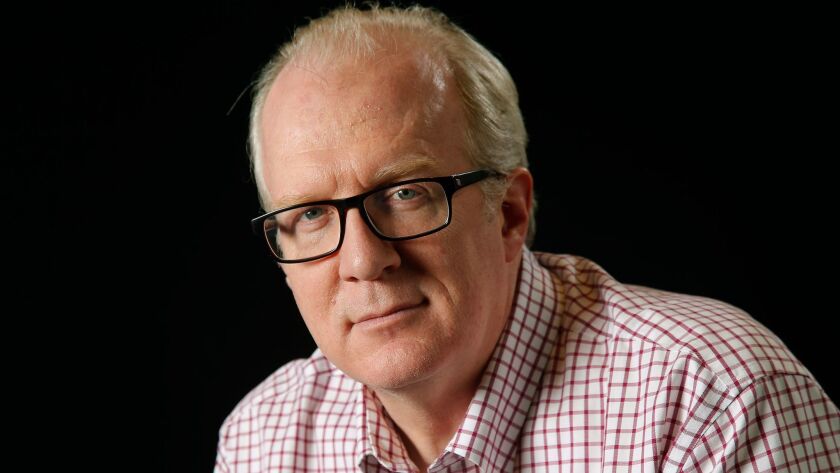 An exhaustive account of Tracy Letts' accomplishments would be, well, exhausting. The actor, playwright and screenwriter won the 2013 Tony for his portrayal of George in a revival of "Who's Afraid of Virginia Woolf," and another Tony in 2008, along with a Pulitzer, for his play "August: Osage County." The longtime member of Chicago's Steppenwolf Theatre Company wrote the film adaptation for "August" as well as his other plays "Killer Joe" and "Bug." He starred in Showtime's "Homeland" as senator and then CIA director Andrew Lockhart, and currently plays Molly Shannon's husband Nick in HBO's "Divorce." His play "Superior Donuts" was adapted as a sitcom, and recently began its second season on CBS. Letts lives and breathes theater so much, he met his wife, actress Carrie Coon, when both acted in "Virginia Woolf."
He also knows a great script when he sees one. Reading Greta Gerwig's "Lady Bird," "it was so easy to tell how good it was on the page," he says, sitting in a Beverly Hills hotel suite during a recent visit from his Chicago home. "And the movie came out looking exactly the way I thought it was going to look from reading the script. It's really smart, really funny, really warm."
Writer-director Greta Gerwig and co-stars Laurie Metcalf and Tracy Letts discuss the film "Lady Bird."
WATCH: Video Q&A's from this season's hottest contenders >>
The film centers on the coming-of-age battles between a teen daughter who calls herself Lady Bird (Saoirse Ronan) and her equally strong-willed mother Marion (Laurie Metcalf). Letts plays father and husband Larry, a gentle soul who tries to avoid confrontation at all costs.
It's not the kind of role Letts usually gets. "I'm 6-3, I've got a deep voice, a certain, I don't know, gravity or something that people see, so they want to put me in a suit and have me order drone strikes. This part was delightful, because it's temperamentally much closer to who I really am. I'm not a guy who actually orders drone strikes, I'm a guy who likes to sit and read the newspaper." Gerwig, who also directs, offered him the role after she met Letts and realized he was "an old softie," he adds.
Larry does his best to support both his wife and daughter as they rage against each other. "When I first read it, I thought, he believes the job of parenting is essentially over. His wife thinks there's more yet to do, and that in some ways is the conflict between them, as well as the conflict between Lady Bird and her mom. Which was very playable, very understandable. I don't have kids, but I would imagine, you don't necessarily, as parents, get to the same place at the same time, in terms of making that decision, 'Oh they're ready to be released into the world.'"
The film is Gerwig's solo directorial debut, but "nothing about her seemed like a first-time director," he notes. "She seemed very confident. I mean the confidence comes out of her manner of flustered insecure person, but the truth is she's very self-assured, she knows exactly what she's doing."
He's equally effusive about his costars. He and Metcalf are both Steppenwolf members, but have never worked together before, "which is just weird. For those of us in the Chicago theater crowd, and we're not a big tribe — we're small but mighty — we've known for a long time that Laurie is one of the greats." With her Tony Award for "A Doll's House, Part Two," and now her performance in "Lady Bird," "people are finally starting to wake up and see what we've known for a long time in Chicago."
Her role as Marion is a powerhouse, while Larry takes a back seat in the fights, but they also clearly have each other's backs. "It's so established there's a relationship here between these two people. In a movie that's so rich with those teen relationships, to have that adult relationship in the background I think was really important and really well done."
Larry's relationship with Lady Bird is just as key. "If I had any trepidation going into it, it was about making a father-daughter connection, and I didn't have to worry about it, because we clicked from the first time we met. Saoirse Ronan is one of my favorite people in the world. She's clearly a great actress, but she's also a great presence. All of these women are women you want to hang out with, so I feel really lucky that I was part of that.
"The story of 'Lady Bird' is a woman's story, thank God, and boy, if I got to be in women's stories like that one, and be the fourth guy down on the totem pole or whatever, that would be a great place to be."
---
From the Emmys to the Oscars.
Get our revamped Envelope newsletter for exclusive awards season coverage, behind-the-scenes insights and columnist Glenn Whipp's commentary.
You may occasionally receive promotional content from the Los Angeles Times.