Examine an actor's choice of roles and even when they seem distinct and unconnected you'll often find an underlying character trait that binds them. Jeff Daniels played wildly different roles in two acclaimed limited series this season, but even he is at a loss to find their similarities. He's fairly Zen about digging into the guts of a psychopathic Old West outlaw and an erratic, super-dedicated, real-life counter-terrorism agent — and the Emmy nomination he received for each.
"I don't think about them that deeply," says the 63-year-old actor, playwright, theater company founder and musician. "I remember starting out with 'Terms of Endearment' [1983]; I had research on that role for Flap Horton – 300 pages typed out, what books he read, all of that. It's been fun to kind of just let [the character] come to you."
Real-life FBI agent John O'Neill is a deeply flawed hero in Hulu's lead-up-to-9/11 chronicle, "The Looming Tower," which received four Emmy nods. Meanwhile, the murderous and delusional Frank Griffin terrorizes frontier towns in the Netflix western, "Godless," which received 11 nominations. Both characters inspire loyalty and hatred, and both move in worlds of righteous violence. Daniels didn't worry about the difficulty of making such extremes come across as real.
Actors chase writing and I'm not the only one. It's thrilling to be working at this time when all this is happening, all this writing.
Jeff Daniels
WATCH: Video Q&A's from this season's hottest contenders »
"The more I know, the less I want to know about how I got there," he says. "It's choices, it's motivations … it just works for me to start thinking like he does between the lines. When they say 'Cut,' it's not like you have to do the Method thing, but let Frank Griffin think about that bird going by. Get in his head.
"It's trust. And it takes decades to learn you don't have to do a perfect take," he says, relying on the clarity of the writing and then serenely turning it all over to the directors and editors.
Daniels has collected multiple awards nominations in the past including an Emmy win as Will McAvoy on Aaron Sorkin's still-timely HBO series, "The Newsroom." He's now reteaming with Sorkin for the Broadway adaptation of Harper Lee's "To Kill a Mockingbird." He recognizes his great fortune in the writers whose material he's interpreted, including Sorkin, Lanford Wilson on Broadway, Scott Frank on "Godless" and Dan Futterman on "Looming Tower."
"You do just enough with great writing, which is what you're finding on cable television because that's where all the writers have gone," he says. "Actors chase writing and I'm not the only one. It's thrilling to be working at this time when all this is happening, all this writing."
The long-form storytelling of this new Golden Age of Television has torn apart formulas, allowing, for instance, Frank to tell an epic western story in seven parts – episodes that are sometimes an hour and 10, an hour and 15 minutes long.
"It's like seven movies," Daniels says, then decries such Hollywood strictures as, " 'At the 29th minute, this has to …' There are no 'minutes.' It feels like you're shooting a novel.' "
Daniels says he looked for "those key thoughts" to convey the characters, "that thing, as I call it, that you can tape to the inside of your forehead and play through it. Sometimes it's just a word." For Griffin, Daniels says, "It might be, 'I've seen my death; this ain't it.' " Faced with mortal threats in the series, Griffin would invoke that talisman, giving him a kind of predestined quality — and the accompanying fearlessness. "It gave him such confidence. Maybe it's not necessarily seeing it as knowing this isn't it. He just decided, 'This isn't it,' just reveling in it."
John O'Neill rubbed many the wrong way as he doggedly pursued Osama bin Laden in the 1990s, when few believed the Al Qaeda leader posed a grave threat to the United States. The agent's former colleagues told Daniels about O'Neill's bull-in-a-china-shop personality, his multiple affairs, his extravagant spending — and his fiery dedication to the men and women who worked with him.
"He gulped life," says Daniels of the "key thought" that shaped his portrayal. FBI agent "Mark Rossini told me that. He gulped life, professionally, personally. I could go to that and know how to play off that in whatever the scene required."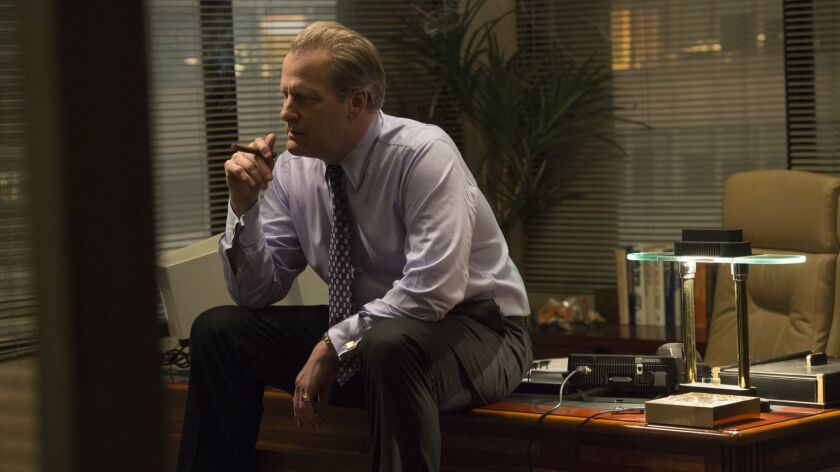 He grilled the FBI agents who'd gone "running down the alleys with the guns" with O'Neill: "'Tell me about the mood swings. Tell me about his strengths, tell me about his weaknesses. What were his insecurities? Why so many women?' They didn't have answers to everything, and that was OK. Because neither did John. I've done well with these guys, not knowing why. This is their normal. They may know it's a little chaotic, but this is their normal."
For Daniels, part of "normal" is losing himself in that chaos.
"It has to do with being in the zone and thinking right, so at the end of it, you don't even remember what you just did," he says. "That's been kind of thrilling, when they yell 'Cut!' and I don't really remember. I chased it all the way to the end, I believed it, I felt it. They say, 'What'd you think about that?'"
His response: A happily blank look.
---