'Mrs. Maisel's' costumes swing, pop and dazzle — all by design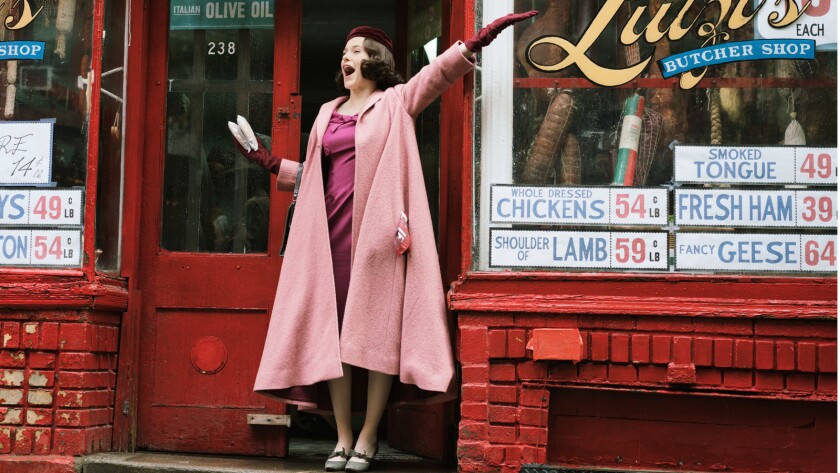 Amy Sherman-Palladino didn't have to do a whole lot of explaining when she first met costume designer Donna Zakowska to brief her on "The Marvelous Mrs. Maisel." Zakowska, who previously won an Emmy for the American Revolution drama "John Adams," instantly grokked the wardrobe requirements for Sherman-Palladino's 1958 period piece about an Upper West Side housewife-turned-Greenwich Village stand-up comedian.
"It was instant chemistry," Zakowska recalls. "Even before we spoke about specific garments, Amy was very interested in the cultural aspects of this period. Being a native New Yorker, I understood the divide that existed between Uptown and Downtown. We talked about how the clothes could be a bit heightened because the show is almost like a musical. The clothes needed to reinforce that feeling, which meant I would be doing a lot with color."
Zakowska grew up in Brooklyn with a family matriarch who shared Mrs. Maisel's marvelous eye for color matching. "My late mother was an accessories master!" Zakowska says, speaking from New York amid Season 2 production of the Amazon Prime series. "When I went through her clothing after she died, every single box of shoes had a pair of stockings in it, like pale pink or pale green, that matched the color of the shoes."
WATCH: Video Q&A's from this season's hottest contenders »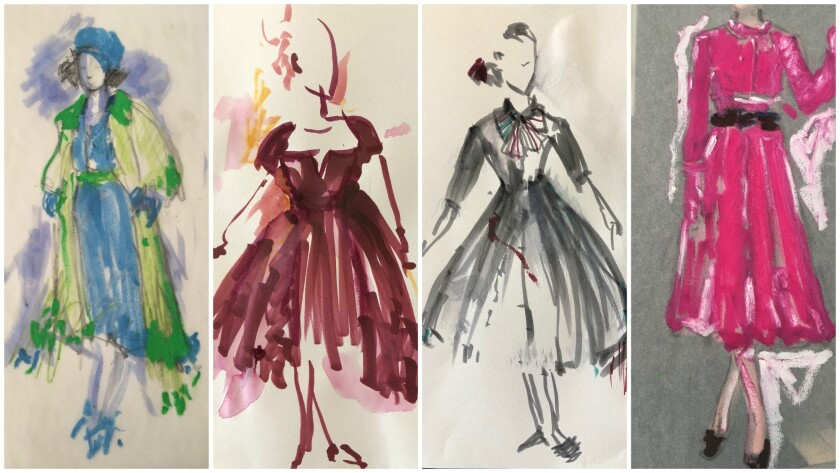 For five or six years, fashion in the '50s reached incredible heights and really became like sculptures
Donna Zakowska
As portrayed by Rachel Brosnahan, Midge Maisel may seem unbelievably well put together by contemporary standards, but Zakowska points out that her meticulous ensembles reflect the way regular New Yorkers actually dressed six decades ago.
"There really was this heightened sense of accessorizing and color accents in people's wardrobes during the late '50s, and Midge is all about that," Zakowska notes. "She's all about presentation, and it was the same kind of thing with Joan Rivers, where you wonder, 'How did this housewife end up doing stand-up?' The way they presented themselves was very important, and there was a lot of fine-tuning involved."
To develop Midge Maisel's personal style, Zakowska researched eye-popping color combinations featured in Vogue magazines of the period. She also looked to chic movie star Audrey Hepburn and midcentury fashion titans Hubert de Givenchy, Christian Dior and Jacques Fath as beacons of sophisticated urban couture.
"For five or six years, fashion in the '50s reached incredible heights and really became like sculptures," Zakowska says. "It was a real celebration of the female form." Midge's billowing pink swing coat, for example, makes an unabashedly big statement. "When the woman moves, the swing coat moves with them, and that's very much a part of the '50s," she says. "As you get into the '60s, everything closes in a bit. That wilder, more open, free-spirit of the swing coat is perfect for what we wanted to do with Midge's character and very particular to that period."
The show's profusion of immaculate outfits dazzle as sheer spectacle, but Zakowska also makes sure that her clothes serve the story. In a three-minute (Episode 4) montage unspooled to the tune of Barbra Streisand's "Happy Days Are Here Again," Midge goes through four ensembles created from scratch by Zakowska and her crack team of New York City tailors.
"We trace the whole arc of Midge's relationship with her husband," Zakowska says. "When they move into their new apartment, she's in this beautiful pink silk dress. Then she's carried through the door in the pale blue dress, which I call her Marie Antoinette look. I actually used a little headdress from my mother for Midge's hat. The New Years Eve party, we put her in the green dress, and then we go to the final shot, where she's standing in this empty apartment. The silhouette becomes much straighter as a way of lending gravitas to her mood in that moment. Midge had the happy home and suddenly there's this void."
Midge eventually starts spending more time in Greenwich Village with her gruff beatnik manager, Susie (Alex Borstein). Describing Susie's jeans-and-newsboy cap dress code, Zakowska says, "There's a little bit of Bob Dylan coming in there, a bit of Joan Baez, and you might see Pete Seeger wearing that kind of cap, which I think lends Susie a certain authority. I pulled elements from all of those characters to give Susie this masculine edge, in high contrast to Midge. That's what makes their relationship so interesting."
---
From the Emmys to the Oscars.
Get our revamped Envelope newsletter, sent twice a week, for exclusive awards season coverage, behind-the-scenes insights and columnist Glenn Whipp's commentary.
You may occasionally receive promotional content from the Los Angeles Times.