Samantha Bee goes 'Full Frontal' on the Trump administration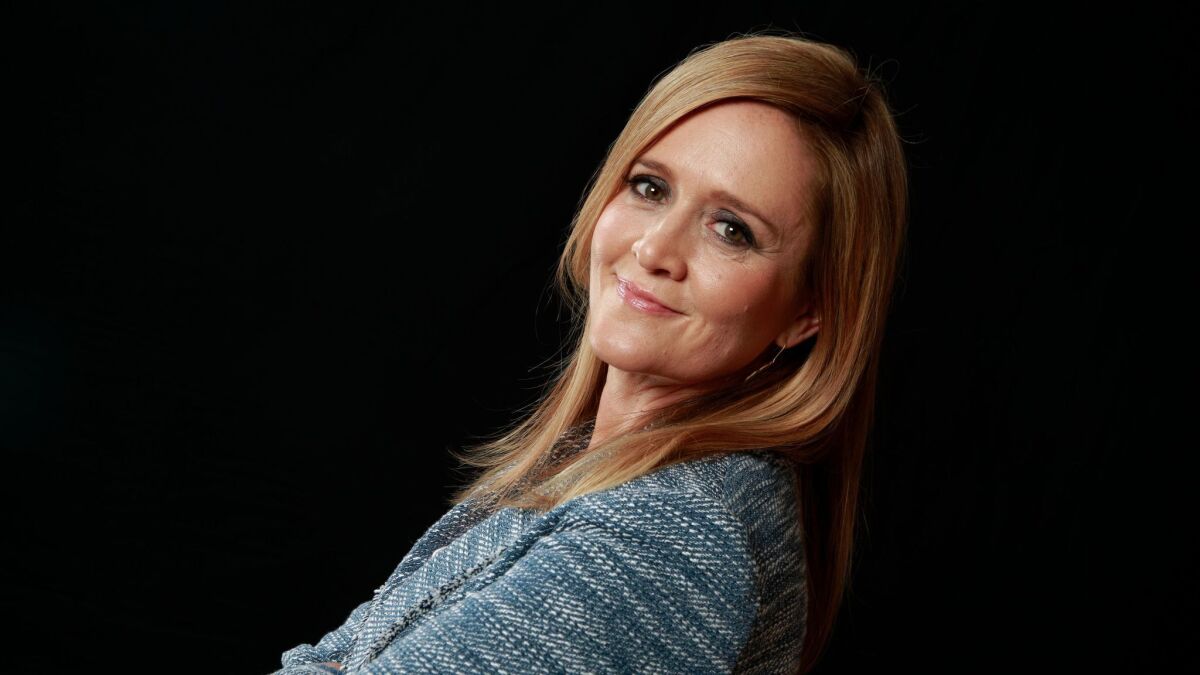 Reporting from New York City —
A little before 6 p.m. on May 9, the team at "Full Frontal With Samantha Bee" had the scripts for that week's episode, set to tape the following evening on TBS, ready to go.
Then came the bombshell: President Trump had fired FBI Director James B. Comey. A segment about the Republican healthcare bill was scrapped and the "Full Frontal" staff, led by Bee and showrunner Jo Miller, frantically put together a new, Comey-centric opening.
Even in an era of nonstop political intrigue, it made for an unusually busy week for the already sleep-deprived writers and producers at "Full Frontal," who'd just staged Not the White House Correspondents' Dinner a week and a half earlier.
Women are comedy fans and for years they've never been able to see anyone who looks like them or shows talking about the issues they want to talk about.
— Ashley Nicole Black
"Nobody wants a constitutional crisis to unfold on the evening they thought they were going to go home early," says Bee in her midtown office. It's been two days since Comey, charged with leading an investigation into possible Trump campaign ties to Russia, was dismissed, and the 47-year-old, dressed casually in a Joy Division T-shirt — without her signature bold-hued blazer — is still recovering.
"If it happened every week, we'd probably just expire. Life is coming at us fast." No kidding. In a hint of the political turbulence that lay ahead, "Full Frontal" premiered the week that Supreme Court Justice Antonin Scalia died. The barrage of headlines since has included Britain's vote to leave the European Union, the Russia-Trump administration investigation, terrorist attacks around the globe, and, oh yeah, Trump's electoral upset over Hillary Clinton.
As an unabashed feminist and a trailblazing woman in the boys' club of late-night comedy, Bee, who spent 12 years honing her craft on "The Daily Show," seemed uniquely suited to cover the fraught gender dynamics of the 2016 election.
In 17 months on the air, she's focused on issues important to women, including reproductive health and untested rape kits, that other shows — even real news broadcasts — ignore.
"Women are comedy fans and for years they've never been able to see anyone who looks like them or shows talking about the issues they want to talk about," says writer and correspondent Ashley Nicole Black.
But Bee has also set herself apart in ways that have nothing to do with gender. In one of her most-viewed clips, she cleverly showed how easy it is to weave a compelling conspiracy theory by facetiously arguing that Trump can't read.
She's also unafraid of getting angry publicly, providing a cathartic voice in moments of crisis. Following the mass shooting in Orlando, Fla., last year, she delivered what Miller proudly describes as "a seven-minute diatribe about complacency and gun culture" that represented a break from the usual awkward late-night responses to tragedy.
"We weren't going to do solemnity. We weren't going to do maudlin sincerity," Miller recalls.
If ratings are any indication -- since last year, the show has grown 57% among adults under 50 -- Bee has become even more essential to her fans since Trump's victory on Nov. 8 — a night she recalls as a "horrible unfolding nightmare." Anticipating a Clinton victory, she'd planned a fun, celebratory show the next night, complete with a balloon drop and a specially made sequined blazer.
Needless to say, she never wore it.
"Written down, it's going to seem so silly that we were all crying, but we were," says Bee, who still has that blazer. ("I don't think I'll ever get rid of it.")
When we're talking about injustice or discrimination, it's not academic to us. It rips our guts and that's where the comedy comes from."
— Jo Miller
"Full Frontal" has an unusually diverse writers room for late-night television — four of 10 credited writers are women, and three are people of color — making it well-suited to weigh in on current events.
"When we're talking about injustice or discrimination, it's not academic to us. It rips our guts and that's where the comedy comes from," says Miller. "I think having a diverse group makes everybody in the group a better writer. It's a different conversation and it's the only one I would ever want to be in."
The group also boasts a range of professional experience and interests. Miller is a former academic who once taught a medieval history class called Formation of a Persecuting Society and, following the election, got her crestfallen writers hooked on Expulsion, a board game about Jews in the Spanish Inquisition. Field producer Razan Ghalayini is a documentarian who speaks Arabic — a skill that came in handy following Trump's attempted travel ban.
This smarty-pants spirit was on display in April at the Not the White House Correspondents' Dinner, where the honored guests included a table of fact-checkers.
"We benefit from freedom of the press like almost nobody else," Bee says of the inspiration for the event. "We couldn't do our show without proper journalists doing the actual work for almost no money, and certainly no glory."
"Full Frontal's" mission hasn't changed because of Trump, but his rise has ignited political interest in many Americans, Bee argues. "So the things we want to talk about, it turns out, are the things everybody wants to talk about."
See the most read stories this hour »
ALSO
Q&A: Oprah Winfrey — mogul, celebrity, philanthropist — has insecurities of her own
Stephen Colbert, Trevor Noah get serious about unity following Virginia shooting
Internet singer Austin Jones charged with felony child-pornography production
From the Oscars to the Emmys.
Get the Envelope newsletter for exclusive awards season coverage, behind-the-scenes stories from the Envelope podcast and columnist Glenn Whipp's must-read analysis.
You may occasionally receive promotional content from the Los Angeles Times.