'Sneaky Pete' didn't get picked up by the network, and that's when things got good for the creative team
'Sneaky Pete' co-creator, writer and executive producer Bryan Cranston and star Giovanni Ribisi talk about their work.
Was it an unintentional bait-and-switch?
"Sneaky Pete," the show Bryan Cranston co-created with "House" builder David Shore, was meant to be a procedural drama to fit right in with the CBS slate. The twist was the protagonist wouldn't be some brilliant crime investigator but a brilliant criminal — Giovanni Ribisi as a con man who had taken another's identity (the "Pete" of the title). Then the network passed, and the show ended up at Amazon.
It underwent a sea change, becoming a serialized drama à la another show Cranston was familiar with, "Breaking Bad," telling a single, season-long story over 10 episodes instead of 22.
"From my standpoint, it was liberating," says Cranston, executive producer of "Sneaky Pete" and costar as the villainous Vince. "We embraced that opportunity to tell our story without act breaks, without that kind of superficially coming to a close at any given point. We could be more fluid with it; we had more leeway and flexibility with content and language and more permissibility."
Ribisi, seated next to him at a conference-room table, says, "This is really like making a movie, a 10-hour story, which is fantastic. It's like reading a novel."
"Where every episode is like a new chapter," adds Cranston.
But though the format and writing staff changed (and Graham Yost of "Justified" took over for Shore as showrunner), the characters remained the foundation.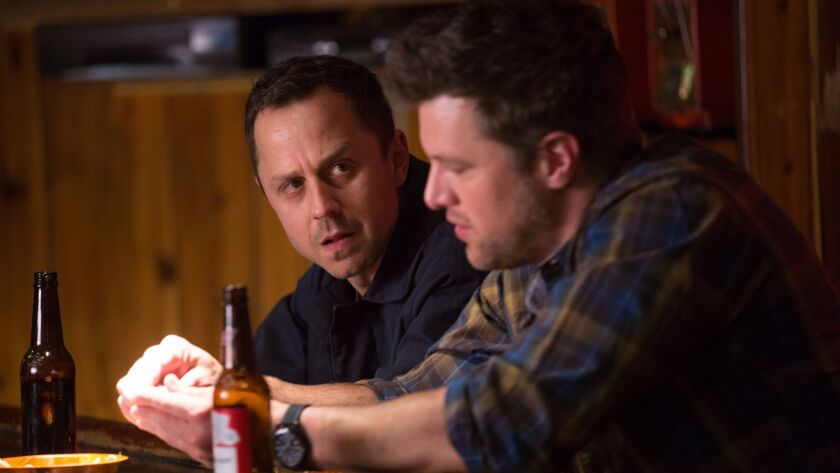 "Bryan talked about, in our first discussions, 'This is the opposite of "Breaking Bad." ' Somebody who came from a really … [bad] background; his mother was a junkie, there was no father there, he was forced to accelerate through adolescence to look after his brother," says Ribisi of his character, whose real name is Marius. "So that maturation process that's so precious …"
"Stunted," chimes in Cranston.
"Yeah, it was stunted," says Ribisi. "He looks at even a family member and says, 'How can I get what I need?' "
See the most read stories this hour »
As the series progresses, a number of cons play out simultaneously in New York City and Bridgeport, Conn., as Marius juggles multiple deceptions while getting drawn into Pete's family's drama. While an actual clock ticks down on Marius' quest to repay Vince at Marius' brother's peril, a dramatic clock runs on Marius' lies catching up with him.
Ribisi refers to Alfred Hitchcock's oft-quoted formula for turning an ordinary conversation into a suspenseful one (show the audience a bomb under the table): "So the lies are kind of like that bomb."
Cranston directed a "Sneaky Pete" episode ("The Roll Over") and says Ribisi made valuable suggestions, some not even involving him. In another episode, Vince, in a simmering rage, almost absently places his hands around the throat of one of the female characters — his "Othello" moment — and Ribisi egged Cranston on.
"It was Gio who said, 'I think you do it. I think you strangle her.' I went, 'Aw … .' It catapulted the tension of that scene to a different level," says Cranston.
Ribisi says, laughing, "It was this great Brian De Palma moment. Nobody knew what you were going to do."
In Ribisi, Cranston says, "we get someone who isn't a hired hand, but someone who's actively and thoughtfully engaged and invested in his own character and his own show."
Cranston was so impressed, in the executive producers' post-season meeting, he suggested Ribisi direct in Season 2. He will helm the second episode.
Ribisi says, "I've been listening to him while we've been doing these interviews — some of the things he's said about directing on a nine-day schedule, what he's focusing on."
The actor marvels at how Cranston painstakingly crafted a moment of violence that went by in a flash.
"The way he was directing this actor, doing this insert, close-up — it was beautiful. These are muscular directorial concepts … it's why I do it. It's why I'm here. It's not just human behavior, not just psychology, storytelling, plot: It's … moviemaking."
---
From the Emmys to the Oscars.
Get our revamped Envelope newsletter for exclusive awards season coverage, behind-the-scenes insights and columnist Glenn Whipp's commentary.
You may occasionally receive promotional content from the Los Angeles Times.