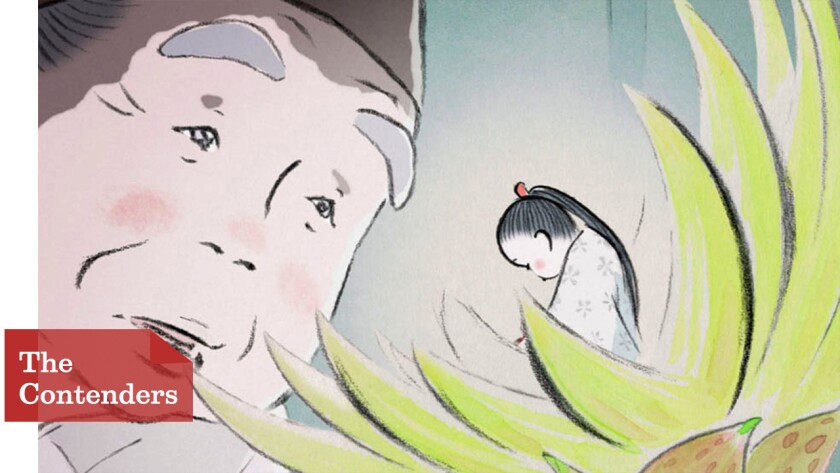 In a year without a Pixar film — or "Frozen" for that matter — the animated feature Oscar race is as wide open as it's ever been. "The Lego Movie" is a sure nominee and "Big Hero 6," "The Book of Life," "How to Train Your Dragon 2" and "The Boxtrolls" all stand a solid chance, but one or more films that make the final cut this year could come from the ranks of the underdogs. Here are three strong left-field contenders:
"Song of the Sea"
Tomm Moore's debut feature "The Secret of Kells" was a surprise nominee in 2010, so there's good reason to expect the academy will be just as enthusiastic about Moore's gorgeous follow-up. Inspired equally by Eastern European animation, Hayao Miyazaki's "My Neighbor Totoro," the Irish film "Into the West" and Disney's "The Jungle Book," Moore's "Song of the Sea" is about a boy named Ben who embarks on a journey through a mystical wilderness in search of his mute younger sister Saoirse — who may be one of the last of the legendary seal-humans known as Selkies.
Moore brings a luminous, dazzlingly patterned 2-D animation style to the telling of a story rooted in folklore and the dreams of children. He started work on "Song" during the end stages of "The Secret of Kells." ("Someone told me it's a good idea to start your second film before finishing the first one, that way you don't lose steam," Moore says.) But it took time to secure financing and to come up with something that lived up to the promise of "Kells."
"In some ways yes, it was the 'difficult second album,'" Moore acknowledges. "For me, I wanted to show another aspect of Irish folklore than what we showed in 'Kells,' and make a much more personal film."
"Penguins of Madagascar"
According to "Penguins of Madagascar" co-director Simon J. Smith, the "Madagascar" franchise's super-capable penguin characters have been on screen for only a total of eight minutes in the first three films. The challenge for Smith and his directing partner Eric Darnell was to give the series' weirdest, funniest characters a story all their own.
"The No. 1 question you ask about them is, 'How did they get together?'" Smith says. "And then what happens if they split up?" That was the starting point for DreamWorks' team of screenwriters to build a fast-paced adventure, which sees the penguins working alongside an animal-staffed secret agency to thwart the plans of a nefarious octopus, voiced by John Malkovich. (Smith says he traveled to the south of France to court Malkovich, who almost immediately said, "Yes, I'd love to be an evil octopus.")
Smith and Darnell lost six months off their original schedule when DreamWorks moved up their release date, but the finished product doesn't feel rushed. If anything, "Penguins of Madagascar" is much tighter than most modern American animated features. Smith explains, "Luckily we'd all decided what kind of film we were making and how we were going to finish it. People really believed in the movie and really wanted to make sure it was great."
"The Tale of the Princess Kaguya"
The films of the Japanese animation titan Studio Ghibli have been niche favorites in the United States, but they've been popular with the academy, which has nominated three Ghibli films and given an Oscar to one ("Spirited Away"). Last year's nominee, "The Wind Rises," may end up being the final film from Studio Ghibli's co-founder Hayao Miyazaki. This year's "The Tale of the Princess Kaguya" may be the swan song of Miyazaki's partner Isao Takahata.
Based on a Japanese folk tale, "Princess Kaguya" is a beautifully illustrated film about a bamboo farmer who discovers a magical child in the forest, and moves her to the city to raise her as royalty. Between the good intentions of the farmer (who looks a little like Takahata) and the young girl's yearning to lead a simpler life, "Princess Kaguya" has a gentle, elemental pull. But what most people will notice is the animation, which resembles loose charcoal sketches.
"Kaguya" producer Yoshiaki Nishimura says, "The concept for the style is derived from the abbreviated line drawings in traditional Japanese paintings, particularly picture scrolls. Many Japanese animation films have pursued the achievement of a sense of reality and truthfulness in their images by drawing dense and detailed scenes. But in this film, by decreasing the density of the pictures and abbreviating the lines, we sought to arouse the audience's imagination."
---