With 'Yardie,' Idris Elba hopes to change the way black characters are portrayed in films
Idris Elba talks about how directing "Yardie" gave him a chance to put Jamaica in a different light. He was with cast members Aml Ameen, Shantol Jackson, Sheldon Shepherd and Everaldo Creary at the L.A. Times Studio at Chase Sapphire on Main. FULL C
Idris Elba wants to upend the way black characters are portrayed in films — even in gangster films.
"We tend to go for the violence. We tend to go for the most traumatic part. Of course, these films can be compelling but [they paint a bleak picture]," the actor-turned-director said. "The opportunity here was to try and make this feel different. Yes, it is a gangster film, there is a gangster character in it, but this is an opportunity to put a different lens on Jamaica and Jamaican culture."
Elba was speaking at a panel discussion for his directorial debut, "Yardie," based on the cult novel by Victor Headley, at the LA Times Studio at Chase Sapphire on Main at the 2018 Sundance Film Festival. He was joined by cast members Aml Ameen, Shantol Jackson, Sheldon Shepherd and Everaldo Creary.
FULL COVERAGE: Sundance Film Festival 2018 »
"Yardie," which premiered Saturday in the festival's world cinema dramatic competition, is billed as dramatic coming-of-age period piece that starts with young Jamaican boy witnessing his brother get killed. A decade later, he's the right-hand man to a gang leader, and after a mission goes wrong, he decides to find his brother's killer.
The movie "[humanizes] the experience of black people doing nefarious activities, and Jamaicans specifically," Ameen said. "It's very rewarding to see that."
Sheldon Shepherd talks about the cycle of lack of opportunity in Jamaica during a panel about the film "Yardie." He was with director Idris Elba and cast members Aml Ameen, Shantol Jackson and Everaldo Creary at the L.A. Times Studio at Chase Sapphi
Elba's transition from acting to directing was a huge shift in the way he approaches his work, he said.
"When I'm an actor, I like to go into a script with an open heart.… I never know what I'll actually do as an actor until I'm there on the set," Elba said. "As a director, man, the preparation for it was literally six years. It was a long time coming."
The film is set in the '80s in both Kingston, Jamaica and London, leading Elba to do "a constant check and balance" to keep the Jamaican perspective pure.
"That's why it's very important for me to have Jamaican actors in this film," Elba said. "My actors were very much my partners on that."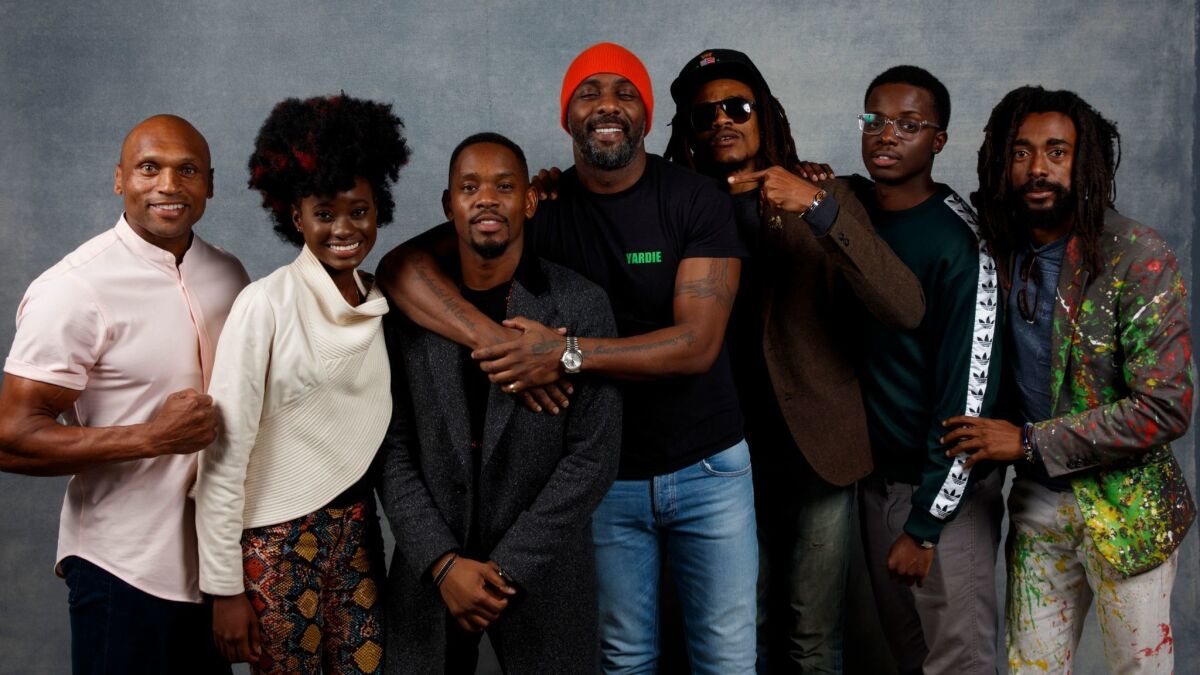 Part of keeping the storyline real was filming where the story would have actually taken place — "in the hood," Elba said.
"We're talking about major shootings every night. A lot of young boys getting murdered in that part of the area," he said.
The film commission and police spoke to the gang leaders, who agreed to ceasefire for the week that they were shooting "Yardie" in the neighborhood, Elba said.
Director Idris Elba talks about how the Jamaican Film Commission helped them organize a temporary ceasefire between two gangs in a Jamaican neighborhood so that they could film "Yardie." Elba was with several cast members at the L.A. Times Studio at
Despite the film's title ("Yardie" is a derogatory term for Jamaicans in London), the way the movie portrays Jamaican culture will leave Jamaicans feeling "a sense of dignity," Ameen said.
"They're going to be pleasantly surprised because of the love story," Ameen said. "The love story is everything. Yvonne is the reason D can carry on this kind of trajectory."
Ultimately, Ameen hopes the film's perspective will make the Jamaican gangster film relatable to anyone.
"Everyone's dealt with trauma," the actor said. "Jamaican trauma is no different from American trauma or Syrian trauma or Italian trauma."
---
Get our L.A. Goes Out newsletter, with the week's best events, to help you explore and experience our city.
You may occasionally receive promotional content from the Los Angeles Times.