18 Images
Dick Van Dyke: Life in pictures
Comedic actor Dick Van Dyke got his start in local theater in Danville, Ill., and went on to appear on Broadway and to star in classic children's films such as "Mary Poppins," helm his own television shows and win five Emmys
(CBS)
Van Dyke was born in West Plains, Mo., in 1925 and was raised in Danville, Ill. He joined the Air Force and, after a stint doing military productions and working as a stateside radio announcer, he began to pursue work in radio and television.
(Los Angeles Times archives)
Jesse Pearson, left, as Conrad Birdie in the movie "Bye Bye Birdie" (1963). Van Dyke, background right, portrayed Birdie's manager. Janet Leigh, looking at Van Dyke, played Albert's girlfriend and secretary. The film was based on the 1960 Broadway hit play, in which Van Dyke costarred.
(UCLA Film and Television Archive)
The year 1961 marked the launch of the actor's CBS sitcom "The Dick Van Dyke Show." The classic comedy cast Van Dyke as Rob Petrie, the head writer of "The Alan Brady Show," and Carl Reiner as the temperamental Brady.
(CBS)
Perhaps Van Dyke's most iconic role is that of the jovial chimney sweep Bert in "Mary Poppins" (pictured with Julie Andrews). Singing and dancing across the screen, Bert and his friend Mary, a nanny to the Banks family, helped bring joy back to the Banks household.
(Walt Disney)
Van Dyke married Margie Willett in 1948 on the radio show "Bride and Groom." The two divorced in 1984 after a separation. He lived with a longtime companion, Michelle Triola, for many years. She died in 2009 after battling cancer. In 2012, Van Dyke married makeup artist Arlene Silver, 40.
(John Malmin / Los Angeles Times)
Van Dyke had his hands and feet imprinted outside Grauman's Chinese Theatre in 1966. And in 1993 he received his television star nearby on the Hollywood Walk of Fame.
(UPI)
Sally Ann Howes and Van Dyke costarred in the 1968 film. "It took over a year to shoot," Van Dyke said. "It was Cubby Broccoli and the whole 'James Bond' crew, so they knew their special effects. That car was a beautiful piece of work.
(Los Angeles Times files)
Van Dyke returned to CBS in 1971 for the "New Dick Van Dyke Show," this time as television talk show host Dick Preston in Phoenix. His friend Carl Reiner, left, was also on board, writing and directing some of the episodes.
(CBS)
After his own variety show "Van Dyke and Company" was canceled in 1976, he became a cast member on "The Carol Burnett Show" during the 1977 season. But the experience didn't last long. He left after three months.
(Gideon Lewin)
Van Dyke, pictured in 1981 in a short-lived revival of "The Music Man," made his Broadway debut in "The Girls Against the Boys" in 1959. A supporting role followed in "Bye, Bye Birdie," a role that earned him the Tony for supporting actor in a musical in 1961.
(Pantages)
Van Dyke landed his second hit television show in a roundabout way. What started as a guest role as Dr. Mark Sloane on "Jake and the Fatman" led to three spinoff TV movies featuring the character. From there, CBS signed Van Dyke to his own show, "Diagnosis Murder."
(Viacom)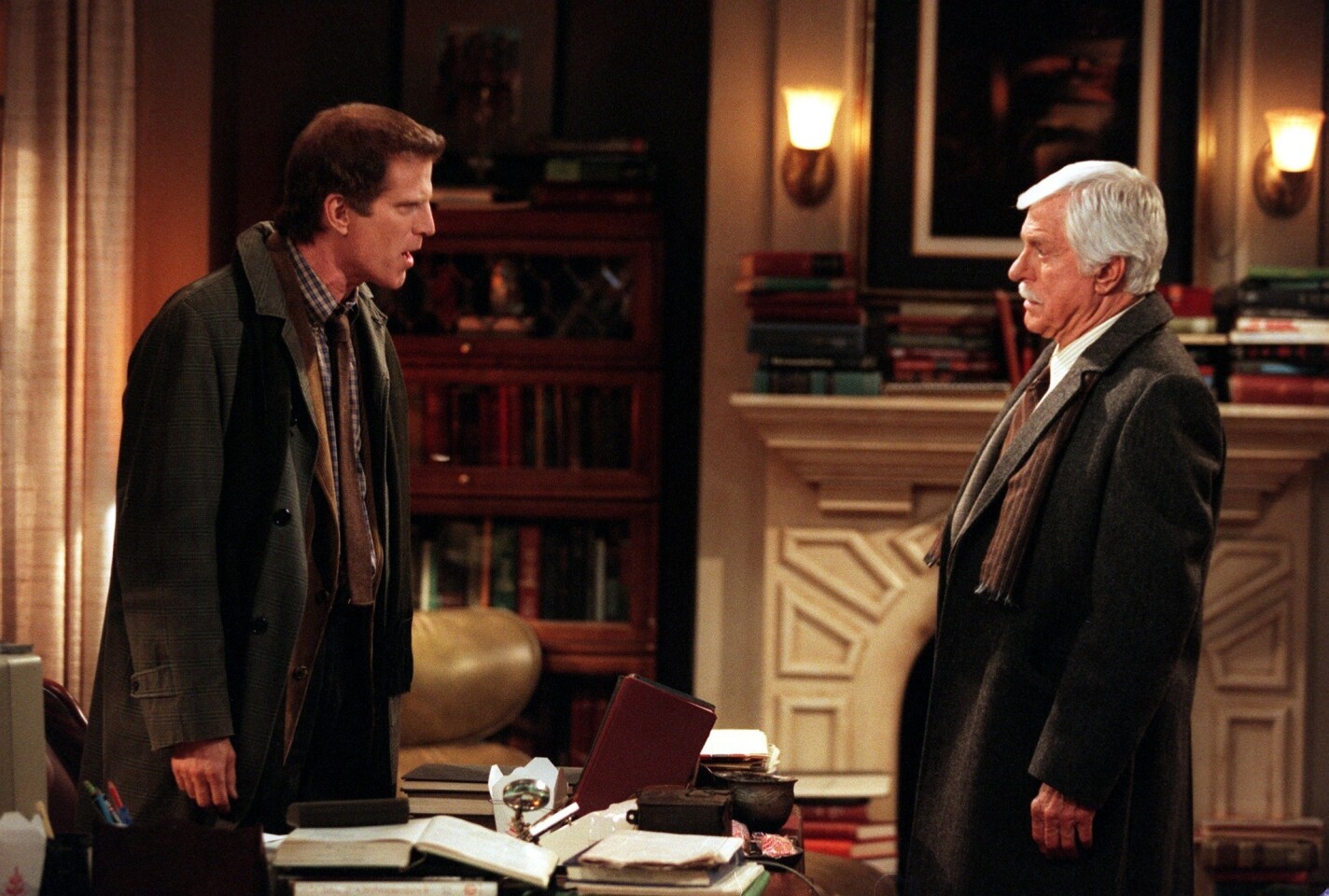 Van Dyke has made many guest appearances on assorted series over the years, including "Becker" with Ted Danson in 1998. In the episode Van Dyke portrays Becker's estranged father, who pays a visit after many years and turns out to be the polar opposite of his curmudgeonly son.
(Gary Friedman / Los Angeles Times)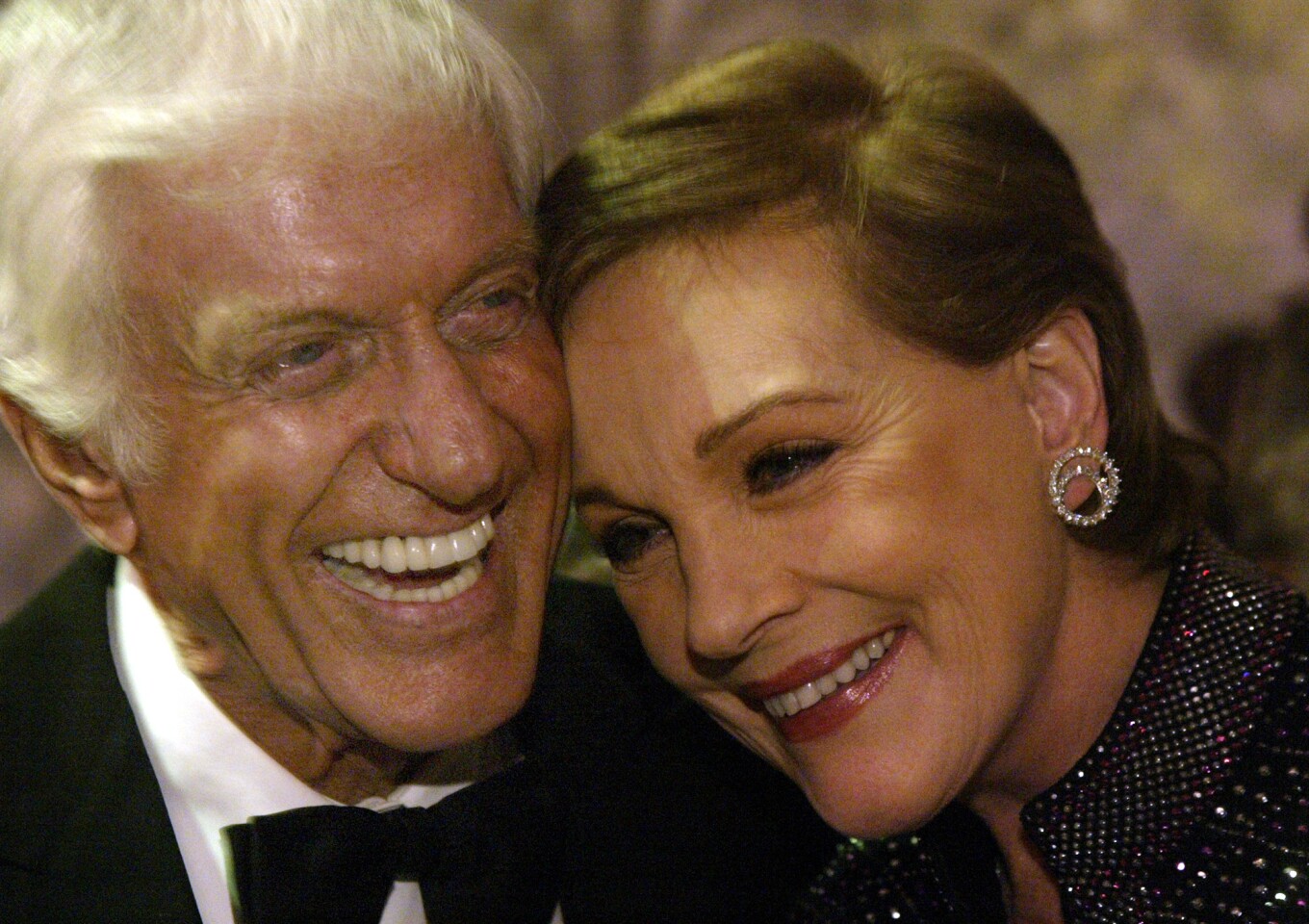 Van Dyke and Julie Andrews share a moment during a 2004 party after a special-edition screening of "Mary Poppins," celebrating the 40th anniversary of the film's 1964 release.
(Lawrence K. Ho / Los Angeles Times)
Ben Stiller, Ricky Gervais and Van Dyke costarred in "Night at the Museum" (2006). "All we did was laugh," Van Dyke said. "I was the villain, the head night watchman who wants this ancient jewel that will let him live forever. ... Playing the villain is fun sometimes."
(Los Angeles Times)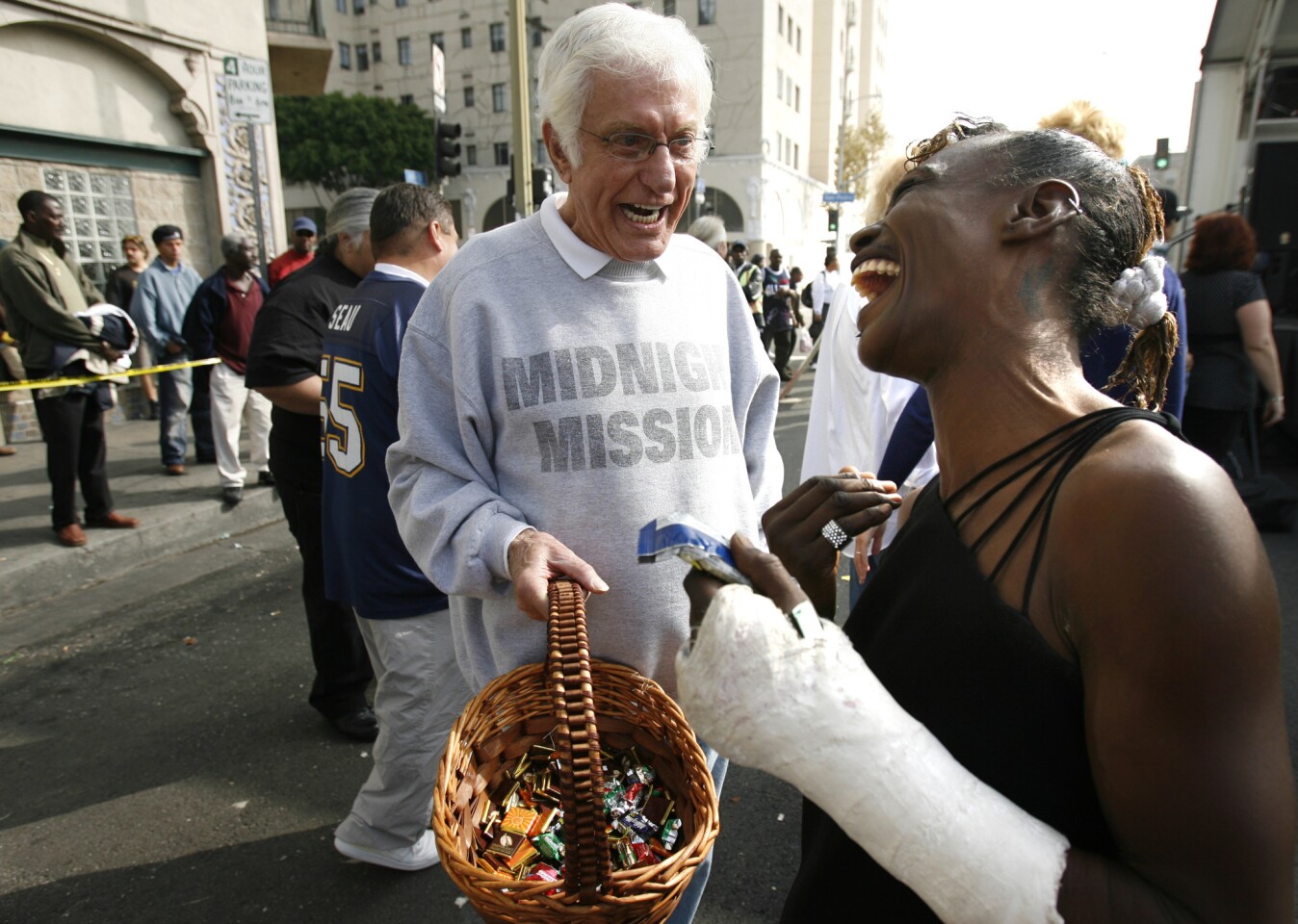 Van Dyke, who has been working with the Midnight Mission for years, chats with Terri Hughes during a Thanksgiving Day meal service in downtown Los Angeles in 2007.
(Myung J. Chun / Los Angeles Times)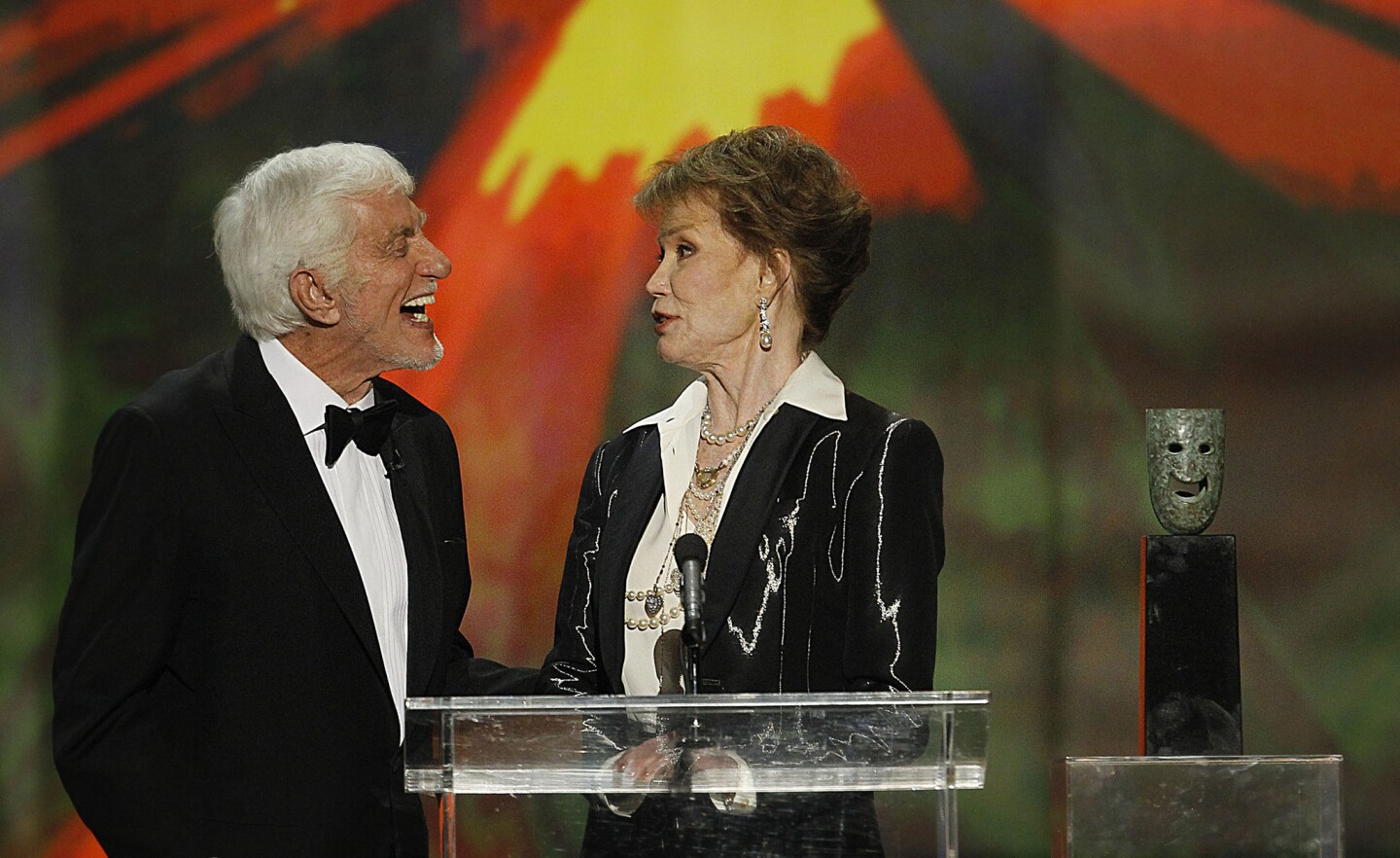 Van Dyke presented Mary Tyler Moore with her Screen Actors Guild Life Achievement Award in 2012 at the Shrine Auditorium in Los Angeles. The two costarred in "The Dick Van Dyke Show" from 1961 to 1966.
( Robert Gauthier / Los Angeles Times)