28 Images
Emmys 2013: Nominees react
Michelle Dockery | 'Downton Abbey' | Drama lead actress
"It's a wonderful and unexpected surprise. I'm so grateful to be nominated again."
(Matthew Lloyd / For The Times)
Kevin Spacey | 'House of Cards' | Lead actor in a drama
"Look, we're the new kids on the block; and for us to break through in such a competitive field with so much great work being done, it's incredibly satisfying and a great acknowledgement for the show. It's just wonderful that the academy has recognized the show in so many categories."
(Melinda Sue Gordon / Netflix)
Don Cheadle | 'House of Lies' | Comedy actor
"I'm really happy when the show receives any sort of recognition. It's certainly worthy, and something like this gives it more traction," said Cheadle, who plays scheming consultant Marty Kaan. "It's a very different character at a time when we're becoming familiar with the financial world. The world of management consulting is very interesting, especially when it's handled in a comedy."
(Kirk McKoy / Los Angeles Times)
Jimmy Fallon | 'Late Night with Jimmy Fallon' | Variety series
From Fallon's Twitter feed: "We had a great year. Congrats to everyone at Late Night. We work so hard. #Emmy"
(NBC)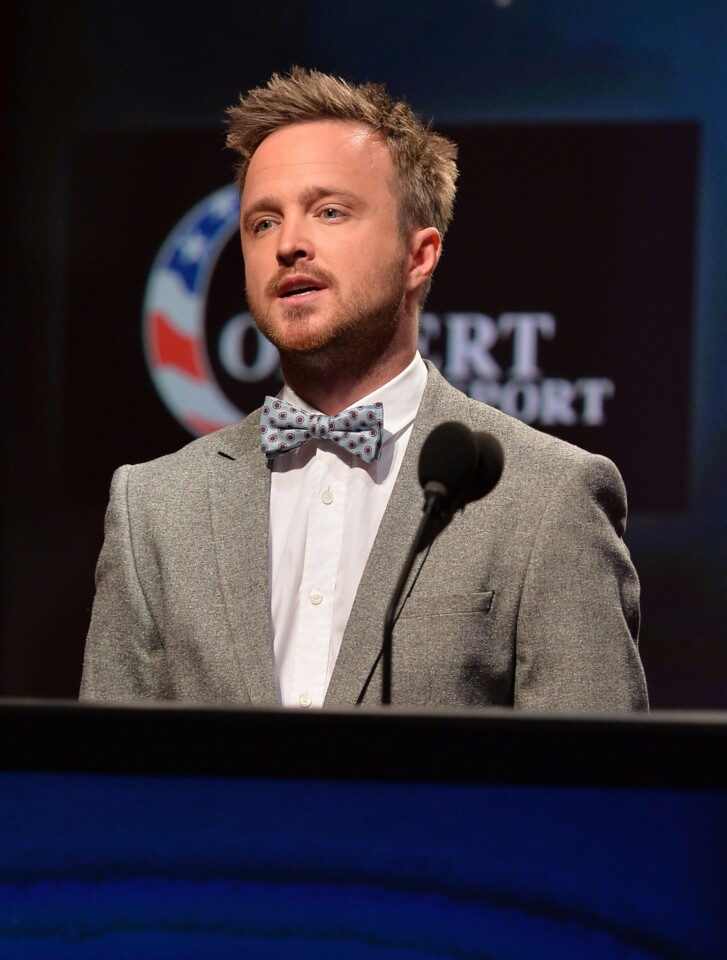 Aaron Paul | 'Breaking Bad' | Supporting actor in a drama
"The love this morning has been unreal. Thank you so much for the undying support for me and for Breaking Bad. Love u all. #Emmys" -- from Paul's Twitter feed.
(Alberto E. Rodriguez / Getty Images)
Zachary Quinto | 'American Horror Story: Asylum' | Supporting actor in a miniseries or movie
"When I signed on for the second season, I knew it was a one-season commitment.... Who knows where it will go? Being involved is a fluid thing. I'd be open to coming back."
(Alberto Pizzoli / Getty Images )
Mayim Bialik | 'The Big Bang Theory' | Supporting actress in a comedy
"I am legitimately in shock and beyond honored to be nominated for the second year in a row.... I can't begin to express how shocked I am to be nominated with such an impressive group of women. Wow! Now I have to find a dress."
(Ricardo DeAratanha / Los Angeles Times)
Robin Wright | 'House of Cards' | Drama actress
"I'm so proud to be a part of such a groundbreaking project as 'House of Cards.' I'm thrilled that our show has been recognized, and I want to thank the academy for this great honor."
(Kirk McKoy / Los Angeles Times)
Lena Dunham | 'Girls' | Comedy actress
"This is amazing. It's a very exciting boost to go to set with something to celebrate beyond just the fact that the breakfast truck serves quesadillas," said Dunham, whose show was also nominated for best comedy. "The women who are in this category, I got in trouble last year at the Golden Globes for being like, 'I grew up watching you.' I forgot that in L.A., you're not supposed to mention that anyone is more than like six months older than you. But it's like my fandom is out of control. These are the women who have made comedy what it is today. They're also brilliant actresses who can convey so much subtle stuff; they set such a crazy-high bar. You can kind of only speak in platitudes about it, but even to be mentioned in the same breath as them is like freaking wild."
(Jay L. Clendenin / Los Angeles Times)
Mandy Patinkin | 'Homeland' | Supporting actor in a drama
"Every day is like an award, beyond a dream come true. It all feels newer than ever. When I was young, I spent every minute thinking about what's next. Now I'm 60 years old, and I don't want the day to end. Am I just talking in cliches?"
(Kent Smith / Showtime)
Vera Farmiga | 'Bates Motel' | Drama actress
"I have been [through this before], but I've gotta tell you -- last time I didn't work as hard as I did this time when you measure the blood, sweat and tears. I'm winded from this lady. To me, it's gratifying. I'm feeling it more with this character -- the rigor of Norma. It's an astounding character study. She's on top of the roster of female characters I've played. She's a handful. It's been one of the most challenging roles to execute."
(Genaro Molina / Los Angeles Times)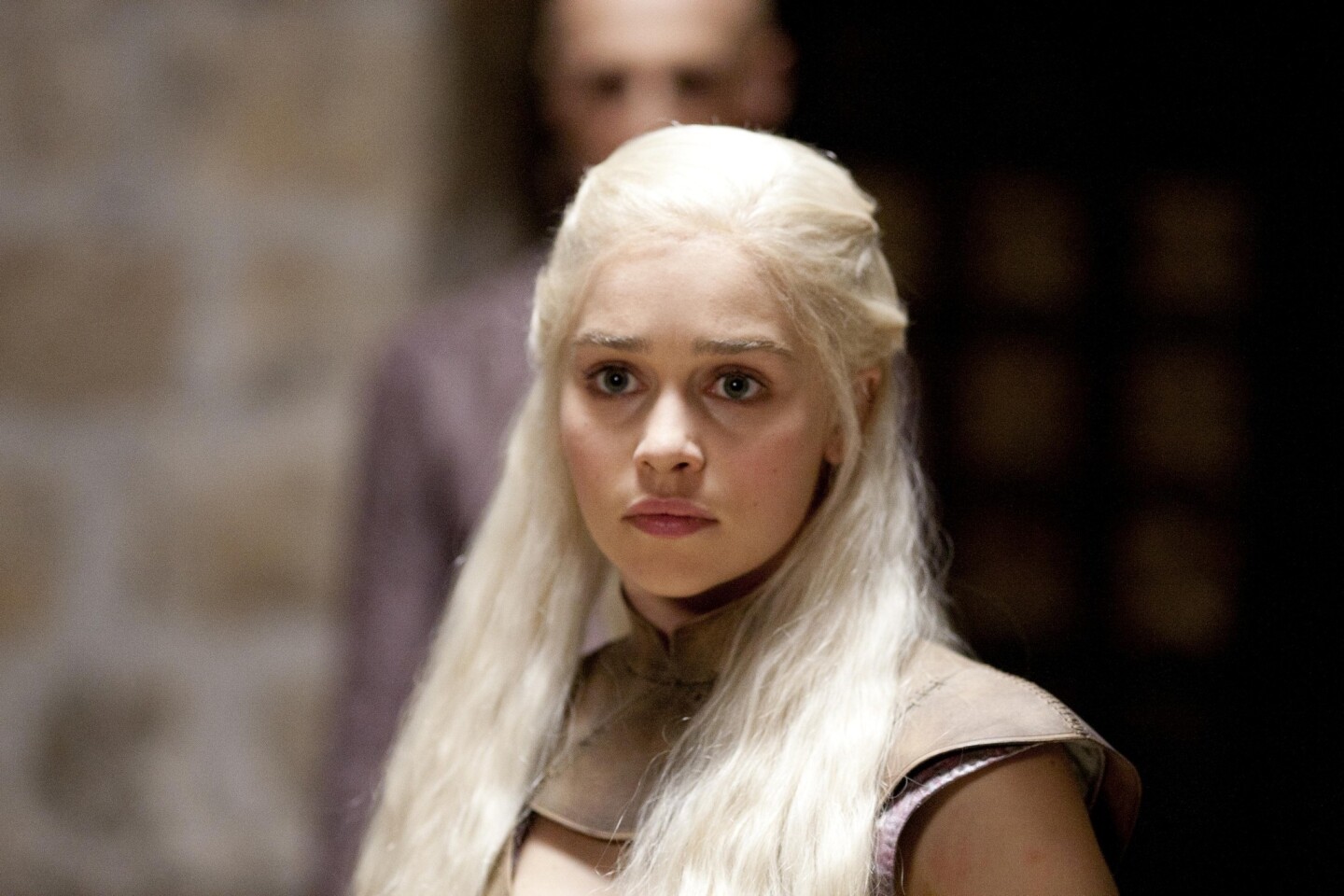 Emilia Clarke | 'Game of Thrones' | Supporting actress in a drama
"I'm lucky enough to get to play a seriously strong woman who is going from strength to strength, and if you're a woman who is empowered, maybe you like that," Clarke said in English. And in Dothrakim, "Yer chomoe anhaan. Jin ha Khalaan, shekh ma shieraki anni. (That's "You do honor to me. This is for the Khal - my sun and stars.")
(Paul Schiraldi / HBO)
Anna Chlumsky | 'Veep' | Supporting actress in a comedy
It's heaven. Heav-uhn. It's heaven to get recognized for something you did on purpose. When I was a kid, I would see other people getting excited about being recognized - people who liked it, and I didn't understand. Honest to God, though, now I eat it up when people are, like, "I love 'Veep.'" I've made this choice to do this job that I love.
(Bill Gray / HBO)
Bertram van Munster | 'The Amazing Race' | Reality-competition program
"The Amazing Race" continues to resonate with viewers because "it's very relatable, because anyone can do it if you're in decent physical condition and your mind is set .... The story is always fun, with drama, humor, emotion -- people from all walks of life. And most people like to travel, and even if you don't, you can sit in front of your TV and criticize anyway." Van Munster is shown here with co-creator and fellow nominee Elise Doganieri at their L.A. area home.
(Jay L. Clendenin / Los Angeles Times)
Jim Carter | 'Downton Abbey' | Supporting actor in a drama
"I'm certainly more excited than perhaps Mr. Carson would be. Last year was a thrill; this year even more so. Thank you, Emmy voters."
(Matthew Lloyd / For The Times)
Hugh Bonneville | 'Downton Abbey' | Drama lead actor
"I am honored, overwhelmed and dead chuffed."
(Joss Barratt / PBS)
Maggie Smith | 'Downton Abbey' | Supporting actress in a drama
"I am so delighted that the Emmy voters are as fond of Violet as I am. Thank you so much for nominating us both."
(Matthew Lloyd / For The Times)
Julian Fellowes | 'Downton Abbey' | Writing for a drama
"To get 12 on the third year seems to me to be a wonderful stroke of luck and a kind of seal of approval, which is very, very exciting for all of us really. You can never expect this level of success for anything. You'd be a mad person if you did, so when it happens you just have to kind of sit back and enjoy it, really, I feel."
(Steven Paston / EPA)
Steve Levitan | 'Modern Family' | Outstanding writing for a comedy series
"On this morning of Emmy announcements, congrats to anyone who is able to make a living doing something they would do for free" -- from Levitan's Twitter feed.
(Mark Boster / Los Angeles Times)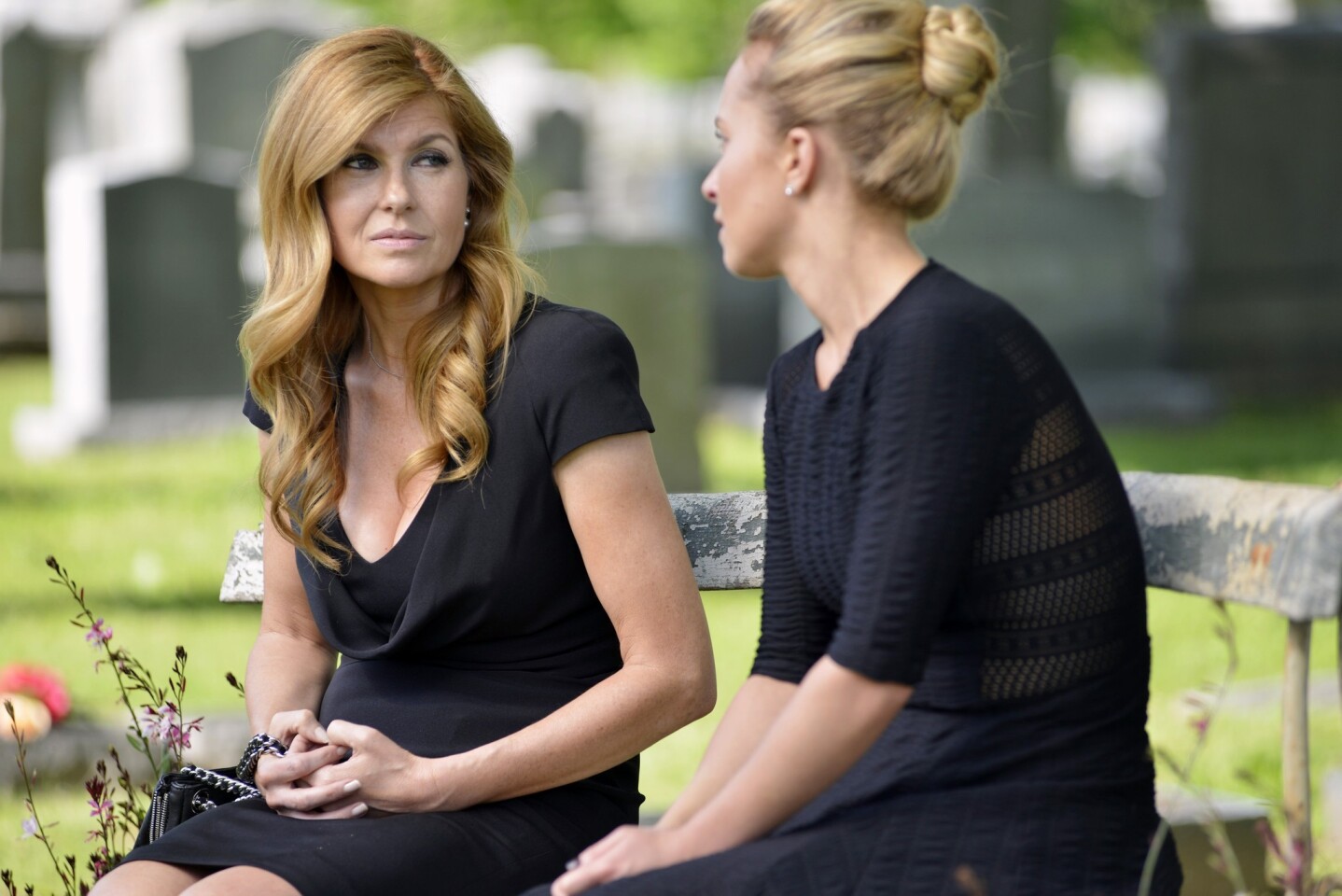 Connie Britton | 'Nashville' | Drama lead actress
"I'd be very surprised if this was the year that [I won]. All these actresses are so incredible. I'm just happy to be included -- to show up and go to the party. It's all about the party!" Britton is shown here in a scene from "Nashville" with costar Hayden Panettiere.
(Katherine Bomboy-Thornton / ABC)
Alfre Woodard | 'Steel Magnolias' | Supporting actress in a miniseries or movie
"I feel as excited as I did 50,000 years ago when I got my first nomination. I'm so proud to be an actor because you get to keep company with other actors, and I love to be reminded that that's my village, that's my place among my people that are actors, and it makes you so proud."
(Steve Terill / AFP/Getty Images )
Mark Burnett and Roma Downey | 'The Bible' | Miniseries or movie
Burnett said, "I tried not to think of the Bible nominations. Roma was saying, 'I really feel it's going to get nominated.' But look, this did incredible numbers. One hundred million people in America saw it. It's the fastest-selling DVD in TV history. We just premiered in Australia and went No. 1 there. Sometimes those enormous numbers can backfire in terms of Emmy nominations. That's why I was trying not to think about it."
(Angela Weiss / Getty Images for History)
Christina Hendricks | 'Mad Men' | Supporting actress in a drama
"I think people are very fond of Joan because she's a survivor, and she's strong and competent and smart. People really root for her, and she says the things that people wish they could say. Joan just comes out and says it, and the things that she says are incredibly surprising and satisfying."
(Jay L. Clendenin / Los Angeles Times)
Elisabeth Moss | 'Mad Men' | Drama actress
"It's shocking, honestly. You don't get used to it, so it's almost like every year is more surprising than the last. You just expect it to stop at some point. This is my fifth nomination for "Mad Men," every year it blows my mind even more. To get nominated for something else also, as a lead actress in something dramatic, I don't even know what do with that information."
(Jaimie Trueblood / AMC)
Jeff Daniels | 'The Newsroom' | Drama actor
"I know we pissed some people off the first season. Aaron [Sorkin, the show's writer] is creating something under a very big spotlight. It's something original, and he's out there doing it by himself. There are going to be people who don't like that. But I give him a lot of credit. No one else is doing something like this, a show about cable news.
(Melissa Moseley / HBO)
Laura Dern | 'Enlightened' | Outstanding lead actress in a comedy series
"It means the world -- for this support from academy for something nontraditional -- even in the category of comedy. This show is being found far more and more recently -- more than ever before -- because so many people don't watch live television. And I hope this compliment gets the word out for people to share 'Enlightened.'"
(Carolyn Cole / Los Angeles Times)
Matt LeBlanc | 'Episodes' | Outstanding lead actor in a comedy series
"It happens so early -- I thought it was 5 a.m. and so I set my alarm for 5 and when the phone didn't ring by 5:15, I thought, 'Well, OK, it didn't happen this year,' and I went back to sleep. Then at quarter to 6, my publicist called -- and after that I called my mother, and she said what she always says, "Why does it have to be so early?"
(Kirk McKoy / Los Angeles Times)
Cat Deeley | 'So You Think You Can Dance' | Outstanding host for a reality or a reality competition program
"It's almost impossible to put your finger on it -- but I think it comes across that I'm doing a job I absolutely love. Even if you mess up, drop the mic or fall over, if you handle it with grace and charm, it really endears you to the audience. And it's not a job. I'm doing what I love."
(Kirk McKoy / Los Angeles Times)