23 Images
Emmys 2013: Quotes from the stars
Anna Gunn said she'd like to pen a follow-up to an op-ed piece she wrote this past summer for the New York Times about the sexism she perceives is involved in certain extreme expressions of hatred toward her character.
"I wanted to write it," she said of the essay. "It was a 1,500-word piece ... but it had to be reduced into one topic rather than the multilayered topics I initially wrote."
Although she was happy with how it turned out, as well as with the public discussion it engendered after its publication, she said, "I'd like to follow it up so I can encompass all the other issues involved with being on TV and playing female characters."
(Jason Merritt / Getty Images)
Elisabeth Moss says the fact that the characters she plays in the two shows ("Mad Men's" Peggy Olson and Aussie detective Robin Griffin in the miniseries "Top of the Lake") are polar opposites is particularly challenging and rewarding for her as an actress.
"I didn't know how people were going to react," she said of "Lake." "The show was really made by the critics, that's who everyone listens to and it can make or break a little show like this."
Was it hard morphing from the tough and elusive Griffin to sensitive, misunderstood Olson when the time came to go back to "Mad Men"?
"Yes, it was a balancing act," said Moss. "But I tried to take a little bit of Robin with me into the boardroom."
(Jordan Strauss / Invision / Associated Press)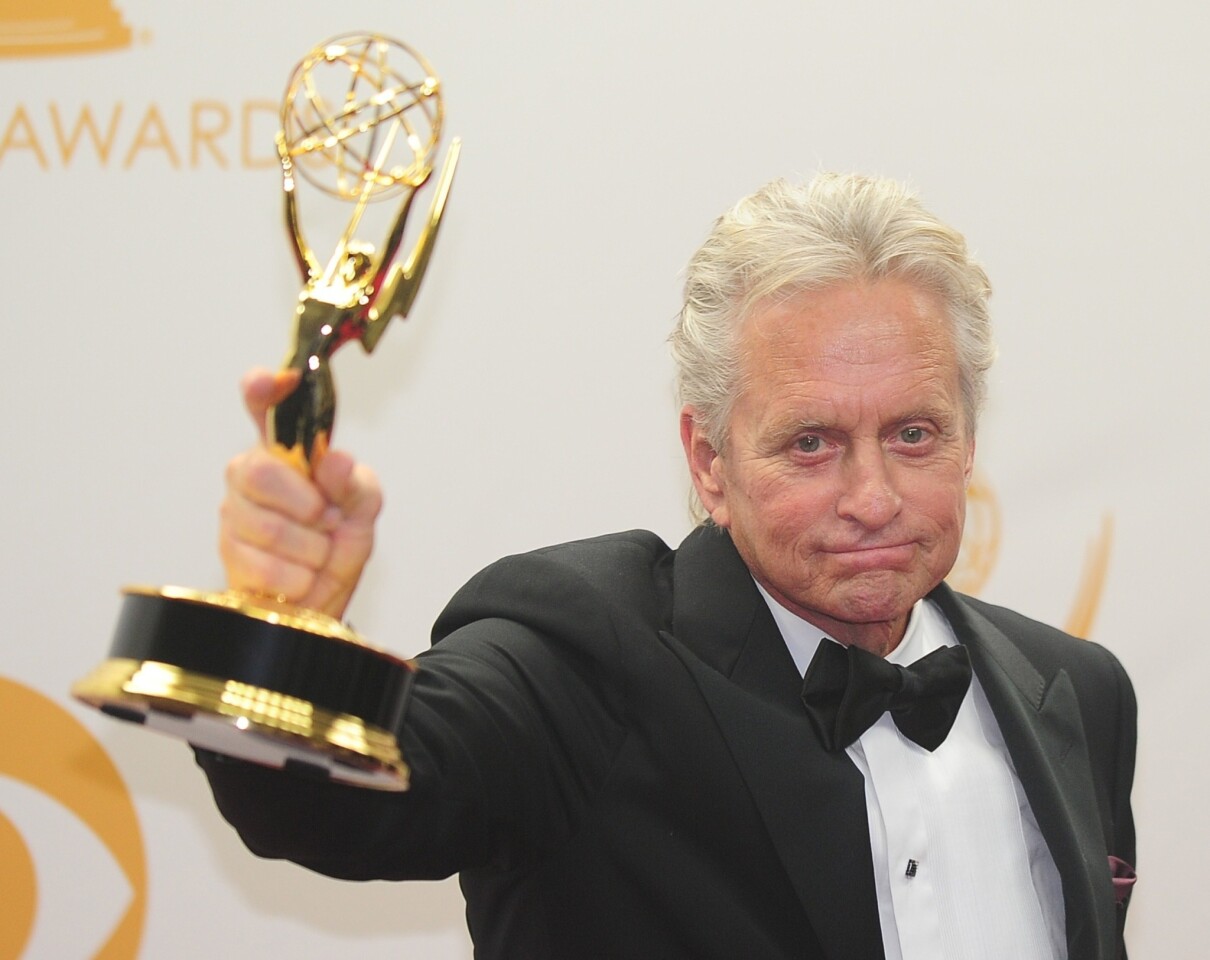 Q: Did you prepare that speech?
A: I wasn't prepared for the response on the two-hander. That took me quite by surprise. In acting, we have an expression called a "two hander," which means it's all about two people together and you're only as good as your partner. You rely on each other throughout the whole piece. I wouldn't be on stage without Matt. The bottom and the top, I thought about.
Q: What does the Emmy Award mean to you?
A: Obviously, ["Behind the Candelabra"] had special meaning to me. One day, I was dealing with mortality issues regarding my cancer, and the next this jewel was handed to me. I have to thank [Steven Soderbergh and Matt Damon], who actually had to wait a year because I wasn't up to speed physically when we were ready to go earlier. It gave me time to absorb Lee and the wonderful qualities he had. ... I think it helped me a lot, certainly after I became cancer-free, in terms of freedom of spirit.
(Frederic J. Brown / AFP / Getty Images)
Q: What will you be doing to celebrate tonight and who are you going to celebrate with?
A: "I guess I'll go to that HBO party. And then I'll go to Fallon's party, probably. Then Jon Hamm's having a losers party and you have to pay $1,000 if you win. And I'll go with my girlfriend."
Q: How did you feel when your name was called?
A: "It took me awhile to get up. I didn't really believe it, and honestly, everything really was slow. I'm thinking about my girlfriend, going, "Baaay-baaay" -- it really was slow like that. I really didn't think it was gonna happen. ... I was just shocked. I saw Hamm -- we play cards together, so he gave me a big thumbs up. It's a trip. It's a real trip."
(Kevin Winter / Getty Images)
Q: You look like a kid at Disneyland. How did you get here?
A: Its nuts. Its nuts. I have completely left my body, it's so surreal. I'm so thankful to be working -- to have this is completely mind-blowing. I don't even know my left from my right.
Q: Who do you credit this award to?
A: I will say, one thing I mentioned is I'm from Tallahassee, Fla. I was part of Young Actors Theatre while I was there. They made a big difference in my life. I'm so appreciative to them to start the ball rolling.
(Jason Merritt / Getty Images)
Kevin Spacey looked every bit the consummate politician walking the red carpet Sunday at the Emmys.
Fitting, as the No. 1 spokesman for Netflix and it's hit show "House of Cards," in which he plays the plotting Sen. Francis Underwood.
"This represents a new paradigm for the industry," he said of the show's Emmy nominations, the first of their kind for a streaming-only show. "It shows that the academy has a modern, progressive streak."
It's also good for television itself, he added.
"More companies are going to step forward to do this kind of thing, so more shows will be produced, more actors will be hired, more work done. ... It's good for the economy as well," he said.
(Jordan Strauss / Invision / Associated Press)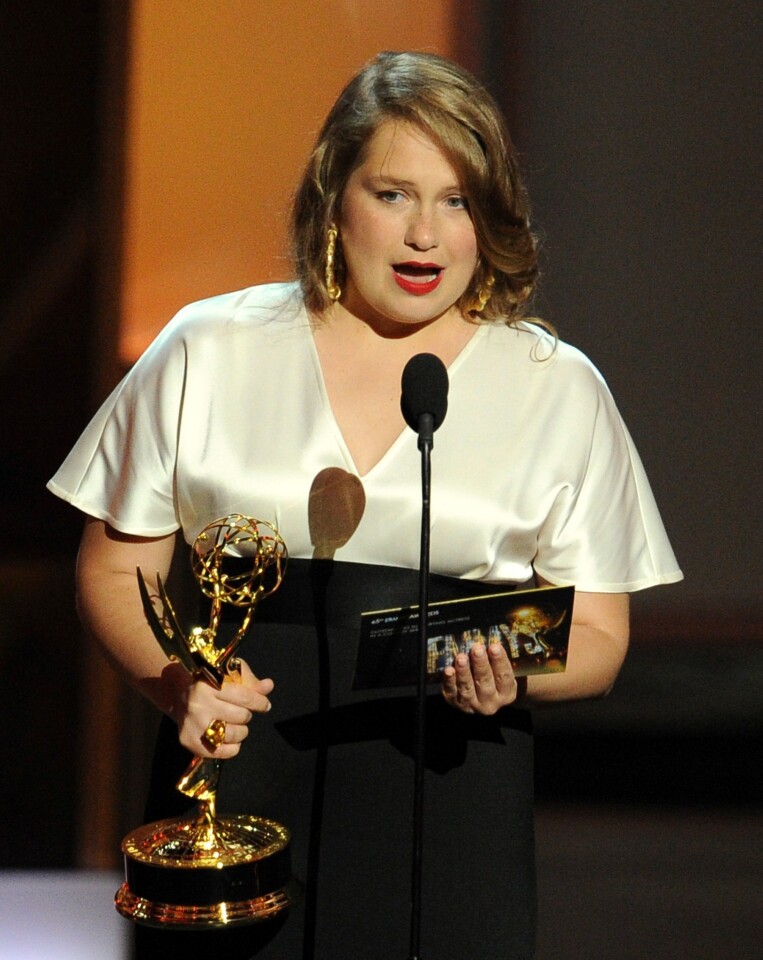 Q: What did you want to say up there?
A: "I know. I wanted to thank a lot of people. Ugh! It's happening again. I wanted to thank everybody at Showtime -- most of all, Edie Falco. David and Gary and Matt. ... I wanted to thank Edie Falco very badly. I'm sorry."
Q: How does it feel to hold an Emmy?
A: "I don't know yet, honestly. I'm scared. I'm scared because it was unexpected, so I don't know how to feel yet. I mean, I have therapy next week."
(Kevin Winter / Getty Images)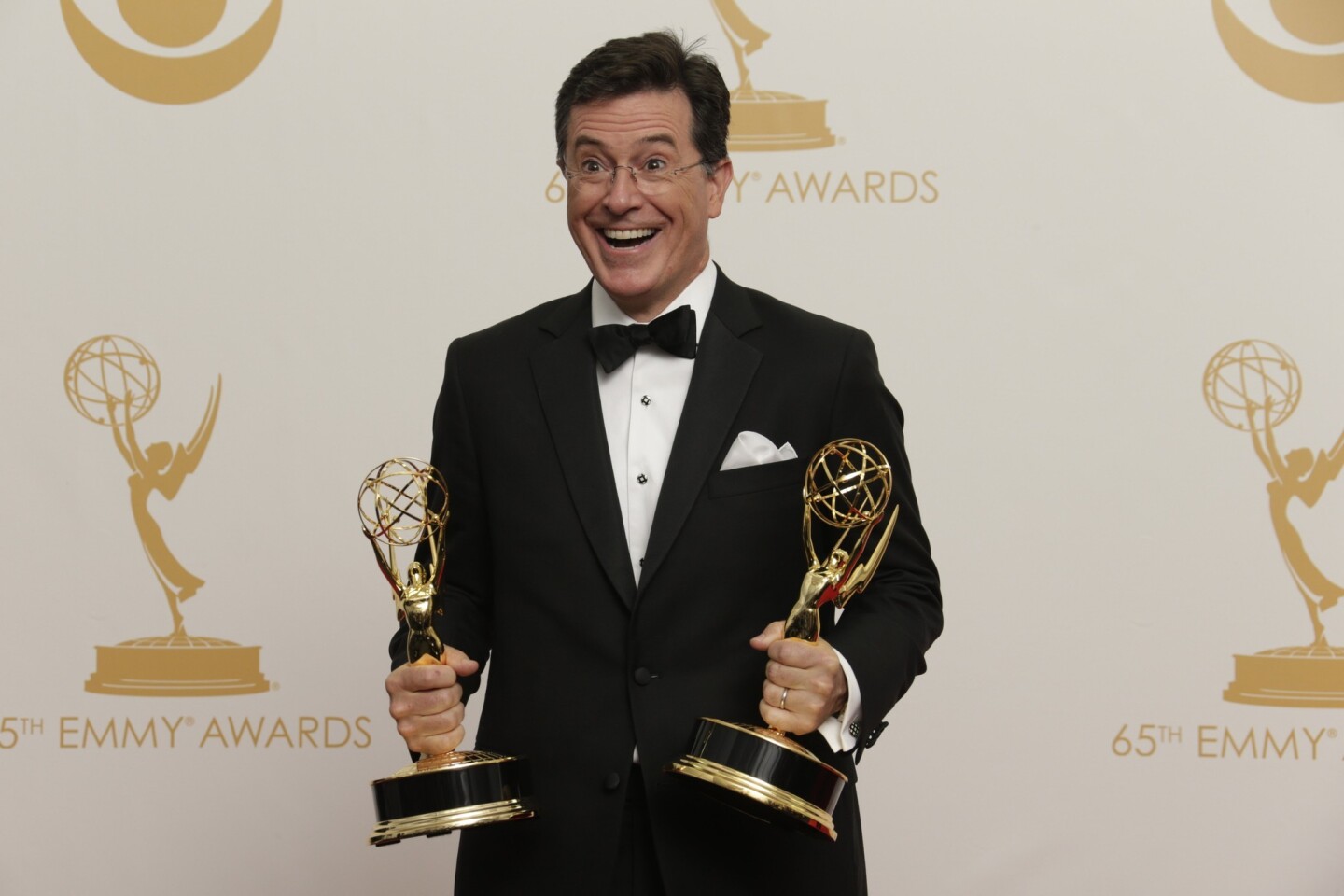 On Jon Stewart, host of "The Daily Show," as a mentor:
"He invited us to have a passionate opinion about what we were writing about, and he wanted to make sure we had our own thought about what we were writing about. And it turned out that I had one. I wouldn't have known that unless Jon Stewart had been there for me. I'm the luckiest man in the world that he's my lead-in and the guy I could turn to for advice and strength."
(Lawrence K. Ho / Los Angeles Times)
Q: What did this show mean to you and why did it connect?
A: It was a labor of love. And, thankfully, our friends at NBC never tried to change the tone of the show. So even if it wasn't the highest-rated show, we never had to change it.
Q: Five to ten years from now, maybe a "30 Rock" reunion?
A: It'll be an IMAX movie and it'll be one minute long, playing at the museum of natural history.
On winning:
A: It's so lovely that anybody remembered us. We went off the air in January. ... It's really encouraging and lovely.
(Robyn Beck / AFP / Getty Images)
Q: You looked shocked by the win.
Jeff Daniels: "Did I? I've been neutral about this whole thing. I've been nominated a bunch of times -- Google it -- enough to not hope too much. You're glad to be invited to the party. There are six of us nominated. There easily could have been 10 other guys. I was happy to win but surprised.
Q: How will you celebrate?
A: "We're going to party until dawn. And then I'm going to get on a plane to start shooting "Dumb and Dumber 2." The intellectual free-fall from Will McAvoy to Harry Dunn -- imagine, if you will."
(Jason Merritt / Getty Images)
The 68-year-old Michael Douglas said that after his throat cancer scare the role of Liberace in Steven Soderbergh's HBO biopic "Behind the Candelabra" was like being "handed this beautiful pearl."
That it was well-executed and critically lauded was the cherry on top of the whole experience. And working with Matt Damon, who plays his volatile lover, was a joy.
"Matt Damon looked me in the eyes at one point and said 'Let's do this'," said Douglas. "It was the whole package, the screenplay was so good and everyone nailed it. It was what you dream about."
(Jordan Strauss / Invision / Associated Press)
Q: Starting young, did you avoid pitfalls young actresses have? Do you feel you're in your prime?
A: I think I was very fortunate to live in a time where not everyone had cameras on their cellphones. I was a sloppy kid, but there weren't millions of civilians to catch those sloppy moments and post them on the Internet. There was no going viral back in the day. So I think that was helpful. And I took three years off to go to college; I was an idiot in the privacy of my own dorm room. I feel hugely blessed to have this role with this group of people. The show is so challenging in all the right ways. It's a good gig. I hope it lasts a while because it remains so kind of compelling to me personally and creatively.
(Kevin Winter / Getty Images)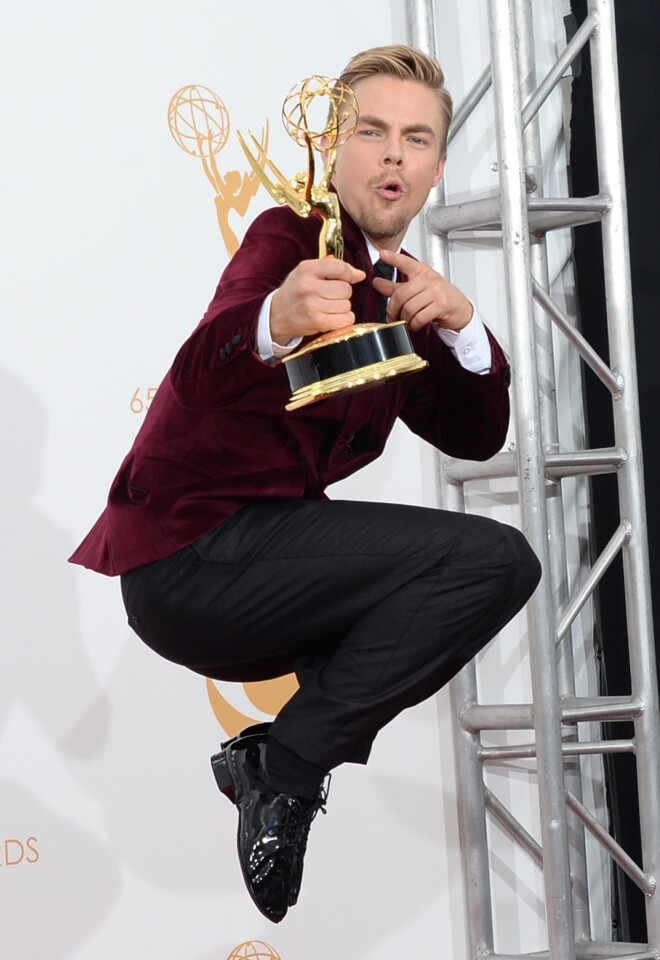 Q: You have four mirror balls and an Emmy — how do they compare?
A: This is unbelievable — not only to be nominated and win, but to be able to take it home on the prime times. ... It's apples and oranges [to compare them], but this is very, very special. I'm speechless.
Q: What TV do you like?
A: I didn't really watch that much TV until two months ago, and I'm a bit of an addict right now. I've seen every episode of "Game of Thrones." I was just next to Khaleesi. Aaron Paul and of course Bryan Cranston — I just saw him and he was like, "Hey, I love your work," and I was like, "Don't even talk to me. I worship you." TV has been unbelievable this year.
(Jason Merritt / Getty Images)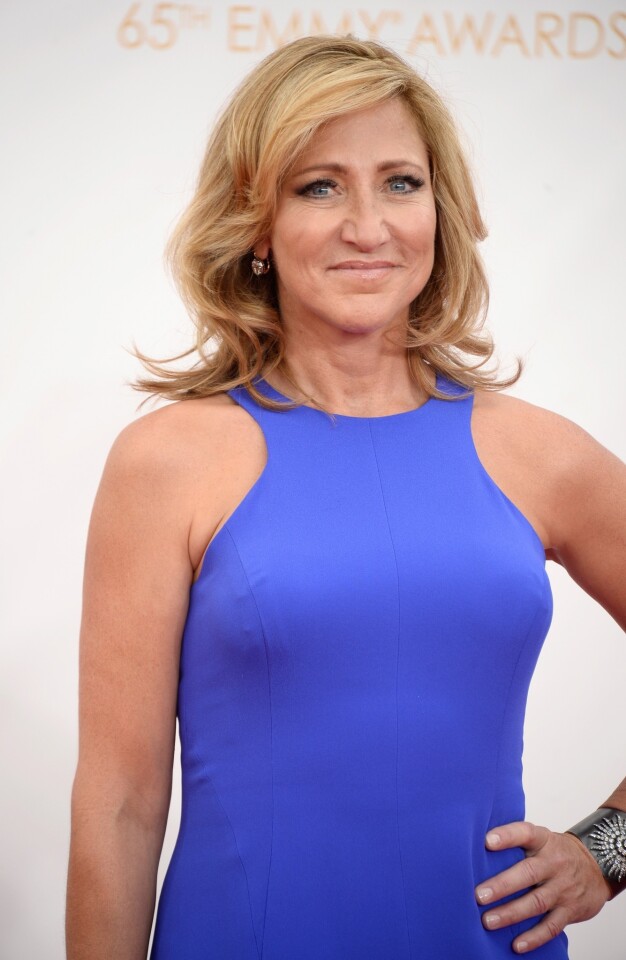 Edie Falco was soaking up enjoyment from the fact that she is lucky enough to have starred in two popular TV series: The groundbreaking "Sopranos" and now as Jackie Peyton on Showtime's critically acclaimed sleeper "Nurse Jackie."
"I feel very lucky to be in an industry that's experiencing such a renaissance," she said of the television landscape.
Her character in "Nurse Jackie" is so controversial that real-life nurses' associations have protested that her character, Jackie Peyton, gives nurses a bad name. Falco doesn't pay much attention to the controversy, though.
"I don't do the Internet thing," she said. "I've been through this before with 'The Sopranos,' and with that we weren't saying that all Italians are mobsters any more than 'Nurse Jackie' is saying that all nurses are druggies."
(Frazer Harrison / Getty Images)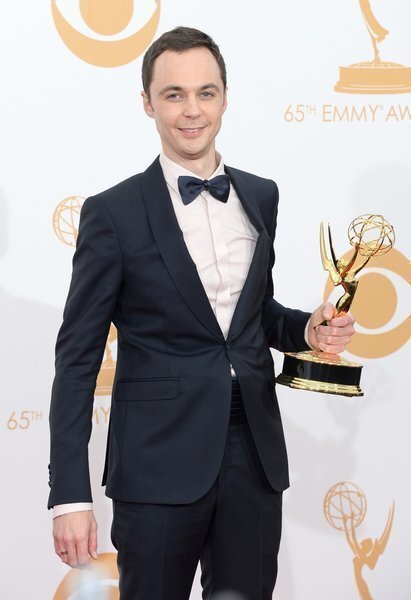 Q: How will you celebrate?
A: The whole cast is here, which is phenomenal. That is the truest joy of having the show nominated. We'll go to the Governors Ball. There's all those after-parties. I'm not much of an after-party [guy]. It's more of an afterthought. I prefer to read in bed. That's because I'm 100.
Q: When they're saying name of nominees and yours is called...
A: The closest thing I can compare it to is that feeling you have when you narrowly miss getting in a car accident. The adrenaline that drives up is so severe. The moment leading up to it is so heart-pounding. It's the other reason I like to go to sleep as soon as possible.
(Jason Merritt / Getty Images)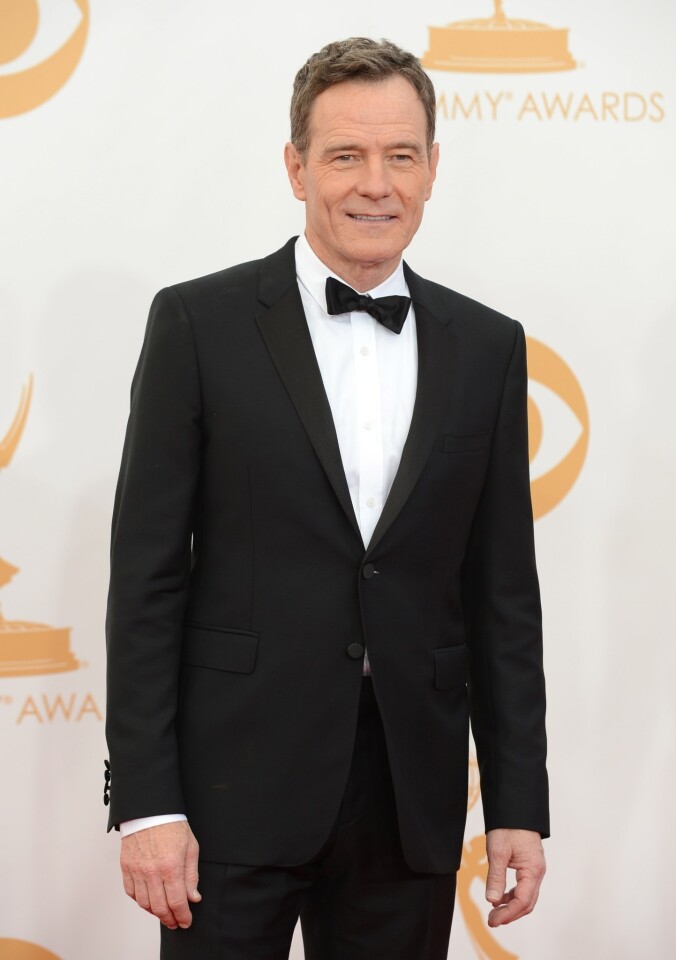 Bryan Cranston has a message to the legions of "Breaking Bad" fans who are worked into a frenzy about next week's series finale: Simply, thank you.
"Our little show about a depressed man who gets terminal lung cancer and starts cooking crystal meth couldn't have happened without you," he said while walking the red carpet Sunday at the Emmys. "Who would watch that, or even follow it if it weren't for you fans."
Cranston feels that "Breaking Bad" did, in fact, reach its natural conclusion.
"There's no question that we have not overstayed our welcome," said Cranston of the finale. "We have not diluted our story. It's a fine, fine ending -- it's unapologetic. It ended in a very 'Breaking Bad' style."
On how fans responded, and whether the cast had similar reactions to the script:
"We were doing the same thing. When we read these scripts, they were like unwrapping presents. We were saying, 'Oh, my God' to ourselves because of the wonderful craftsmanship of what the writers have done. We are the mouthpieces from them. That's what makes me so proud that this happened tonight."
(Jordan Strauss / Invision / Associated Press)
Q: Did you ever imagine your career would last this long?
A: I didn't imagine that, but I decided early on — I was a model, and back when I started acting, I didn't want to do acting that relied on my looks. ... I really worked hard on being a good actress and built a career on that.
(Robyn Beck / AFP / Getty Images)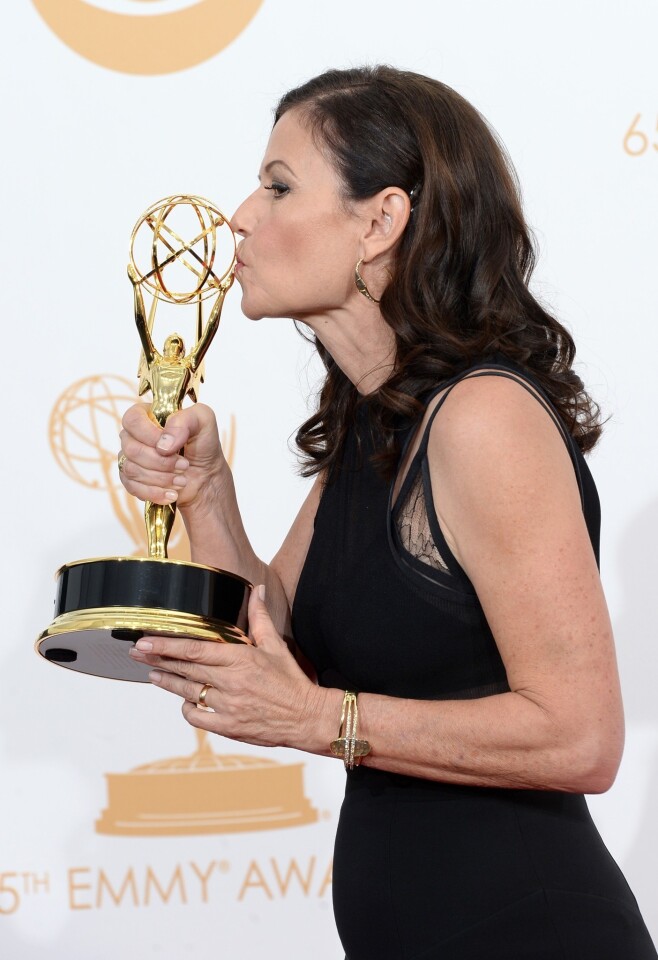 Q: How did you end up directing comedy?
A: I was very fortunate as a child, and my parents let me watch as much TV as possible, so I drew in a bunch of really good programs. They were really smart. My father was really a funny guy, so growing up and being around him and my brothers, it seemed to be a natural progression.
(Jason Merritt / Getty Images)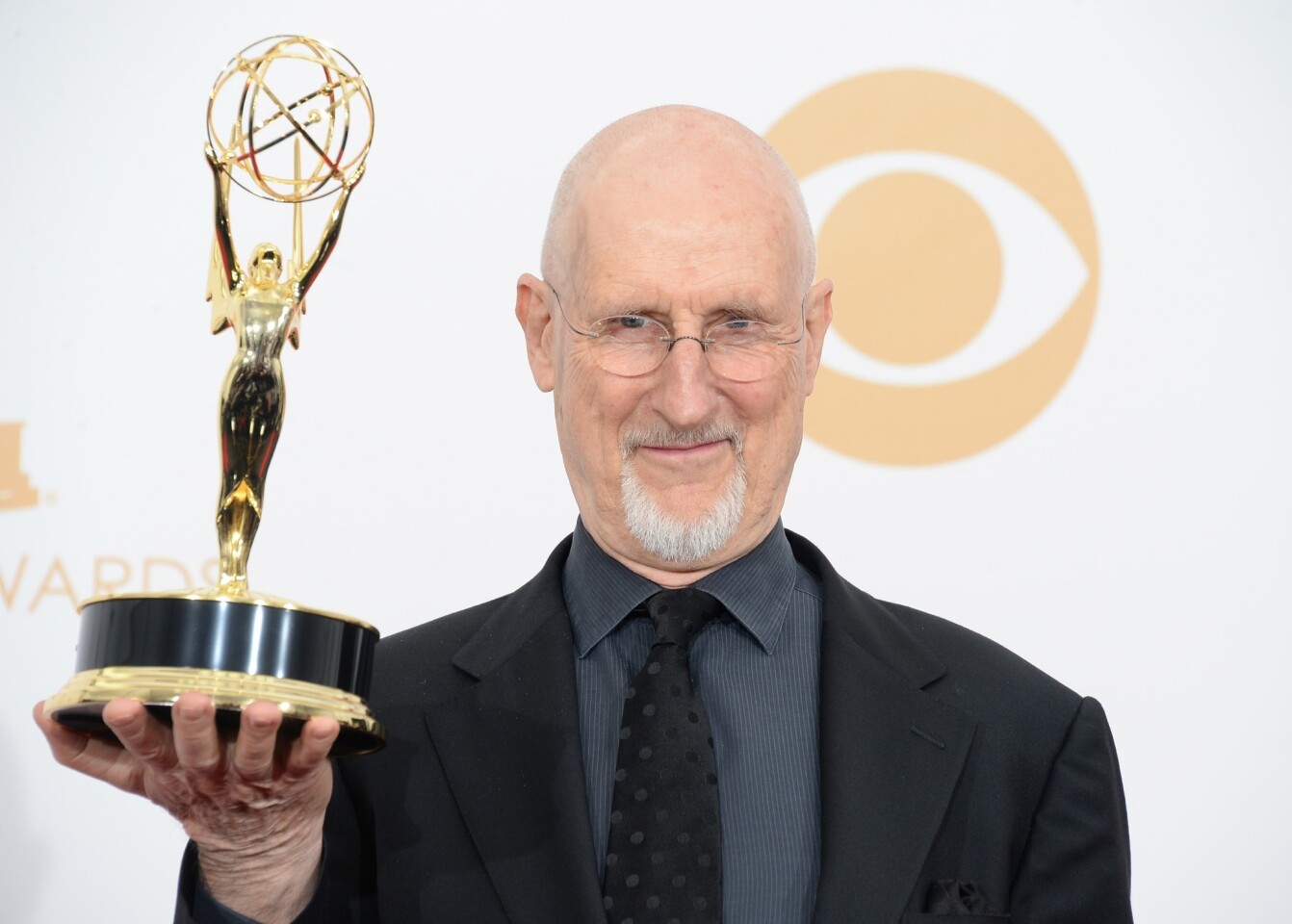 Q: How did you get this role?
A: I think I got the role because I was doing a play downtown called "Waiting for Godot," and I was loud and blustery and angry and fascist, and I think they thought, "Yeah, he looks really mean." I have done other mean, bad guy roles, but it's nice to play off. I always thought Curtis cast me in "L.A. Confidential" because everyone thought Babe's dad could not play the bad guy.
(Jason Merritt / Getty Images)
Kunal Nayyar's character, Dr. Raj Koothrappali, had a breakthrough at the end of last season: He can finally talk to women without consuming alcohol first.
His character is usually mute when there's a female nearby but now that he can speak without liquid courage he's going to get himself in all sorts of trouble.
"He can now talk to women without alcohol, so who knows what he's going to say," Nayyar said. "He may think he's deep or smooth, but he's just getting used to talking to them. So he's going to make a lot of faux pas. But hopefully someone will just fall into his lap."
(Kevork Djansezian / Getty Images)
Q: Does this finally distinguish you from "American Idol"?
A: It's a very different show. [Creator] John de Mol made sure there was no humiliation in "The Voice." People said this kind of show would never work ... We're back tomorrow night [with season 5]. We want to be No. 1 again.
Q: Five seasons in, do you feel like you've found the right formula?
A: It's a brilliant format. Look at tonight's Emmys. "The Voice" is like producing an award show twice or three times a week. It's just a matter of keeping it fresh.
(Jason Merritt / Getty Images)
Corey Stoll, who plays tragic house Rep. Peter Russo in "House of Cards," said he was thrilled to be representing Netflix.
"If I could continue to do everything on Netflix, it would be great," said Stoll. "They were hands-off and let us do our thing. We weren't beholden to ratings or anything else. It was like making 13 little movies."
(Al Seib / Los Angeles Times)
After accepting the Emmy for best drama series, "Breaking Bad" creator Vince Gilligan told reporters backstage that he hopes the show will stand the test of time and "be remembered on some level." He also credited the advent of streaming video for a portion of the show's success.
"Television has changed a lot in six years," Gilligan said. "A big part of what has changed is streaming video on demand, iTunes and Amazon streaming. I think Netflix kept us on the air. I don't think our shows would have lasted to Season 2 without streaming on demand and the Internet component of it. It's a bold new era in TV, and we have been very fortunate to reap the benefits of these technologies."
(Chris Pizzello / Invision/AP)