11 Images
April Fools': Best celebrity pranks
Before the shaved head, laggard MTV performance, psychological dramas and
comeback
, Britney Spears was an unimpeachable teen sensation. But her "teen" status was called into question by a hoax on the music website the Wall of Sound in 1999.
Britney Spears was reported to be 28, rather than 17, her actual age at the time. The publication cited as its "evidence" that she was really "Belinda Sue Spearson" of West Baton Rouge, and that she was born on Aug. 7, 1970.
The stunt prompted Britney fans to flood her record label with phone calls, demanding to know her age and true identity. A reason was never given for the prank, which leads one to wonder: Maybe Wall of Sound thought it was true?
(Los Angeles Times)
Who even knows where it began, but at one point George Clooney put a sticker on Brad Pitt's car that said, "I'm gay and I vote." Another time, Pitt circulated an official memo to the crew of "Ocean's Twelve" insisting that Clooney be called "Mr. Ocean" for the entirety of the shoot. Clooney put another bumper sticker on Pitt's car that questioned the size of his manhood. Pitt once took out gag ads in the Hollywood trade papers making fun of Clooney being twice named People magazine's "Sexiest Man Alive." Clooney said he texted Pitt after the trade ad incident: "You won't know where, you won't know when ..." Pitt texted back: "It's war."
Photo: Brad Pitt, left, better watch his back. George Clooney is behind him. The pair cemented their relationship when they joined "Ocean's Thirteen" producer Jerry Weintraub and co-star Matt Damon to put their hands in concrete in front of the Grauman's Chinese Theater in 2007.
(Gary Friedman / Los Angeles Times)
George Clooney pulls so many pranks that we had to add one more.
In 2006, the movie star seemed steamed with gossip site Gawker.com and its Gawker Stalker map of celebrity sightings. Clooney emailed friends, "Flood their Web site with bogus [celebrity] sightings. Get your clients to get 10 friends to text in fake sightings of any number of stars. A couple hundred conflicting sightings and this Web site is worthless."
While others -- including Clooney's agent
Stan Rosenfield
-- attacked the site's editors with cries of John Lennon and Rebecca Schaeffer, Clooney claimed the email was a private joke that was not meant to go public.
(Wayne Hinshaw / Associated Press)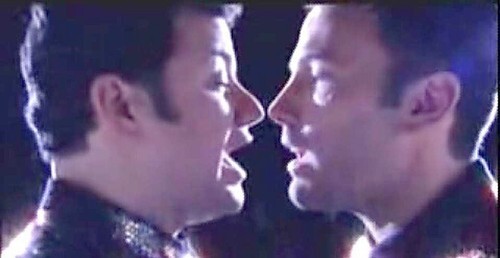 It all began with a running gag on the third season of "The Jimmy Kimmel Show," when the comedian began signing off with the line "Apologies to Matt Damon, but we ran out of time." Damon was a sport about the whole thing and even came on and did a gag interview with Kimmel in 2006 -- as soon as he started talking, Kimmel cut him off.
It seemed only fitting that Kimmel's then-girlfriend, comic Sarah Silverman, and Damon would pair up for a birthday video for Kimmel in which they claimed to be having an affair. Kimmel upped the ante by creating a revenge video about himself and Ben Affleck. Cameron Diaz, Brad Pitt, Don Cheadle and others provided the backup. Kimmel's video had higher production values but Silverman got hers out earlier, and as an old editor of ours used to say, good is good, but first is better.
(YouTube.com)
Bill Gates, Microsoft's sometimes-reviled, sometimes-revered master, had stopped off in Belgium after a trip to the World Economic Forum in 1998. He was headed into a meeting with Belgian officials when local prankster Noel Godin approached the bespectacled billionaire and whipped a cream pie in his face. Gates looked unhappy -- apparently the pie did not bring back fond memories of "Three Stooges" shorts -- and was quickly escorted into the building.
(Herwig Vergult / AFP)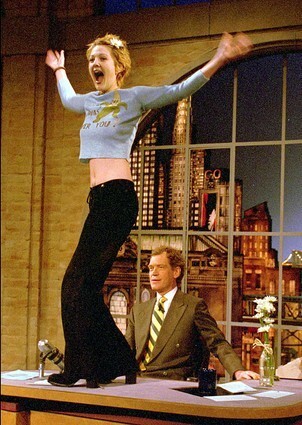 Back in April 1995, when Drew Barrymore's hair was bleached blond and cut short and she was playing crazy girls in movies like "Mad Love" and "Boys on the Side," the actress got up on David Letterman's "Late Show" desk, turned her back to the camera and flashed him. Celebrity prank or just the greatest birthday gift ever? You decide.
(Alan Singer / Associated Press)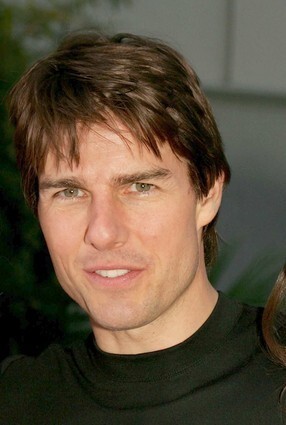 At the London premiere of "War of the Worlds" in the summer of 2005, Tom Cruise encountered a gagster equipped with a fake squirting microphone. This encounter took place at the height of Cruise's Oprah couch-jumping, Matt Lauer-debating fame, and Cruise was
none too pleased
at being the butt of a practical joke so old it had whiskers on it. "Why would you do that?" Cruise demanded. The gagster's response was inaudible, but it didn't seem to be enough to mollify Team Cruise, which escorted the man away, telling him, "You should be ashamed of yourself."
(Kevin Winter / Getty Images)
George Clooney isn't the only prankster lurking on Hollywood movie sets. It turns out Seann William Scott has a sneaky side too. The "Role Models" actor confessed to "Access Hollywood" that he enjoyed lots of laughs at his costar Christopher Mintz-Plasse's expense while filming the comedy. Scott was in cahoots with the wardrobe department and secretly tailored Mintz-Plasse's pants to be too small at the waist and too short, and they even sewed change into his pockets to confuse him. While the McLovin' actor tried to retaliate with a super-soaker, he was no match for Seann's itching powder in the pants, dog doo in the shoes and threatening phone calls.
(Universal Pictures)
Taylor Swift got Keith Urban pretty good back in 2009, when she surprised him by dressing up like Ace Frehley from KISS. "Last night on tour with Keith Urban. Pranking is a must. How about rushing his stage during 'Kiss a Girl'
dressed like this
? It went down," she posted on Twitter. The best part? The Twitpics of her in the full KISS get-up. Click to see
Taylor getting ready
,
her and the band in costume
and a shot of
her onstage with Keith.
(From left: Taylor Swift, credit: AP Photo / Mark Allan and Keith Urban, credit: AP Photo / John Russell)
Don't dish it out unless you can take it. In 2010, Ashton Kutcher (who used to host the hidden camera, gotcha-style MTV show "Punk'd" and now seems to have a lot of time on his hands) set out to spoof TMZ's behind-the-scenes TV show by ripping on the staff's sometimes lukewarm logic, bad jokes and kissing up to site founder Harvey Levin. Kutcher's camera crew even followed Levin around town, à la the real program.
(Michael Buckner / Getty Images for Audi)