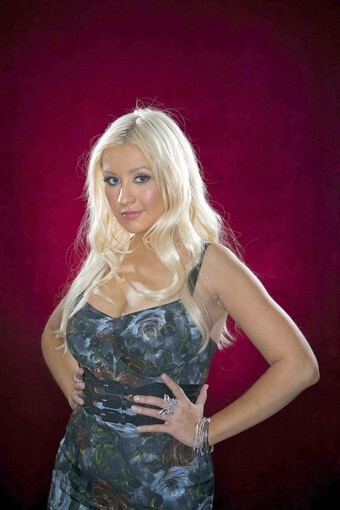 14 Images
Christina Aguilera: Life in pictures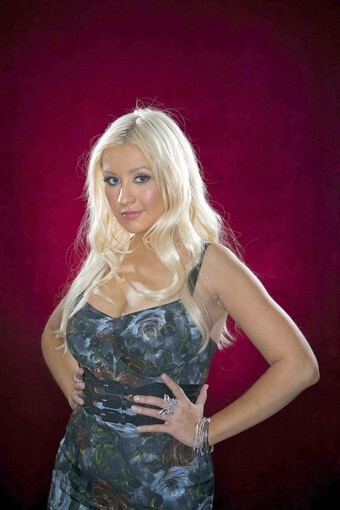 This former child singing sensation managed to rake in several Grammy Awards and sell over 30 million albums all before the age of 30. Here's a look back on the career and life that made her a pop culture staple.
(Jay L. Clendenin / Los Angeles Times)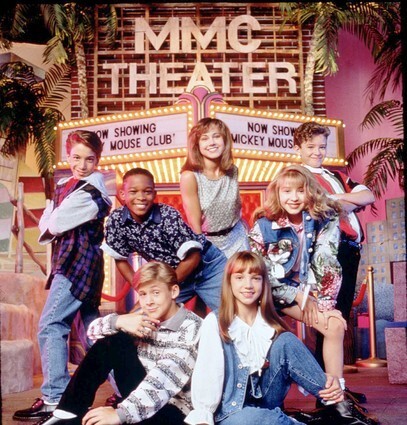 From a young age, it was clear that Aguilera had a gift; she was known as "the little girl with the big voice." She performed on "Star Search" in 1990, joined "The New Mickey Mouse Club" in 1993, and sang in Disney's "Mulan" in 1998.
Pictured: The 1993 cast of "The New Mickey Mouse Club." Aguilera is in the middle row at right. And yes, that's Britney Spears, front right, and Justin Timberlake, top right.
(Disney)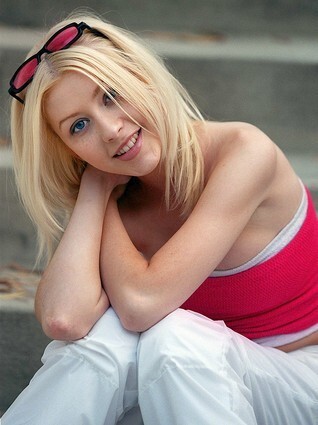 Her 1999 debut album, "Christina Aguilera," included mega-hits like "Genie in a Bottle," "What a Girl Wants" and "Come on Over." It was pop at its poppiest; in all its belly-baring, blond-haired goodness.
(Lori Shepler / Los Angeles Times)
Aguilera, (back, right) partnered with singers Pink (left), Mýa (center) and Lil' Kim to cover
Patti Labelle
's 1975 single "Lady Marmalade" for
Baz Luhrmann
's 2001 film "Moulin Rouge."
(Lawrence K. Ho / Los Angeles Times)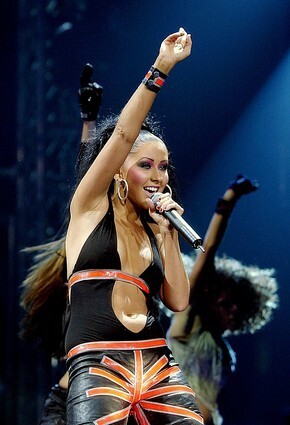 Despite the success of her first album, Aguilera didn't go so "bubblegum" the second time around. In 2002, "Stripped" showed her naughty side and is possibly best remembered for the "Dirrty" music video.
(Associated Press)
Aguilera, right, and fellow pop star
Britney Spears
each famously shared an on-stage smooch with Madonna (center) after they sang her hit "Like a Virgin" at the 2003
MTV Video Music Awards
.
(Scott Gries / Getty Images)
In 2004, Aguilera and fellow diva Missy Elliott got animated and covered Rose Royce's "Car Wash" for the cartoon. (Aguilera's the jellyfish-type sea creature at right -- perhaps a nod to the braided dreadlock-style hair she was known for sporting around that time).
(DreamWorks Animation)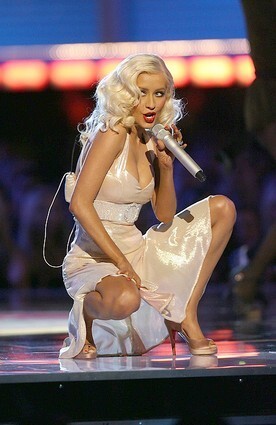 Aguilera dropped the braids and midriff tops and went for a Marilyn Monroe-inspired hairdo and bright red lips, which better reflected the third album's old Hollywood style and jazz-inspired tunes. The single "Ain't No Other Man" rocked the charts.
(Kevin Winter / Getty Images)
Aguilera sang "Live with Me" with Mick Jagger and the Rolling Stones during Martin Scorsese's documentary about the band's 2006 concert at New York's Beacon Theatre.
(Kevin Mazur / Paramount Vantage)
Aguilera has been linked to Carson Daly, Fred Durst, (remember that infamous Eminem song?) and Jorge Santos. She married music marketing executive Jordan Bratman (pictured) in 2005 and they have a son, Max. Aguilera filed for divorce from Bratman in 2010.
(Peter Kramer, Getty Images)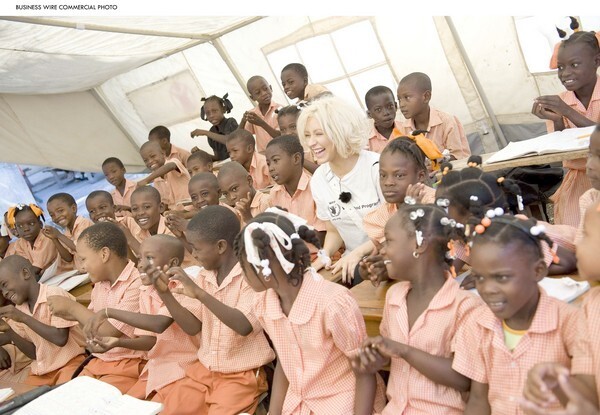 Aguilera supports many charities, and even asked her wedding guests to donate money to the victims of Hurricane Katrina and Rita instead of buying her gifts. She appeared on the "Hope for
Haiti
" telethon after the 2010
earthquake
and later visited the country as an ambassador against hunger. In 2010 she was nominated for a
VH1
Do Something Award.
Photo: Christina Aguilera, United Nations World Food Programme ambassador and spokeswoman for Yum! Brands' World Hunger Relief effort, visits Haiti after its devastating earthquake to help mothers and children.
(Business Wire)
Aguilera was the muse for
Donatella Versace
's fall 2003 fashion campaign, and the label also designed Aguilera's outfits for her 2004 tour. She also worked with friend/jewelry designer Stephen Webster (pictured) on a jewelry collection called Shattered in 2008.
She has also appeared with fashion designer Bob Mackie (a favorite of her "Burlesque" costar Cher) on the fashion design reality show "Project Runway" in 2009. Contestants had to create a "wow" stage outfit for Aguilera.
She has also launched three perfumes. The slogan for 2007's signature fragrance Simply Christina? "Sometimes, it's all you need to wear."
(Sarah Gerke)
The Times' Margaret Wappler's
feelings on Aguilera's fourth English studio album
, which dropped in June 2010: "For the most part — and in the album's most successful vein — Aguilera plays a hyper-sexed lover bot ready to tie you to the bedposts rather than tie your ears into knots with a well-executed legato."
The album's singles, "Not Myself Tonight" and "You Lost Me," made it to No. 1 on "Billboard's" Hot Dance Club Play Charts.
Aguilera was supposed to tour for the album in summer 2010, but Live Nation announced they were pushing the tour until 2011
due to prior commitments Aguilera had to make to promote the album
.
(RCA)
Aguilera scored her first starring feature-film role with 2010's "Burlesque," in which she plays opposite Cher as a small-town girl working as a cocktail waitress in a Los Angeles burlesque club, trying to find herself.
(Stephen Vaughan / Screen Gems)