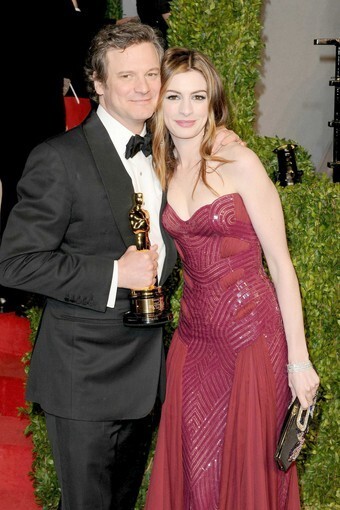 12 Images
Hollywood Headlines: a crazy week in review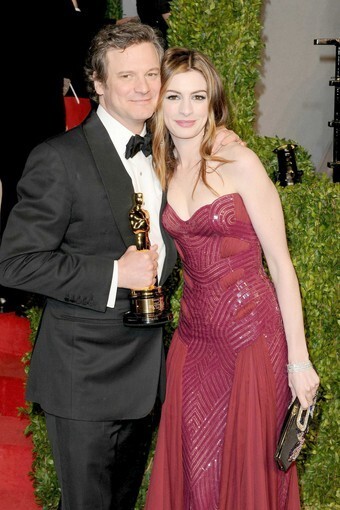 Tom Hooper and David Seidler's tale about a stuttering King George VI scooped up the
most awards
Sunday night including best picture, director, screenplay and lead actor for
Colin Firth
.
"Black Swan"
ballerina
Natalie Portman
took home the lead actress award but best supporting actress
Melissa Leo
's
F-bomb
was the talk of the evening outshining new hosts
James Franco
and
Anne Hathaway
in drag. Despite the "young and fresh" talent, the telecast
dipped 7%
in ratings from last year.
(Craig Barritt / Getty Images)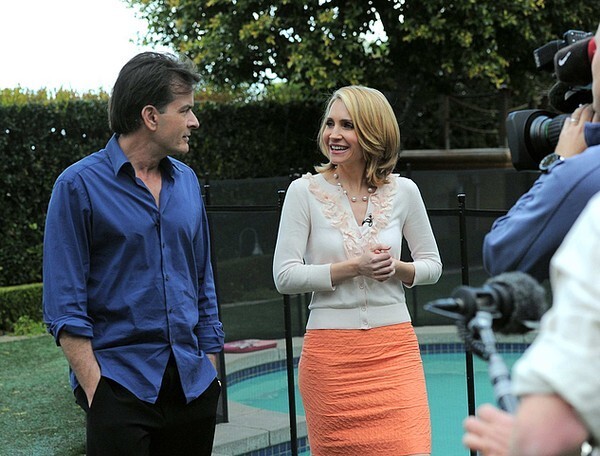 The
"Two and a Half Men"
actor continued his manic
media blitz
with interviews on major networks including
ABC
,
NBC
and
CNN
and various radio outlets. We've learned that the haggard-looking actor is indeed on a drug: It's called
Charlie Sheen
. The bizarre escapades and revelations about his live-in goddesses prompted estranged ex-wife Brooke Mueller to serve him with a
restraining order
and take away his twin sons. But don't feel so bad for the
tiger-blooded actor with Adonis DNA
. Sheen also
joined
Twitter
this week and has already accumulated 1.6 million followers.
Boom
!
(ABC News / Associated Press)
The announcement of the celebrity cast for the highly anticipated new season was teased during Sunday's Oscar telecast, but the stars were
revealed
Monday and they include former Jenny Craig spokeswoman Kirstie Alley, Hugh Hefner's ex-girlfriend Kendra Wilkinson, talk-show host Wendy Williams, all pictured above, and original "Karate Kid" Ralph Macchio. ABC continued to drag out the announcements by waiting until the next day to reveal the stars'
dance partners
.
(Kirk McKoy / Los Angeles Times; Alberto E. Rodriguez / Getty Images; Charles Sykes / Associated Press)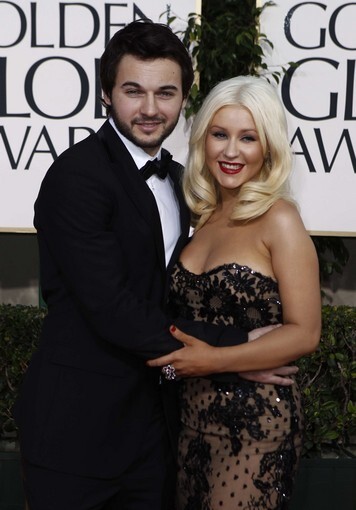 Christina Aguilera
and boyfriend Matt Rutler were
arrested
early Tuesday on suspicion of being publicly intoxicated and driving under the influence, respectively. She was released a few hours later and will not be facing criminal charges. And by Thursday, it was revealed that the "Burlesque" singer/actress would serve time, but as a
mentor
for
NBC
's newest talent show "The Voice." That's one of the quickest comebacks we've seen in a while, but hey, at least Pink's glad she's not as
sloppy
as her cohort.
(Matt Sayles / Associated Press)
John Galliano, the noted British fashion designer, was
fired
by the French fashion house Christian Dior over alleged anti-Semitic comments he made in a Parisian cafe. He was caught on video saying he "loved Hitler" and will
face trial
in France over the remarks. Oscar-winner Natalie Portman, who is the face of the Miss Dior Cherie fragrance, railed against the designer and said she would no longer be associated with him over his remarks. Speculation about whether he would show at Dior's Fashion Week show circulated among fashionistas, but
the show went on without its designer
anyway. His own namesake brand was set for Sunday, though it will appear in a much more informal setting. Galliano, who has since checked himself into rehab, had acquired an
unlikely ally
in
Whoopi Goldberg
.
(Ian Langsdon / Getty Images)
Reality TV star Kim Kardashion
debuted her new single
, which she created with producer The-Dream, on "On-Air with
Ryan Seacrest
" Wednesday. The radio show host loved the auto-tuned track on which Kardashian sounded bored despite the upbeat music paired with her sleepy vocals.
(Dan Steinberg / Associated Press)
The 90-year-old actor gave an
emotional address
to the Senate Special Committee on Aging Wednesdays about the elder abuse he says he experienced at the hands of his stepson and urged Congress to take action on the greater issue.
(Alex Brandon / Associated Press)
The 94-year-old actress was rushed back to the hospital Thursday due to
blood-flow problems
in her left leg. The one-time socialite was to be released from the hospital again Friday after
declining doctors' recommendation that she have surgery
to amputate her remaining leg. Her husband, Prince Frederic Von Anhalt, said she is on medication and without surgery has "a 50-50 chance" of surviving for another year.
(Curt Wilcott / Associated Press)
"American Idol" is still America's favorite show, leading in ratings despite naysayers expecting it to
crash and burn
this season because of its new format and new judges. Though the singing show has continued to decline in the ratings 24.4 million viewers, down 7% compared with last season, according to the Nielsen Co., and it may have judge Steven Tyler to thank for that. This week the mens' and ladies' nights whittled down the competition to the
top 13
, pictured above, who are
soaking up the spotlight
.
(Chris Pizzello / Associated Press)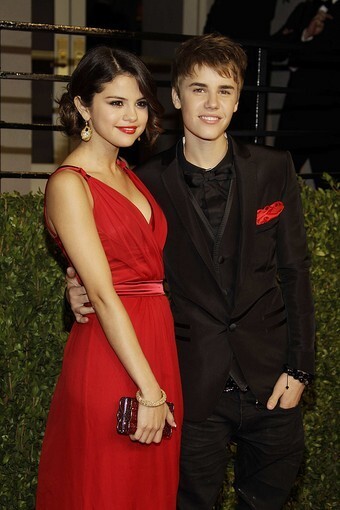 After
Justin Bieber
and
Selena Gomez
stepped out as a couple
at the Vanity Fair party on Oscar night, the pair went on to celebrate the pop star's 17th birthday a few days later, but not without a
scuffle with a paparazzo
. The in-demand singer's
hair also fetched $40,668 at auction
. The EBay bidder was an online casino, sadly, not an obsessed fan that may or may not have punched Gomez.
(Carlo Allegri / Associated Press)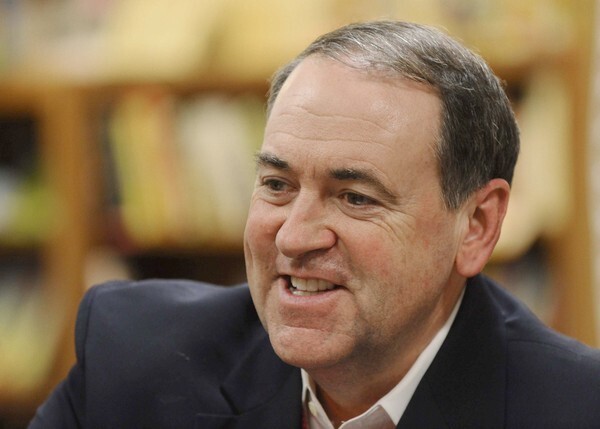 It should have been an exciting week for "Black Swan" star
Natalie Portman
. But after winning the lead actress Oscar, the starlet has made headlines for speaking out against John Galliano and has become the target of Fox News'
Mike Huckabee
. Huckabee, the possible
GOP
presidential aspirant, who's been out promoting a new book, misspoke regarding President Obama's origins and attacked Portman, who is currently engaged, for
setting a bad example
for getting pregnant before getting married.
(Larry A. Smith / EPA)