Charlie Sheen changes name to Carlos Estevez for 'Machete Kills'
Vanilla Ice, real name Robert Van Winkle, was arrested in February 2014 in Florida on suspicion of felony burglary and grand theft. The rapper-turned-DIY Network personality, who allegedly took items from an abandoned home near one he was renovating for his TV show, cut a plea deal for community service, restitution and a clean record if he behaves for nine months.
(Palm Beach County Sheriff's Office / Associated Press)
Emile Hirsch was arrested Jan. 25, 2015, in Park City, Utah, on suspicion of assault but didn't pose for booking photos until a March 16 court appearance. He allegedly put Paramount Digital Entertainment/Insurge Pictures VP Daniele Bernfeld in a chokehold at Sundance.
(Handout / Getty Images)
Dustin Diamond, who played Screech on "Saved by the Bell," was arrested Dec. 26, 2014, in Wisconsin after a bar fight late Christmas night. A police report said he admitted accidentally stabbing a man who was harassing his fiancee.
(Ozaukee County Sheriff / Associated Press)
Former Los Angeles news anchor Bree Walker was arrested by Anaheim police Feb. 19, 2014, after authorities said she appeared drunk and refused to take a Breathalyzer test.
(Handout / Getty Images)
David Cassidy was arrested on suspicion of felony driving while intoxicated on Aug. 21, 2013, in Schodack, N.Y. The actor was released on $2,500 bail.
(Handout / Getty Images)
Dina Lohan was arrested Sept. 12, 2013, in New York on suspicion of driving while intoxicated after cops pulled her over for driving 77 mph in a 55 zone. She blew a 0.20 on a breath test, cops said, more than twice New York's legal limit of 0.08.
(Handout / Getty Images)
This notorious mug shot of "That '70s Show" actress Lisa Robin Kelly is from March 2012, when she was arrested on suspicion of spousal abuse in North Carolina. Kelly was arrested again in Burbank in June 2013 on suspicion of DUI.
(Handout / Getty Images)
This Clark County Detention Center booking photo shows environmental activist Erin Brockovich, 52, arrested June 7, 2013, on suspicion of boating while intoxicated at Lake Mead near Las Vegas. Brockovich was released from the Clark County Detention Center after posting $1,000 bail.
(HOPD / AP)
Oscar-winning actress Reese Witherspoon became agitated after her husband, CAA agent Jim Toth, was arrested on suspicion of driving under the influence in Atlanta on April 19, 2013, officials said. Witherspoon was subsequently arrested for disorderly conduct.
(Georgia Department of Corrections / AFP)
Stephen Baldwin was arrested Dec. 6, 2012, and arraigned on charges that he failed to file state income taxes for three years, 2008, 2009 and 2010.
(Rockland County District Attorney's Office / Associated Press)
The rapper and reality TV personality was arrested Oct. 18, 2012. According to a police report obtained by the Associated Press, he is accused of throwing his fiancee to the floor twice and wielding two knives while chasing and threatening to kill her 17-year-old son.
(Las Vegas Police Department / Associated Press)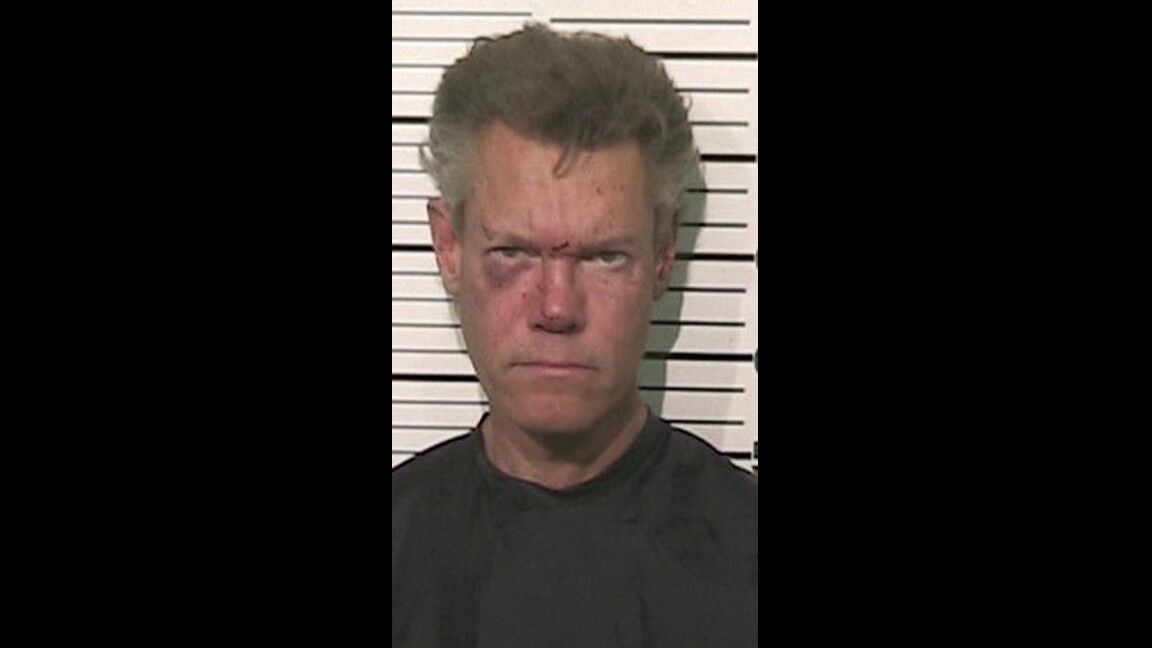 Randy Travis is bruised up in a mug shot taken after he was arrested Aug. 8, 2012, on suspicion of DWI and a third-degree felony count of retaliation. He was naked when he was arrested.
(Grayson County Sheriff's Office / Associated Press)
Amanda Bynes was arrested April 6, 2012, on suspicion of DUI after allegedly clipping the corner of a sheriff's cruiser in West Hollywood. She later pleaded not guilty, and tweeted a request to President Obama asking that the officer who arrested her be fired.
(Los Angeles County Sheriff's Dept. / Getty Images)
Randy Travis was arrested Feb. 6, 2012, on a charge of public intoxication. He was parked at a Baptist church, allegedly smelling of alcohol with an open bottle of wine in the front seat of his Trans Am.
(Denton County Sheriff's Dept. / Associated Press)
Nicolas Cage was arrested April 16, 2011, in New Orleans on charges of domestic abuse battery and disturbing the peace. He was allegedly drunk and fighting with his wife about whether the French Quarter residence they were standing in front of was their rental home.
(Orleans Parish Sheriff's Office / Associated Press)
Flavor Flav -- real name William Jonathan Drayton Jr. -- was arrested in Las Vegas in May 2011 after a routine traffic stop resulted in police officers finding four warrants out for his arrest. The Public Enemy alum had four misdemeanor traffic warrants.
(Las Vegas Metropolitan Police / Getty Images)
David Cassidy's car was stopped Nov. 3, 2010, on the Florida Turnpike for weaving and nearly causing an accident, police said. Cassidy allegedly failed a field sobriety test and later showed a blood alcohol level around 0.14. He pleaded no contest to DUI and got probation.
(Florida Highway Patrol / Associated Press)
MIAMI - NOVEMBER 08: In this handout photo provided by the Miami-Dade Corrections and Rehabilitation Department, Lawrence Former NFL great Lawrence Taylor has been indicted on two felony counts and three misdemeanor charges related to the alleged rape of a 16-year-old allegedly hired as a prostitute, the Rockland County, N.Y., district attorney's office said.
(Handout / Getty Images)
O.J. Simpson's mugshot from his arrest in Los Angeles in 1994.
(Bob Carey / Los Angeles Times)
Charlie Sheen is changing his name to Carlos Estevez in the upcoming film "Machete Kills," according to reports.
The actor is going back to his birth name and Latino roots, using the moniker Carlos Estevez in the trailer for action film "Machete Kills," which was shown in theaters this weekend.
A screen grab of the thiller's intro shows a crimson and black portrait of Sheen posing with a gun and says, "And introducing Carlos Estevez." It is said to be the first time in his professional career that Sheen will be billed by his birth name.
The 47-year-old, born Carlos Irwin Estevez, plays a U.S. president who tasks assassin Machete Cortez (Danny Trejo) to "battle his way through Mexico in order to take down an arms dealer who looks to launch a weapon into space," according to IMDB. The film's cast is a mixed bag and includes Sofia Vergara, Mel Gibson, Michelle Rodriguez, Antonio Banderas, Jessica Alba, Cuba Gooding Jr., Lady Gaga, Vanessa Hudgens, Amber Heard and Demian Bichir. It's due out Sept. 13.
Why would the "Anger Management" star choose to change his name for a film in which he plays the world's most powerful leader? Perhaps because the director, Robert Rodriguez, likes to bolster Latino heritage in his work. Or maybe Sheen is attempting to distance himself from his well-earned bad boy persona, taking on his first serious film role in years after accruing a litany of comic and self-mocking titles on his filmography.
And Rodriguez has gotten a rep for giving tarnished stars a second chance. (We're looking at you Mel Gibson and Lindsay Lohan.)
Sheen's camp did not immediately respond to requests for comment.
PHOTOS: Celebrity portraits by The Times
Sheen, the former star of "Two and a Half Men" who was bounced from that successful sitcom after headline-making personal troubles, changed his name to Charlie at the age of 4, according to TV Guide. He later followed the acting example of his father Martin Sheen when he took on the new last name too, only ever publicly bringing up the birth name during his very public spat with "Men" creator Chuck Lorre in 2011.
His brother Emilio Estevez decided to keep the family name and dad Martin Sheen, born Ramón Antonio Gerardo Estevez, regrets changing his name, which he did to get more acting gigs.
"I thought, I got enough problems trying to get an acting job, so I invented Martin Sheen," he told James Lipton during a 2003 appearance on "Inside the Actors Studio."
"It's still Estevez officially. I never changed it officially. I never will. It's on my driver's license and passport and everything. I started using Sheen, I thought I'd give it a try, and before I knew it, I started making a living with it and then it was too late. In fact, one of my great regrets is that I didn't keep my name as it was given to me. I knew it bothered my dad."
Maybe this is Carlos' way of vindicating his dad. We'll see if the change is permanent.
ALSO:
Kendall Jenner's tweet pits her against Frances Cobain
Goldie Hawn at 67: Star shines at amfAR gala in Cannes
'Rocky Horror' actor Tim Curry suffers stroke, said to be 'doing fine'
Follow Ministry of Gossip @LATcelebs.
---
Get our L.A. Goes Out newsletter, with the week's best events, to help you explore and experience our city.
You may occasionally receive promotional content from the Los Angeles Times.