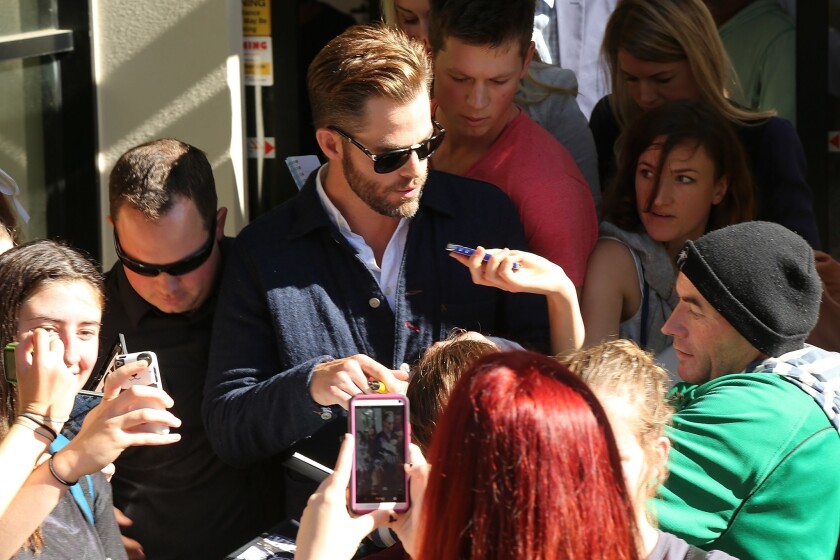 Chris Pine of "Star Trek Into Darkness" pleaded guilty Monday to driving drunk in New Zealand.
The actor, who had been charged following an arrest at a sobriety checkpoint after leaving a Feb. 28 wrap party for his film "Z for Zachariah," appeared in Ashburton District Court for a hearing Monday. The "Jack Ryan: Shadow Recruit" star was fined $79 ($93 in New Zealand) and had his New Zealand driver's license suspended for six months, according to the Associated Press.
The 33-year-old Angeleno reportedly stood silently with his hands behind his back during the hearing and his attorney entered his plea. He had been in the country to shoot the 2015 sci-fi flick on the island's Banks Peninsula with costars Chiwetel Ejiofor of "12 Years a Slave" and Margot Robbie of "The Wolf of Wall Street."
Last week, police released a statement indicating that a 33-year-old American was stopped at a routine checkpoint in Methven, a South Island town, on March 1 and charged with driving with a blood-alcohol content level over the legal limit, which is 0.08 in New Zealand. Pine was not specifically named in the statement.
Since then, police have said that the actor was stopped at 3:27 a.m. and breath and blood tests indicated that his blood-alcohol level was 0.11, according to Christchurch's the Press.
Prosecutors said that Pine admitted to having four vodka drinks. Earlier reports said that the actor had been only drinking beer at the Blue Pub bar, which had been shut down that night for an 80-person party. He was accompanied by his Icelandic girlfriend, model Iris Bjork Johannesdottir. The bar also released a statement that said the actor "did not appear to staff to be intoxicated to a level where intervention might have been warranted."
PHOTOS: Our favorite ripped Hollywood hotties
On Monday, Judge Joanna Maze said she charged the actor because she was "obliged to treat offenders alike." However, she noted that he had also made contributions to charity that had been more than four times his fine.
"He accepts he made the wrong decision to drive that night," Pine's attorney, Marilyn Gilchrist, said during the proceedings. "He was not stopped because of any error in his driving. ... He had a short 2-kilometer journey through the village of Methven ... after a long week of filming."
She added that the actor didn't have enough food or sleep that night and said that he had suffered emotionally and professionally because of "worldwide" coverage and negative publicity from the incident. Gilchrist, who had applied for Pine to be discharged without conviction, said the incident had placed his acting contracts in jeopardy and could also affect his travel to Canada, according to AP and the Press.
The judge said she accepted that the actor was "entirely remorseful" and that the incident was out of character, the Press reported.
Following the hearing, Pine emerged from the courthouse looking relaxed and wearing sunglasses. He encountered a flurry of fans and media outlets and stopped to sign a few autographs before being driven away.
ALSO:
PHOTOS: Our favorite funnywomen and why we love 'em
Kat Dennings defends Lindsay Lohan's '2 Broke Girls' performance
Kourtney Kardashian sans pants is only part of Kardashian Miami visit
Follow Ministry of Gossip @LATcelebs.
---