45 Images
Our favorite ripped Hollywood hotties
Our favorite ripped Hollywood hotties | Dwayne Johnson
Dwayne Johnson is Hercules in the new movie from Paramount Pictures and Metro-Goldwyn-Mayer Pictures.
(David James / Paramount Pictures)
Hugh Jackman
Logan/the Wolverine (Hugh Jackman) finds himself in the distant past as he becomes the catalyst in an epic battle in "X-Men: Days of Future Past."
(Alan Markfield / 20th Century Fox)
Chris Pratt
Chris Pratt as Peter Quill/Star-Lord in a scene from "Marvel's Guardians of the Galaxy."
(Marvel )
Our favorite ripped Hollywood hotties | Henry Cavill
Henry Cavill bulked up quite a bit for his role as Clark Kent/Superman in 2013's "Man of Steel."
(Clay Enos / Warner Bros.)
Stephen Amell
Stephen Amell plays the CW's version of DC superhero the Green Arrow in the CW's "Arrow."
(Jack Rowand / The CW)
Sam Claflin
Sam Claflin portrays Finnick Odair in "The Hunger Games: Catching Fire."
(Murray Close / Lionsgate )
Omar Epps
Omar Epps portrays boxer Luther Shaw in the 2004 film "Against the Ropes."
(Allen Yee / Paramount Pictures)
Josh Holloway
Josh Holloway as Southern charmer Sawyer in ABC's hit series "Lost."
(Mario Perez / ABC)
Shemar Moore
Shemar Moore, second from right, portrays Terry White in the 2001 dramedy "The Brothers."
(Suzanne Hanover / Screen Gems)
Chris Hemsworth
Chris Hemsworth portrays the title character from the 2011 superhero flick "Thor."
(Paramount Pictures / Marvel Studios)
Matthew McConaughey
McConaughey as stripper-wrangler Dallas in Warner Bros. Pictures' "Magic Mike."
(Claudette Barius / Warner Bros.)
Adam Rodriguez
Adam Rodriguez as male exotic dancer Tito in "Magic Mike."
(Claudette Barius / Warner Bros.)
Joe Manganiello
Manganiello as Big Dick Richie in "Magic Mike." We would've included star Channing Tatum and costar Matt Bomer as well, but we didn't want the gallery to catch on fire.
(Glen Wilson / Warner Bros.)
Tom Cruise
Cruise, who turned 50 shortly after "Rock of Ages" hit the big screen, rocks it as Stacee Jaxx.
(David James / Warner Bros.)
Taylor Kitsch
Kitsch stars as John Carter in the epic flick of the same name.
(Frank Connor / Disney)
Tom Hardy and Joel Edgerton
Hardy, left, and Edgerton face off as brothers Tommy and Brendan Condon in "Warrior."
(Chuck Zlotnick / Lionsgate)
Ryan Gosling
Ryan Gosling as Jacob and Emma Stone as Hannah in "Crazy, Stupid, Love." Those abs? It's like he's Photoshopped.
(Ben Glass / Warner Bros.)
Chris Evans
Chris Evans as Steve Rogers with Hayley Atwello as Peggy Carter in "Captain America: The First Avenger." We like to think that was shortened from "The First Avenger Who Forgot His Shirt at the Office."
(Jay Maidment / Paramount)
Vin Diesel and Dwayne Johnson
Vin Diesel, left, plays Dom Toretto and Dwayne Johnson is Luke Hobbs in "Fast Five." Think they've got their arms around the situation?
(Jaimie Trueblood / Universal Pictures)
Jason Momoa
Jason Momoa, of "Game of Thrones" fame, is Conan in the 2011 remake of "Conan the Barbarian." More barbarian hordes, please.
(Brian Andrew Mendoza / Lionsgate)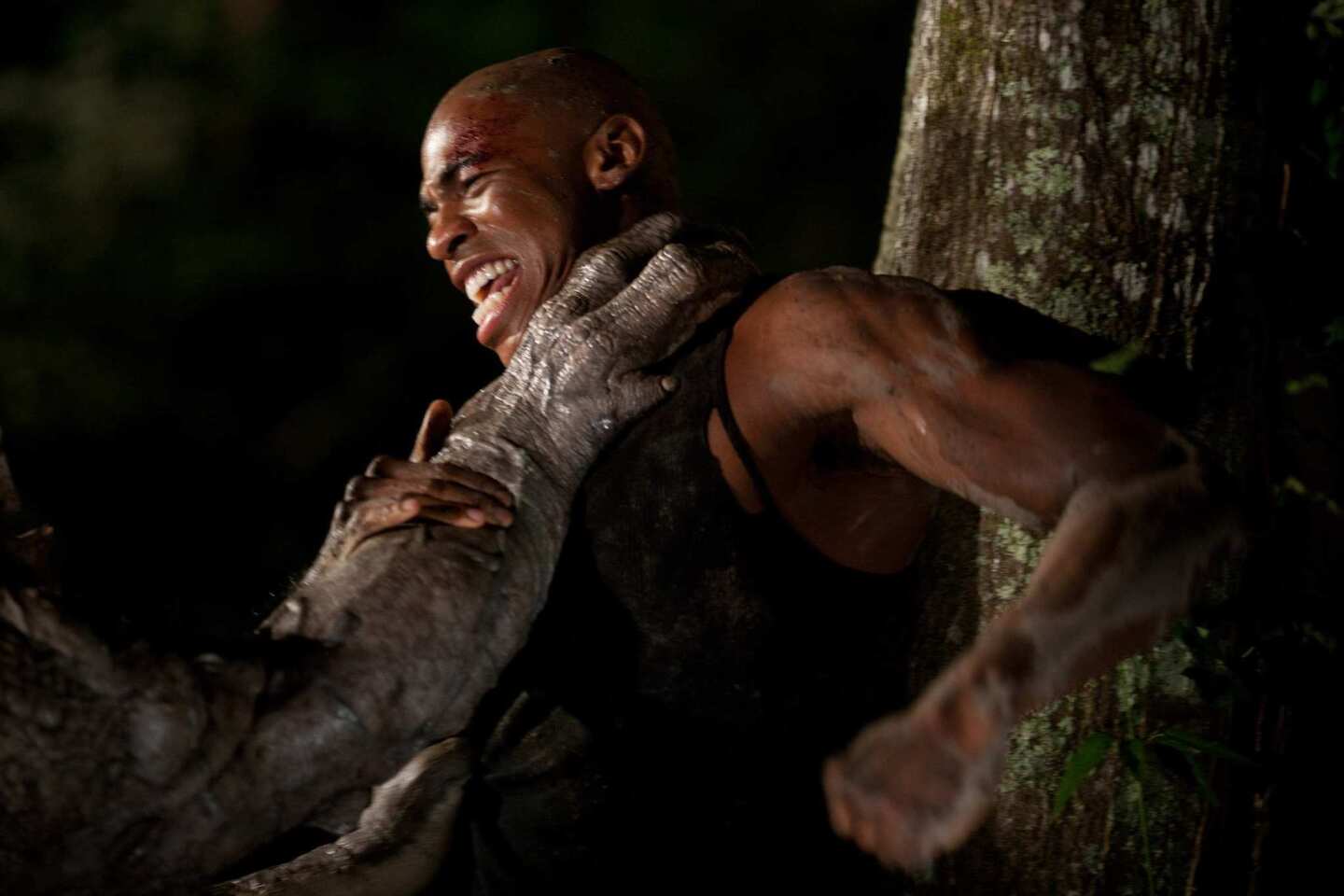 Mehcad Brooks
Before flashing his upper body on and off the football field as a star of TV's "Necessary Roughness," Brooks works it out in the movie "Creature."
(Teddy Smith / Bubble Releasing)
Mark Wahlberg
Wahlberg is Micky Ward in the Oscar-winning "The Fighter." Christian Bale may have won the Academy Award, but Wahlberg is simply winning.
(Jojo Whilden / Fighter LLC )
Henry Cavill (again)
Cavill is the stuff of legend as Theseus in "Immortals."
(Jan Thijs / Relativity Media)
Terry Crews
Terry Crews is on target as Hale Caesar in "The Expendables."
(Karen Ballard / Lionsgate)
Tom Hardy
Yes, it's Tom Hardy again, in "Warrior," again, but if you're complaining, you're just silly.
(Chuck Zlotnick / Lionsgate)
Robert Downey Jr.
What does Iron Man look like without that gleaming suit? Kind of like Robert Downey Jr. does in "Sherlock Holmes."
(Alex Bailey / Warner Bros.)
Rain
Rain stars as Raizo in "Ninja Assassin." Kill us now, please.
(Juliana Malucelli / Warner Bros.)
Alex O'Loughlin
"Hawaii Five-0" star Alex O'Loughlin is Stan, with Jennifer Lopez as Zoe, in "The Back-up Plan." Look to your left, Jennifer, look to your left!
(Peter Iovino / CBS Films)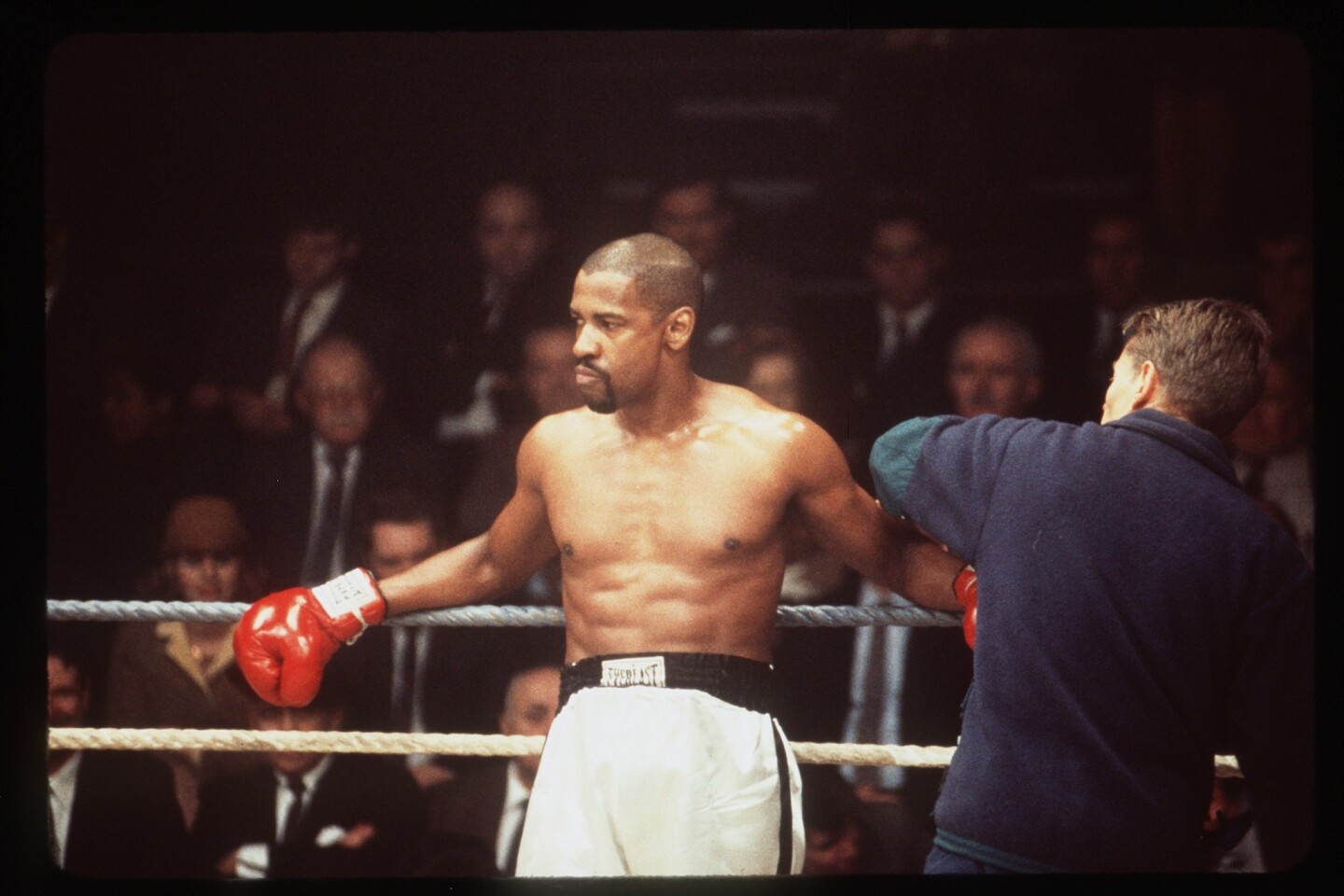 Denzel Washington
Denzel Washington is Rubin "Hurricane" Carter. In the 1999 movie "The Hurricane." And don't you forget it. Or else.
(George Kraychyk / Universal Studios)
Gerard Butler
Gerard Butler plays Leonidas in "300." And why settle for a 10 when you can have a 300?
(Warner Bros. Pictures)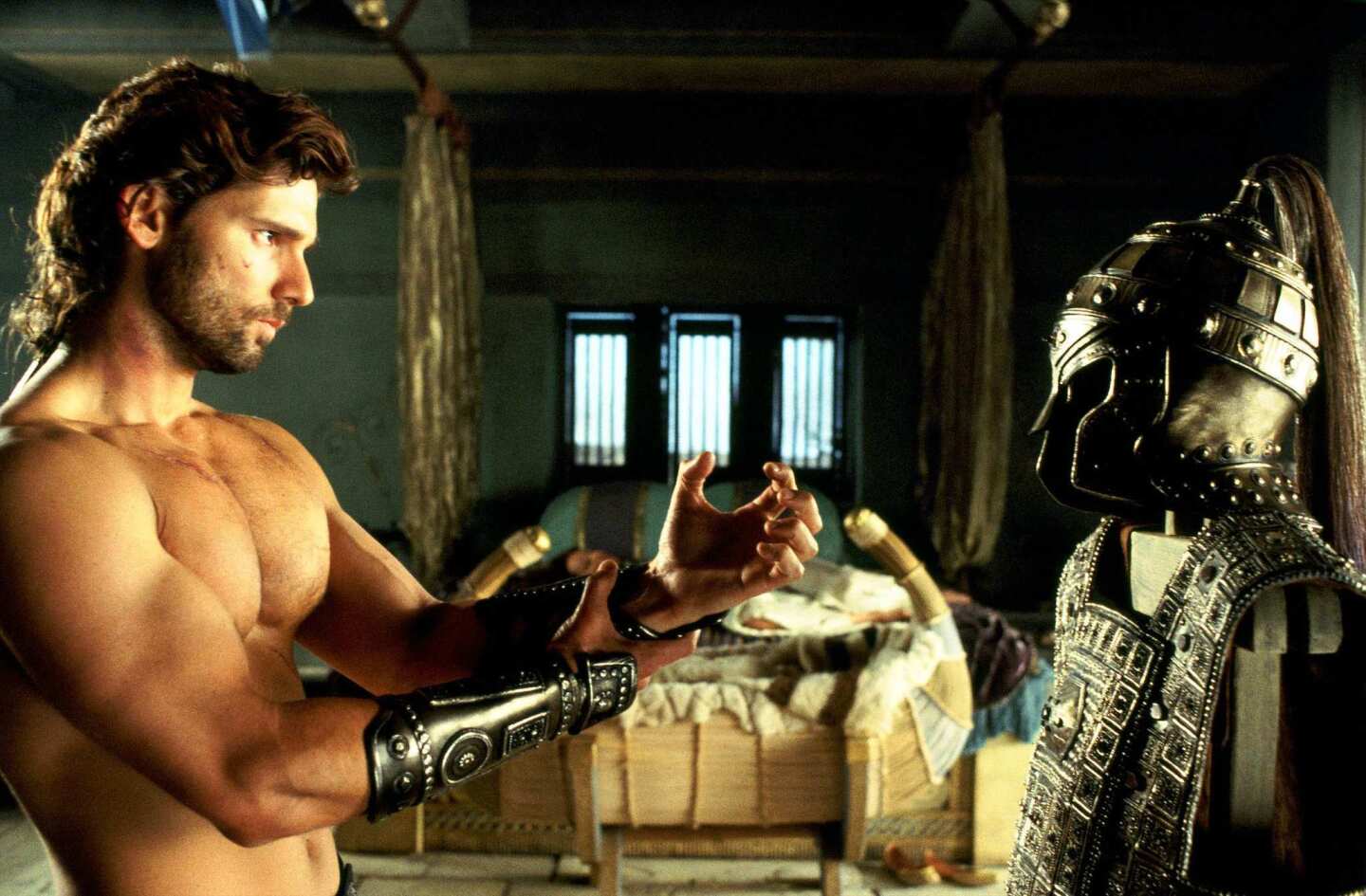 Eric Bana
Keeping the mythological theme pumped up, Eric Bana is Hector in "Troy."
(Alex Bailey / Warner Bros.)
Brad Pitt
And one more: Brad Pitt is Achilles in "Troy."
(Alex Bailey / Warner Bros.)
Ryan Reynolds
Years before taking flight in "Green Lantern," Ryan Reynolds is Hannibal King in the 2004 Wesley Snipes starrer, "Blade: Trinity."
(Diyah Pera / New Line Productions)
Wesley Snipes
And speaking of Wesley Snipes, here he is in the original "Blade."
(Bruce Talamon / New Line Cinema)
Hugh Jackman
Hugh Jackman as Wolverine in "X-Men Origins: Wolverine." Shred that.
(James Fisher / 20th Century Fox)
Will Smith
Will Smith is Muhammad Ali in "Ali," directed by Michael Mann, right.
(Frank Connor / Columbia Tristar)
Christian Bale
Christian Bale is ... he's just ... Christian Bale is ... oh yeah, he's Patrick Bateman in "American Psycho."
(Kerry Hayes / Lionsgate)
David Hasselhoff
Ah, the classics — like David Hasselhoff in "Baywatch."
(All American TV Inc.)
Brad Pitt
First rule of Fight Club is you do not talk about Fight Club -- but feel free to chat about Brad Pitt as Tyler Durden in the movie "Fight Club." (Yeah, we know he's in the gallery already.)
(Merrick Morton / 20th Century Fox)
Edward Norton
"Fight Club" alum Norton hits the courts in "American History X."
(Peter Sorel / New Line Cinema)
Bruce Lee
Hottie status is hardly a new thing. Witness Bruce Lee in 1973's "Enter the Dragon."
(Bruce Lee Enterprises)
Sylvester Stallone
And finally, Sylvester Stallone in 1976's "Rocky." What's not to love?
(MGM/UA Home Entertainment)
Charles Michael Davis
Charles Michael Davis as Marcel, the vampire king of New Orleans, in "The Originals" on the CW.
(Bob Mahoney / The CW)
Ian Somerhalder
"Lost" alum and former model Ian Somerhalder as bad boy vampire Damon Salvatore in the CW's "The Vampire Diaries." His costars Paul Wesley, Michael Trevino and Steven R. McQueen also make this list; being ripped seems to be a prerequisite for being on the show.
(Curtis Baker / The CW)
Wilson Bethel
Wilson Bethel as ne'er-do-well bartender Wade Kinsella in "Hart of Dixie."
(Michael Yarish / The CW)